The rising demand for online auction website
Auction websites experience a rapid rise in popularity. And the question of how to build an auction website is worrying new businesses. But, are the auction websites actually that popular and successful? According to industry statistics and US market research forecasts, online auctions will grow in the next 5 years. Based on the online survey 47-49% of adult users in Great Britain use auction websites on regular bases. In the second quarter of 2020, the auction site eBay reached $2.86 billion in revenue, which equates to a net income of $770 million. Let's find out how much it costs to build an auction website with Magento.
How much does it cost to build an auction website with Magento
Creating an auction website is a complicated and cost-consuming task that needs to be treated with much care. There're a lot of components that make a full auction website cost. So, let's find out how much it costs to build an auction website with Magento.
Magento expenses
The first thing you should consider when developing an auction website with Magento is the pricing of the platform. The Magento platform currently has three options for you to choose from.
Magento Open Source. Choose this edition for small auction website development. This Magento version is completely free.
Magento Commerce. This option is a great idea for scaling auction businesses, Magento Commerce will cost you from $22,000 a year.
Magento Commerce Cloud. This version provides entrepreneurs with a fully prepared infrastructure for website development. Magento Commerce Cloud prices start from $40,000 a year.
Payments Processing expenses
Remember that the development of an auction website can not be complete without the integration of a payment processing system. And almost like everything in life, it will have its cost. The most popular payment systems today are PayPal, Stripe, and Shopify Pay. These systems won't charge you a setup process, but they have fees for transactions.
Let's go more in-depth on the transaction fees you might face while developing an auction Magento website. We made a list of the most trustworthy payment gateways out where:
PayPal. Let's be honest, PayPal is the most famous payment system in the world. It's considered an essential part of any e-commerce website. PayPal will charge you 2.9% + $0.30 for every transaction over $10.
Stripe. This is a secure global payment API for any eCommerce website. Stripe' charges 2.9% + $0.30 per successful transaction.
Authorize.net. This payment system has a great reputation and charges 2.9% + $0.30 per transaction. But, unlike the other payment systems on our list, it also charges $25 a month.
Domain expenses
A domain name is a part of auction website development costs that usually gets forgotten. But, it's quite an important part of your website. A domain name represents your website address, it will be used by your clients to find the auction website on the internet. The prices for domain names might range from $10 to 100 a year for the standard option and even reach $1000 a year for the premium option.
Web hosting expenses
By using hosting you get a server connected to the internet, which stores all your auction website files. Hosting gives your users access to your auction website at any time. There are two types of web hosting for you to choose from:
Virtual hosting. With this kind of web hosting one server's resources are owned by different users. Every user has a piece of storage space and capacity. This approach cuts downtime and the quality of hosting. Prices start from $5 per month. This approach will only be a good idea for a website with a small number of visitors.
Dedicated hosting. With this kind of web hosting your auction website gets its own server. For example, Magento hosting prices range from $35 to $600 a month. You can choose one out of six options that will suit your auction website best.
A development team to build an auction website cost
Now, we have reached the part of the auction website development that will take the majority of your budget. Finding a professional team for auction website development is not an easy task. The prices for hourly rate might range from $20 to $200 based on the team's technical skills, location, and level of expertise.
In-house or outsource
So, what are your options in this situation? You can go for an in-house team if you want to have full control over the development process, whether it's cosmetics & makeup web development services or an online store for any other niche. But, you should know that this option is the most cost demanding. You would have to pay every team member a wage, find and pay for an office.
Another option is to go for an outsourcing team. The popularity of using outsource development teams for various projects is quite high right now. This situation is due to the cost-effectiveness, high quality of the development, and the ease of communication, that is available in the modern world. Outsourcing development companies have a wide variety of professional experts.
Read our article "In-house vs. Outsource eCommerce Development: Pros, Cons, Pitfalls" to find out more on this topic.
The cost for outsourcing development differs based on the location you'll go for. With outsourcing you're able to save costs if you hire developers from, for instance, Eastern Europe. We suggest choosing Eastern Europe because even though you'll pay less, and the quality of the development will still be great. This is due to the average payment difference in these countries. The technical background of the Eastern Europe countries is very strong, that's why it'll be a great option for your auction website development.
Below we made a chart of development costs per hour by region. As you can see, the most expensive prices are in the US and Canada at $150-$200 per hour, and the lowest are in Asia and South America at $15-$45 per hour.
Factors that influence the development time of a project
The cost of an auction website will also depend on the time spent on the development process. Here're the main factors that influence the development time of a project:
Project size
Design complexity
Features quantity
Development team size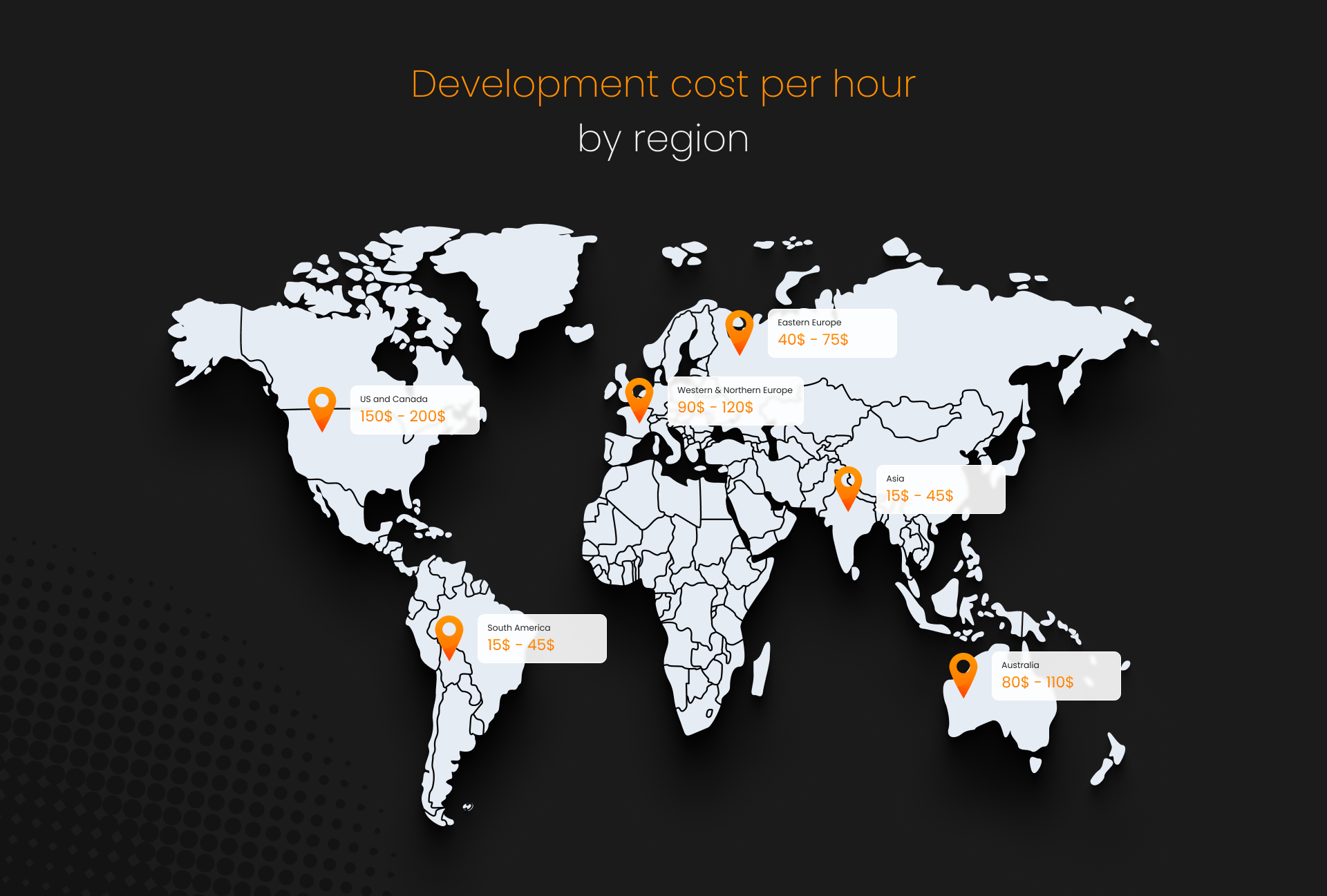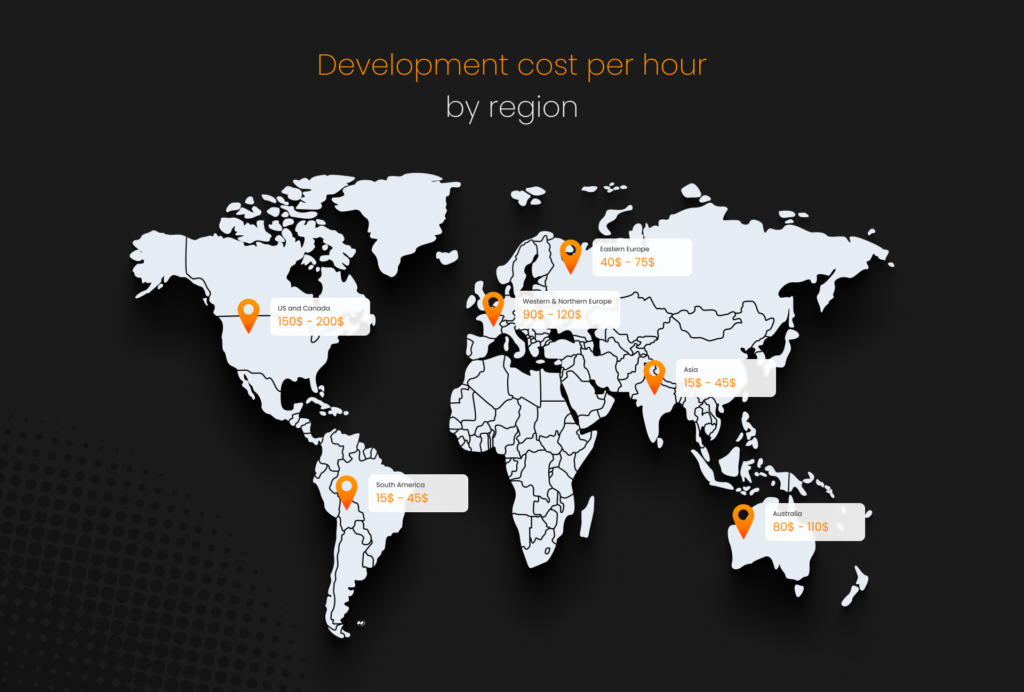 How to build an auction website?
There're a lot of things you need to do to build an auction website. Let's find out, what steps you need to take to create a successful online auction business.
Step 1. Choose a type of auction website
The first thing you need to do before starting the development process is to choose a type of you auction website.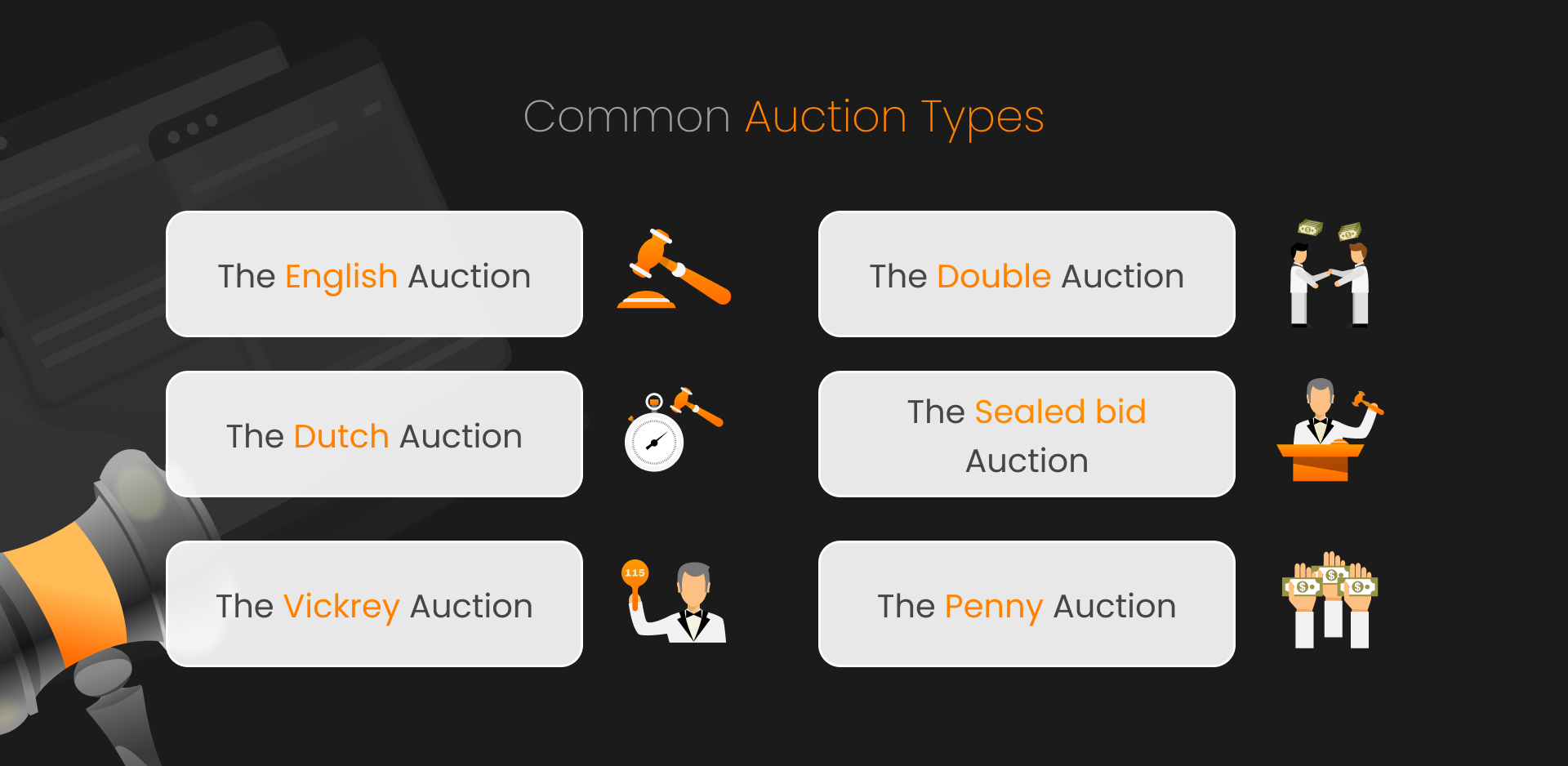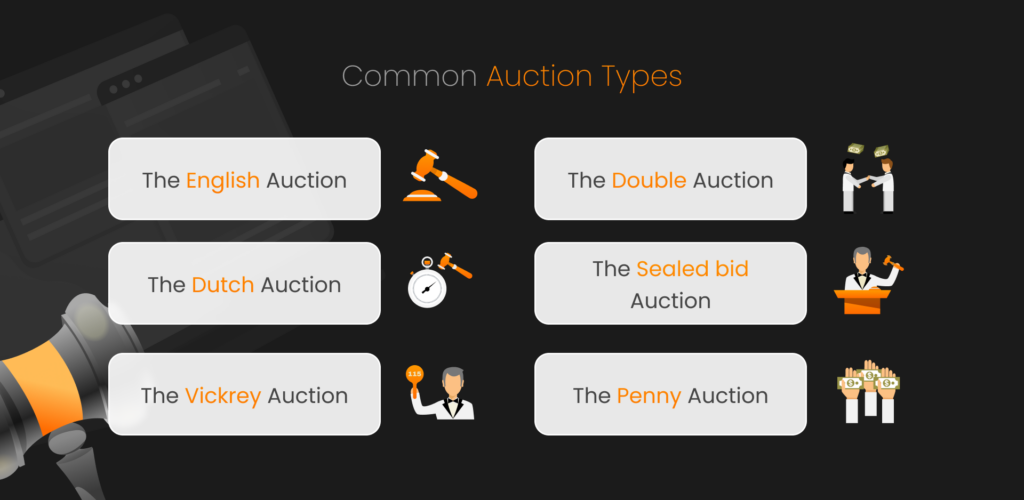 English auction. Bidding starts at the reserve price and is carried out in ascending order. The item gets sold to the highest bidder.
Dutch auction. What differentiates this type of auction from the others is that usually, it has an automatic clock. The bidding starts at a high price and then gets lower.
Vickrey auction. The items get sold to the highest bidders, and they will only need to pay the second-highest bid.
Double auction. Sellers and buyers submit their preferred price to the auctioneer, who then selects one price that clears the market. Sellers with a lower asking price than the set price get the opportunity to sell, while buyers with a higher bid can make a purchase at the set price.
Sealed bid auction. Buyers have a chance to make only one bid then it gets sealed. After the auction is completed, the sealed bids are opened and the highest bidder wins.
Penny auction. Here there's a set minimum price. People can make their bids in fixed small increments from the starting price an unlimited number of times.
Step 2. Choose a revenue model for your auction website
Creating an auction website is a cost-consuming process, but how would an auction website earn money? There're few revenue models that would be great for a successful auction monetization strategy. For example, you can make money by using the following options: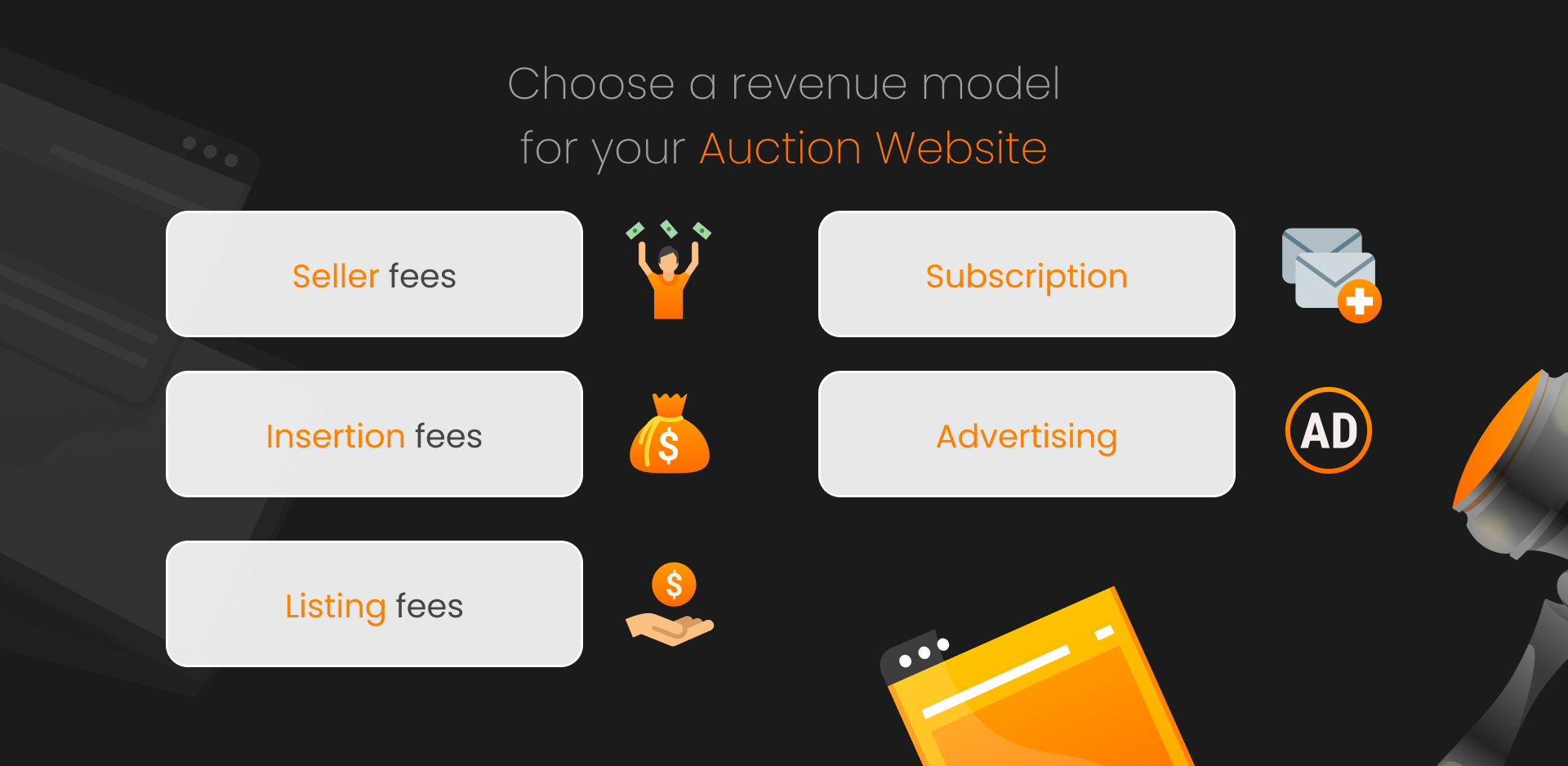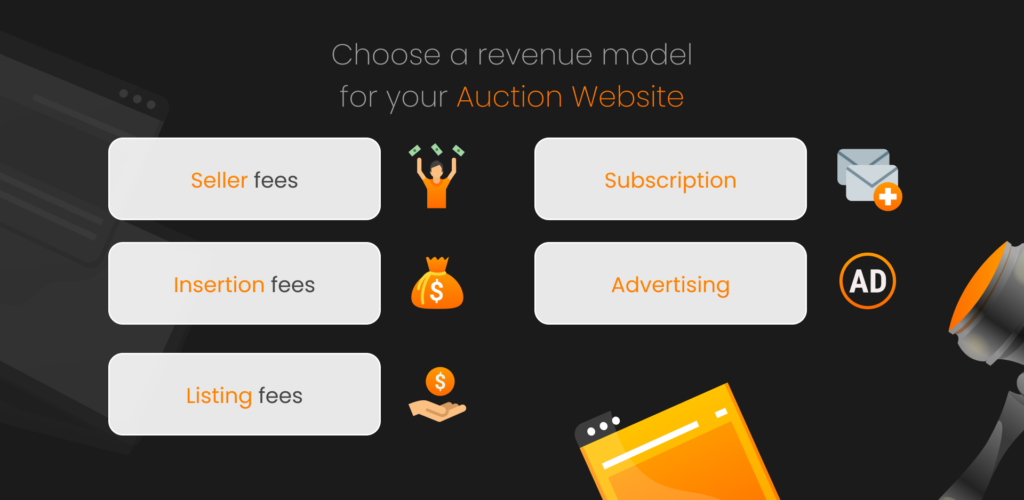 Seller fees. Sellers on your auction website will be charged a certain percentage for each sale they make. This model is where the primary revenue for auction websites comes from.
Insertion fees. You can charge sellers for putting their items in different categories. For instance, if a vendor ants to place its item in several various categories, they will be charged for each one.
Listing fees. You can ask vendors to pay a fee if they publish more than particular items per month.
Subscription. You can charge a monthly or yearly fixed fee to access the auction. For example, luxury items, jewelry, and real estate might require a subscription.
Advertising. You can charge money for promoting lots and for advertising third-party resources.
A strong business model is vital for creating a successful auction business, especially when it comes to B2C eCommerce development services. Take your time to research the existing business models before implementing them into your business.
Step 3. Create a list of features for your auction website
The cost to build an auction website depends on the number of features you would want to implement in your project. Here e gathered the most important set of features that are crucial for the auction website.
Features for sellers


Seller registration
To register as a seller on an auction website people need to fill out the "sing in" form. Usually, it requires the following information:
Name
Credit card
Tax Identification Number
ID copy
Depending on the type of auction website, to register as a seller people might need to provide professional credentials, for example, an auctioneer's license.
Listings
Sellers should have the opportunity to add their items and their full description. The listings have to include the following requirements:
format
auction duration
currency
starting price
payment options
shipping details
Give the seller the ability to set various rules such as auction time, next bidder minimum, etc.
Dashboard
This feature provides an overview of the sellers' statistics. The dashboard gives your vendors the ability to plan their business strategies.
Features for buyers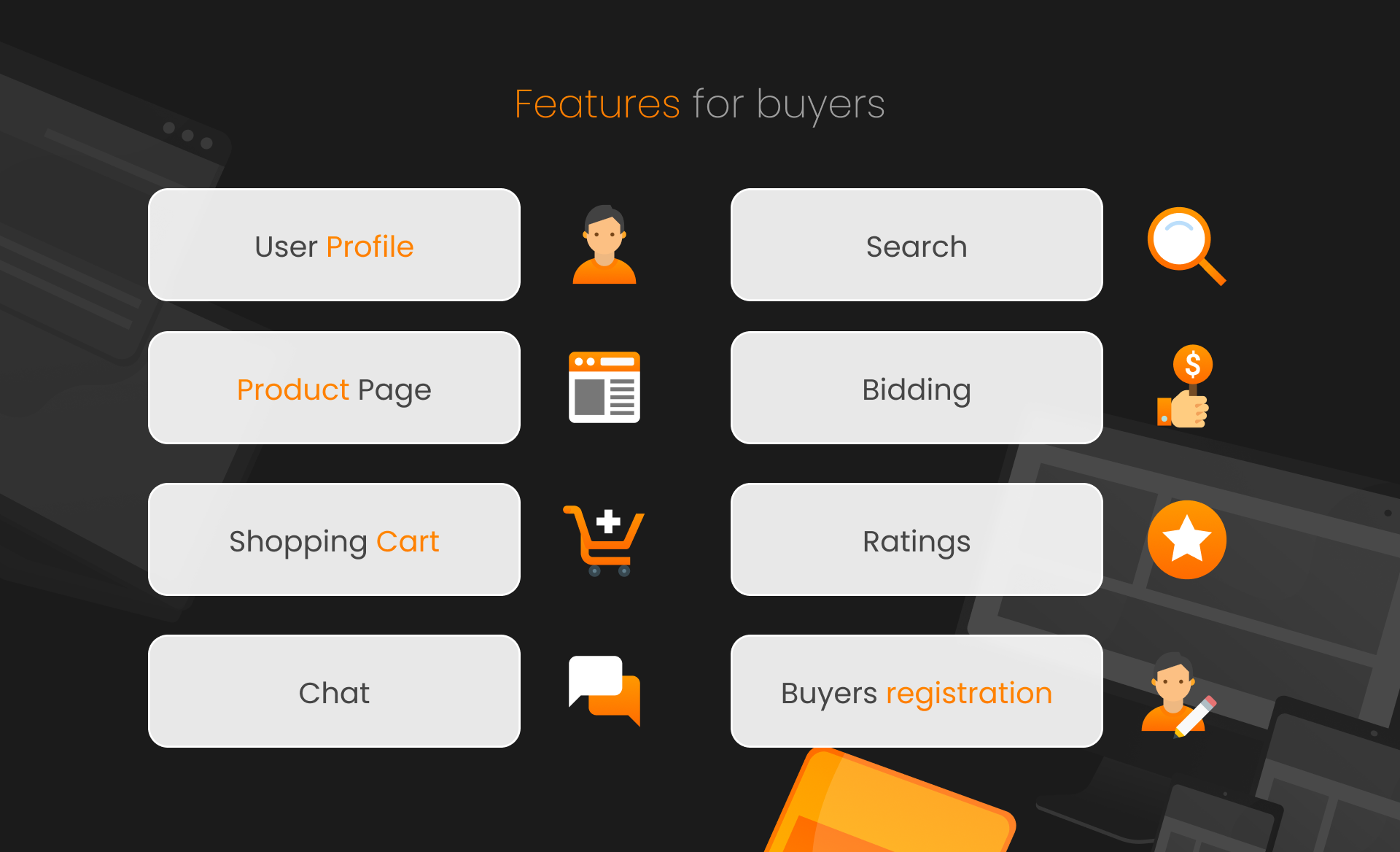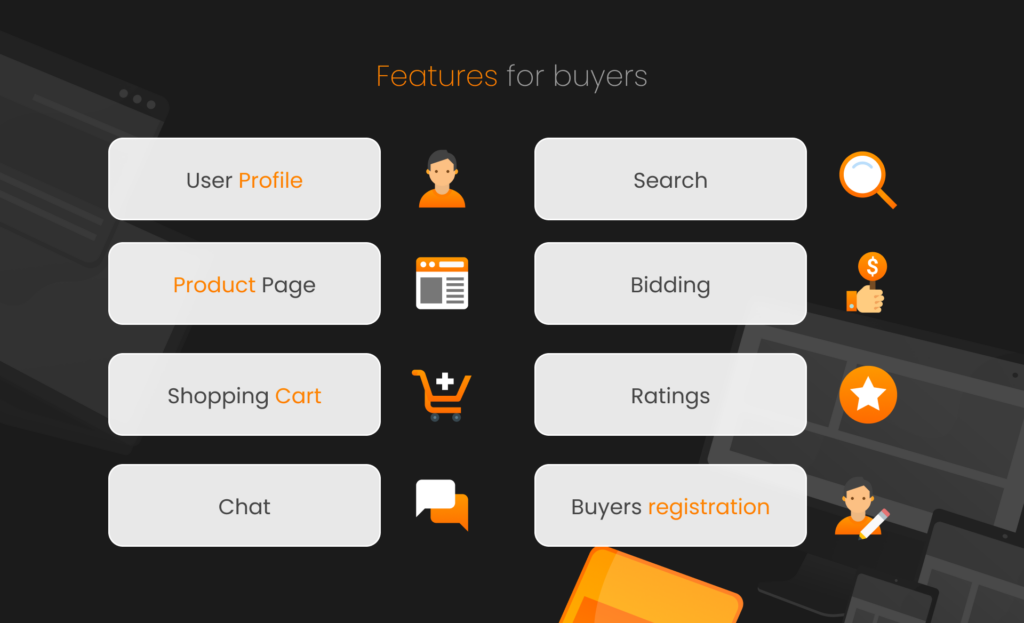 Buyers registration
This is the first thing that the buyer encounters when using your auction platform. The registration process is needed to gather all the necessary information about the user. Usually, the auction websites require the following information from the buyers:
Name
Address
Email
Phone number
Credit card
ID copy
Sometimes at the registration stage of the auction, websites might require buyers to provide a credit deposit.
User Profile
Give your users the ability to add their personal information, for instance, shipping address, and payment details. Add setting options in a user profile to manage notifications, see the buying history, recently viewed products, liked items, etc.
Search
Usually, auction websites have a wide variety of products, make sure your users will have a good experience finding specific items they need. Add various filters like category, product condition, price, shipping, etc.
Product Page
On the product, page user should be able to find all the needed information about the product like payment, shipping, photos and videos of items, and sellers' contact details.
Bidding
This feature is one of the most vital features in auction website development. You need to consider the needs of buyers and sellers when creating a bidding feature. For example, if you choose a live auction, you can give a seller the opportunity to choose a starting price for products, and buyers can place their bids. The product will be sold to the highest bidder.
Shopping Cart
Buyers need an option to add their purchased items to their cart to manage them and proceed with payment. The Shopping Cart feature would give users the ability to buy all the items in one transaction.
Ratings
This feature is a must when it comes to such types of websites as auction stores. Ratings help buyers to make an informed decision based on the reviews from the previous buyers.
Chat
This feature gives buyers the ability to talk to the sellers to find out additional information about their items. The chat feature creates a trusted relationship between buyers and sellers. It also improves your auction website's credibility.
Admin features


User Management
The feature is responsible for editing and deleting seller and buyer profiles when needed.
(CMS) Content management system
You would need this feature to edit or delete content. It's extremely important when it comes to users that do not follow the platform's rules.
Step 4. Hire a development team
Hiring a development team for your Magento auction website is not an easy task. When talking to website development companies you should find out the following important information:
How does the company arrange its workflow?
What is the team size?
How many years of experience does the company have developing eCommerce projects?
Does the company have certified Magento developers?
Does the company willing to sign an NDA?
Make an informed decision based on the requirements of your project.
Step 5: Create the design and usability
When designing an auction website it's quite important to focus on the presentation of the items and user experience. Based on our experience developing Magento auction websites, we have a few tips on how to create the design that will bring traffic and drive online sales.
Pay attention to UI/UX
User interface and user experience make the core of any auction website. Make sure that the sellers and buyers can operate on your auction platform as smoothly as possible. You should provide your buyers and sellers with convenient and intuitive designs. Buyers should easily understand how to find the item they are looking for, how to make a bid, and proceed with payments. Sellers should be able to easily create a lot and withdraw money.
Use Magento AI-powered personalization
To improve the user experience on your auction website you should use AI-powered personalization. Magento provides its users with implemented artificial intelligence and machine learning. Also, AI personalization can be useful for learning the website's users' behavior.
Use responsive design
Since users are browsing your auction websites from multiple devices, it is very important to make sure your Magento webpage looks good on all of them. Responsive web design can improve conversions and search rankings.
Step 6. Implement the security measures
Security is the core of your auction website. Never neglect this step of the development process. Here we have gathered a few tips on how to build a secure Magento auction website based on our experience.
Two-factor authentication (2FA). The Magento 2 has a great extension for two-factor authentication. This 2FA extension uses four different kinds of authenticators, and only trustworthy devices access the Magento 2 backend.
Backup plan. In order to create a secure and smoothly running auction website, it is recommended to use an hourly off-site backup plan and downloadable backups. If something happens to your auction site, a backup plan will fix any service outages.
Encrypted connection (SSL/HTTPS). You can turn on the encrypted connection for the Magento auction website if you check the "Use Secure URLs" tab in the system menu. This will provide your website with a secure HTTPS/SSL URL. Note, that when running an auction website it's crucial to have an encrypted connection to comply with PCI DSS (Payment Card Industry Data Security Standard)
Do You Have an Idea?
Drop your contacts and we will contact you soon
Benefits of building an auction website with Magento
Magento platform is a great choice for building an auction website. Here're a few benefits that come with the Magento development:
Rich pool of auction extensions
Secure web hosting options
Flexible features
Outstanding SEO functionality
Responsive website development
No restrictions on using third-party add-ons
Final thoughts on how to build an auction website with Magento
Developing a Magento auction site is a complex and cost-consuming task. We hope that this article has helped you understand the factors behind pricing for auction site development. IT Delight has extensive experience in Magento web development, especially in building auction platforms. Contact us if you have any questions about this topic.