from IT Delight
Cosmetics & makeup web development services
Bring your vision of a beauty e-commerce website to life.Get top-notch cosmetics & makeup web development services from IT Delight — a leader in eCommerce development.
What we offer
You can count on our hair and beauty web development services as we offer the following.
Elegant website layout
Our designers will consult with you to develop a site that not only looks great but also accurately represents your company's values and culture.
Optimization and support
We're here to not just build your website and call it a day. We'll work with you to ensure that your site is optimized for search engines and user experience.
Professionalism
We're not your average techies. We're a team of professionals who know what it takes to create an online store that works.
Revenue growth
With our top-notch beauty website design, professionalism, and optimization, we're sure to help you increase your revenue and take your business to new heights.
Top-notch functionality
Our e-stores always include full functionality for a great customer experience: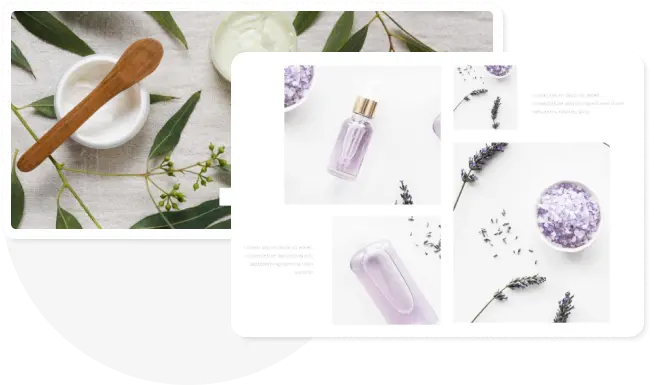 Taking in orders and requests
Simple and quick order processing
Payment by credit card
Efficient catalog management
Enhanced product search
Cosmetics & Makeup website design for conversions and revenue
Here is how e-store will ensure you increased sales and higher revenues: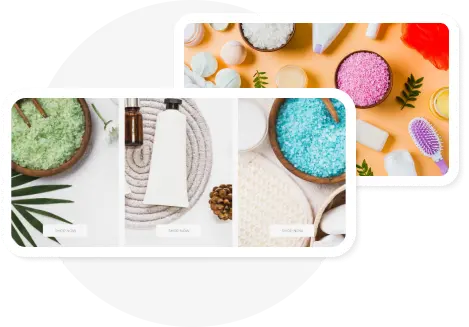 Design interactivity
Modern-looking style
User behavior tracking
Advanced analytics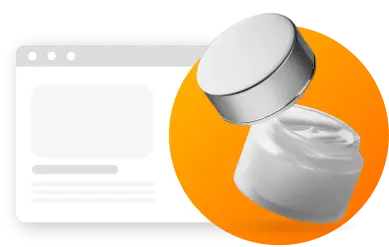 Designing websites that go further than just a fancy look
To streamline your cosmetic or beauty product website, we may combine various "behind the scenes" aspects. Whether you require a basic informational site showcasing your products or a fully functional e-commerce platform, we can help.
73% of beauty shoppers will shop on their phones. Is mobile shopping something you're ready for? Our beauty salon website designs are entirely responsive to make buying easy on all devices.
Services for any niche of the Cosmetics & Makeup industry
We develop websites for mono brands, multi-brands,  and even big marketplaces in the following niches:
Cosmetics and cosmeceuticals
Our team can create an e-store that reflects your brand and showcases your cosmetics and cosmeceutical products in a visually appealing way.
Make-up products and nail polishes
Get an engaging website that reflects the unique personality and identity of your make-up and nail polish brand.
Hair styling products
We can develop a website that showcases your hair styling products, including shampoos, conditioners, and styling gels.
Skin care products and treatments
Benefit from the store showcasing your skin care products with high-quality images, detailed descriptions, and informative product pages.
Boost your cosmetics & make-up sales
Leave us your contact details and we'll help you get high revenues from your online business.
Experience and success
Our projects and certificates speak louder than words. Check out our credentials from Magento, Adobe and Shopware below.
4
9
6
3
2
9
6
2
Magento Certificates
9
6
2
Adobe Certificates
2
1
1
Shopware Certificates
Key features for a smooth user experience
We care about your customers and include the following features into cosmetic website design for their seamless experience.
Easy navigation and search
Our team will create a website that is easy to navigate, with clear menu options and logical page hierarchies.
Product filters
We can add filters that enable customers to refine their product searches based on specific criteria such as price, color, size, and product type.
Personalization options
We will allow customers to personalize their experience on your website by saving their preferences, viewing their order history, and receiving personalized recommendations.
Virtual fitting
Our IT experts can utilize augmented reality to enable customers to see how products will look on them before they make a purchase
Chatbot help
Our team can add a chatbot to help customers with any questions or issues they may have, with the ability to escalate to a live representative if needed.
Video reviews
We can add a section with video reviews of products to help customers better understand how they work and what they look like in real life
Feedback system
With the feedback section, you can continuously improve your products and services based on customer preferences and suggestions
Flexible payment and discounts
Our team can integrate a ariety of payment options, including credit card, PayPal, and other secure payment methods as well as add features with flexible discounts.
Why choose us
Below is how we differ from other fashion web development partners.
12+ years experience
We help eCommerce businesses broaden their trading experience and boost revenues in a range of niches, including healthcare.
84+ specialists
Our team consists of highly-professional developers, designers, project managers, and other specialists ensuring a smooth workflow.
34+ active clients
We can create feature-rich business-to-business and business-to-customer portals for any kind of healthcare eCommerce company.
Certificated team
Thanks to the high professionalism of our developers, our company has received a number of certificates from the world-leading partners, such as Adobe and Magento.
FAQ
What makes a good makeup site?
An excellent cosmetics website will be well-designed and simple to use, with a vast selection of goods that are all described in detail and shown in high-quality images.  It should also provide customer reviews and ratings, personalized recommendations, and an efficient checkout process. There also needs to be engaging and informative content on the site that is optimized for search engines.
Can you suggest the most suitable platform for my cosmetics website?
Yes, we can help you select the most suitable platform for your cosmetics website based on your specific needs and preferences. We work with Magento and Shopware, and can recommend the best option based on factors such as scalability, functionality, and ease of use.
How to make an app for my makeup website?
We can develop a specialized mobile app for your cosmetics website to improve the overall functionality and convenience for your clients. In addition to designing and developing an app that fits the company's specific demands and brand image, our expert team of developers can also ensure that it works seamlessly with your current website and other backend systems.
Will my website be SEO optimized?
Yes, we will ensure that your website is SEO optimized by implementing best practices such as keyword research, on-page optimization, and link building. We will also conduct regular SEO audits and make recommendations for ongoing improvements to help increase your website's visibility and drive organic traffic.
Can you migrate my cosmetics website from Shopify to Shopware?
Yes, we offer website migration services from various platforms including Shopify to Shopware. Our team of experienced developers will ensure that the migration is seamless and that all your website data, including products, orders, and customers, is transferred safely and securely to the new platform.
My beauty eCommerce business does not have a full-time web developer. Do you offer long-term support?
Yes, we offer long-term support and maintenance services to ensure that your website remains up-to-date, secure, and fully functional. We provide ongoing technical support, bug fixes, and software updates to help optimize your website's performance and minimize downtime.
Let's talk
about your projects
Our latest article about makeup ecommerce