Brilliant jewelry store website development
Let your jewelry eCommerce website idea sparkle. We will help you build a top-ranking website that engages visitors and brings online traffic.
What we offer for jewelry ecommerce businesses
For jewelry businesses, a stand-out eCommerce website is a must. Differentiating yourself from competitors is crucial. Here at IT Delight, we use the latest technology to make your website responsive, custom, and agile.
Dazzling Jewelry shop design
Our professional designers creates jewelry eСommerce websites that easily catch the attention once a user visits a homepage.
Convenient UX Jewelry store
We design stores with a convenient layout that is organized around customer needs, not the product features.
Robust Functionality of the Jewelry shop
We design highly functional websites that are easy to navigate and purchase the products that users are seeking.
Mobile-Friendly Jewelry store
Our team creates fully responsive and flexible websites. Regardless of the device, your customers will have an exceptional experience.
We are trusted
Many companies have already trusted us with jewelry store web development. This is only a part of those whom we have already helped with the project
User-first design
Before starting the actual jewelry eCommerce development process, we research and create a design that will satisfy your target audience.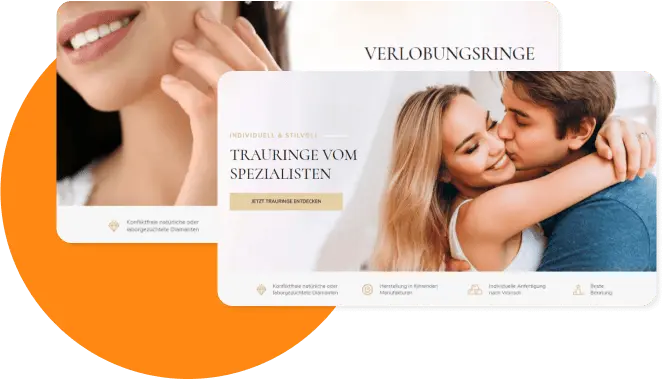 Target audience analysis
Competitors research
Custom illustrations
Clutter-free design
User-friendly interfaces
Top-notch functionality
Our developers make sure that your website has all the sections and details for the customer to purchase a product.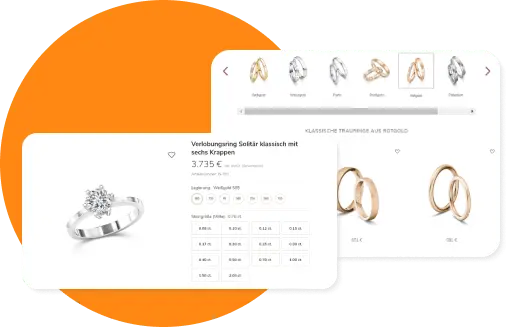 Receiving buyer's requests
Fast and easy order processing
Credit card charging
Effective catalog managing
Advanced item search
Seo-friendly ecommerce design
Design has everything to do with SEO, and we'll make sure that your jewelry eCommerce website outranks your competitors.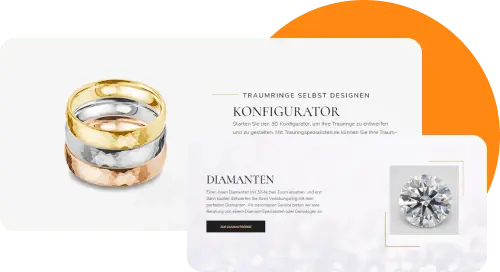 Responsive design
Targeted keywords
Optimized images
Clear content structure
Internal links
Experience and perfectionism
We have been working for over 10 years and know exactly what's needed for a great jewelry web store. The following certificates speak better about our expertise.
4
9
6
3
2
9
6
2
Magento Certificates
9
6
2
Adobe Certificates
2
1
1
Shopware Certificates
Discuss your project
Talk to our Web Designer Consultant and collaborate with our gems & Jewelry Web Design & Development service. Communication is the key for us to understand each other. Allow us to understand your requirements or queries. Present us with an opportunity to serve you.
Key features to look out for
When building a jewelry eCommerce website, there are some key features that you should pay special attention to.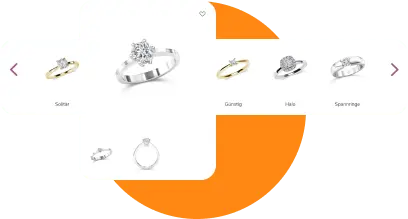 Product pages
Approach the design of the product page with great care and make sure that your products are displayed in the best possible light.
Use quality images
Add different images of a product
Use categories and filters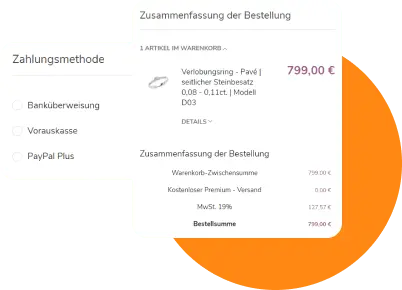 Payment methods
We suggest using the integration with the payment gateway as it's extremely safe.
Be mindful of commissions
Consider the simplicity of integration
PCI Compliant and Security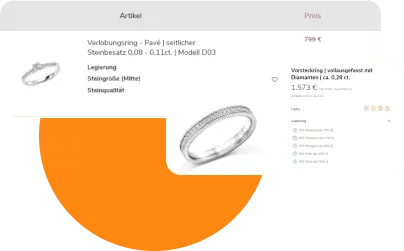 Shipping
Customers want to receive goods as soon as possible, so be mindful when setting up your shipping system.
Define your shipping policy
Choose eCommerce shipping solutions
Be transparent with your customers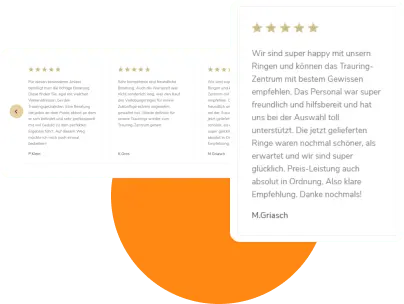 Customer reviews
Adding a review feature will convince your visitors of the legitimacy of your business. Don't forget to encourage customers to leave reviews as well.
Integrated review page on your website
Connected reviews with the products that are being reviewed
Categorized reviews by the positive and negative comments, and the most/least popular ones
Get feedback
Share your boldest ideas about your jewelry eCommerce website and our development team will tell you how bring them to life.
Why choose us
Here is what makes stand out of the competition when it comes to jewelry ecommerce
12+ years experience
We help eCommerce businesses broaden their trading experience and boost revenues in a range of niches, including the jewelry industry.
84+ specialists
Our team consists of highly-professional developers, designers, project managers, and other specialists ensuring a smooth workflow.
34+ active clients
We create feature-rich business-to-business and business-to-customer portals for jewelry suppliers, manufacturers, and wholesalers.
Certificated team
Thanks to the high professionalism of our developers, IT Delight has received a number of certificates from the world-leading partners, such as Adobe and Magento.
Our projects
Our web development company serves a number of industries
Project
Zolota Kraina | Magento Migration & Speed Optimization
Features
Request A Sample' System Expanded Carrier Options Mailgun Integration
Technologies
Project
Trauring Spezialisten | Magento Migration & Speed Optimization
Features
To speed up the client's Magento 2-based store, we implemented lazy loading, optimized fonts, CSS & JS, removed unused modules, and applied other techniques.
Technologies
Reviews of our clients
These businesses were very pleased with the work that we have done for them.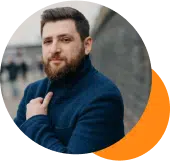 eCommerce Director
Petro Smirnov
We ordered a PWA project based on Vue storefront for Magento Cloud store from IT Delight Company. Despite the complexity of the task, guys did the job cool and efficiently. Especially I liked the communication and technical level. Highly recommend IT Delight as a contractor for your E-commerce business.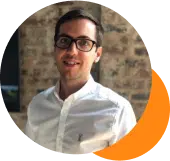 Co-Founder Managing Director
Nathan Chick
IT Delight have been a dream to work with, we have hired a number of their Magento Developers on long-term contracts. The developers have been technically excellent and just as important the communication has been excellent too. It's been a great partnership! I look forward to our continued work together.

Jewelry eCommerce Website Development FAQs
Is it a good idea to sell jewelry online?
Jewelry is especially well-suited to selling online. This is why:

Necklaces, rings, and bracelets are simple to package and send because of their small size and lightweight. Tissue paper and a padded envelope or box are all you need to safely ship even the most fragile products. Shipping fees can be reduced, meaning you can provide your goods at a lesser price if it is small and lightweight.

Jewelry, unlike shoes and apparel, often comes in a single size that should suit the vast majority of individuals. A snapshot of a product taken at its actual size eliminates any uncertainty regarding its dimensions.
Jewelry shoppers, drawn in by the convenience of online shopping, are increasingly likely to make their purchases from an eCommerce website.

Why do I need a jewelry eCommerce website?
Having a website allows jewelers to promote themselves professionally in the digital sphere. You will have complete control over any and all online discussions related to your brand, services, and/or goods.
How to start an online jewelry store?
What can I do to expand my online jewelry store?
Once you know how to start a jewelry eCommerce brand, you can do the following to expand it:

Make sure the name you choose for your company has meaning.
Identify the core principles that underpin your jewelry company.
Plan out how you will charge for your products.
Create a plan for promoting your goods.

Which platform would be ideal for eCommerce jewelry stores?
This is a really challenging question. Choosing a platform for your jewelry company is no easy task. Consider the following questions:

Spending limit
Simplicity in implementing the technology
How much time you're willing to put into it

Why does jewelry business web design matter so much?
Our brains are wired to comprehend visuals considerably more quickly than words. It will leave a more lasting effect than reading alone. That's why it's crucial to have a well-designed jewelry website.

It's also indicative of the company's commitment to professionalism. Customers form connections subconsciously.

How much does it cost to start an online jewelry store?
Depending on the scope and complexity of your new website's design and functionality, the total cost of its development will vary. There is flexibility in the website's design, which can range from minimalist to fully personalized. When we have a good grasp of your specific company needs, we can provide you with an accurate estimate of the associated expenses.

How much leeway do I have in jewelry store web development?
A website can be designed from the ground up to meet the specific needs of its users. All of the capabilities, features, and layouts may be refined to your specifications.

Can I make adjustments to the layout and functionality of my website after it has been built?
After a store has been built, it is still possible to modify the jewelry eСommerce website design or add new functionality. Although incorporating the new design or set of features would increase the price.

Could you provide me with any examples of your website designs?
Yes. Take a look at our portfolio including some of the numerous jewelry eCommerce development cases.

What is the expected timeline for building this website?
Standard jewelry store website development usually takes about two to three weeks. Time commitments for custom websites are highly variable and cannot be estimated unless the project is addressed.

When the jewelry store web development is complete, what happens if issues arise?
We have a competent development staff ready to handle any issues that may arise after the website has been completed and made public. In addition to building your website, we also offer maintenance and updates.

If I provide you with some ideas for a design, would you take them into account? If not, are you planning to use a certain eCommerce jewelry website template?
After a thorough discussion of your needs, we will offer our recommendations for your website's layout. Our web design team will carefully analyze all of your design feedback and make informed recommendations based on what they learn.

My jewelry eCommerce website's present layout needs to be updated. Can you offer a better suggestion?
Absolutely! The layout of your existing website may be modified and brought up to date to meet your specific needs. Our user experience designers will evaluate your existing website design and provide any necessary recommendations for enhancements.

What sort of warranty do you provide for your jewelry store website development?
Our web development services come with a full satisfaction guarantee, and we are a results-focused company. We provide exceptional assistance and work hard to create the greatest websites possible.

Let's talk
about your project!
Our latest article about the jewelry industry
Read what our experts say about online jewelry business