If you want to open a beauty supply online store, but don't know where to start, you've come to the right place. In this article, we explain what you need to do in a step-by-step guide.
Beauty supply market overview
Before diving into the specifics on how to build a beauty supply online store, let's find out if it's event profitable. The beauty supply stores industry market size by revenue is estimated at $19.3 billion in 2022. But, there's more, in 2022 the market size is expected to increase by 2.5%. In the US, the market size of the cosmetics store industry grew by an average of 0.7% per year from 2017 to 2022.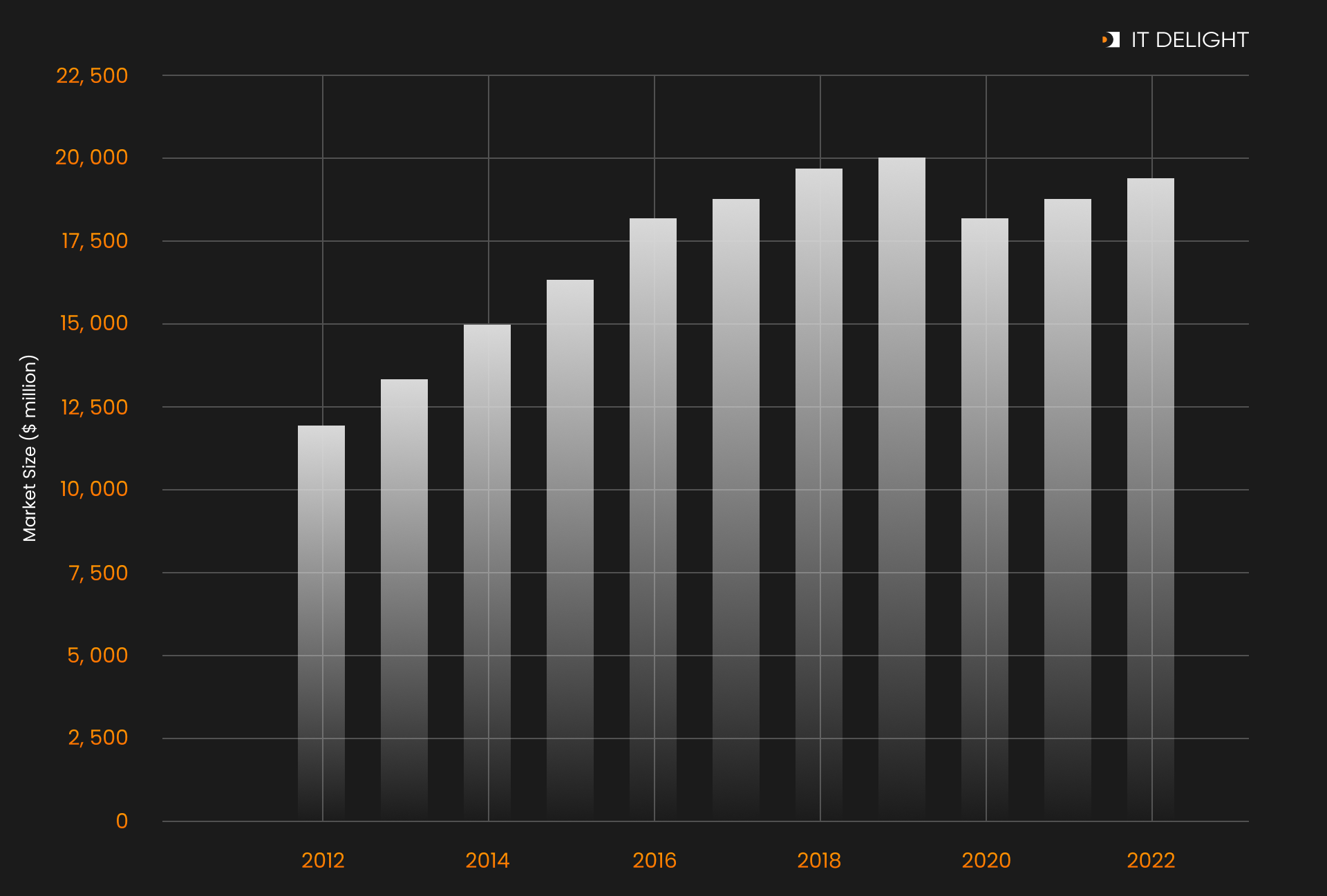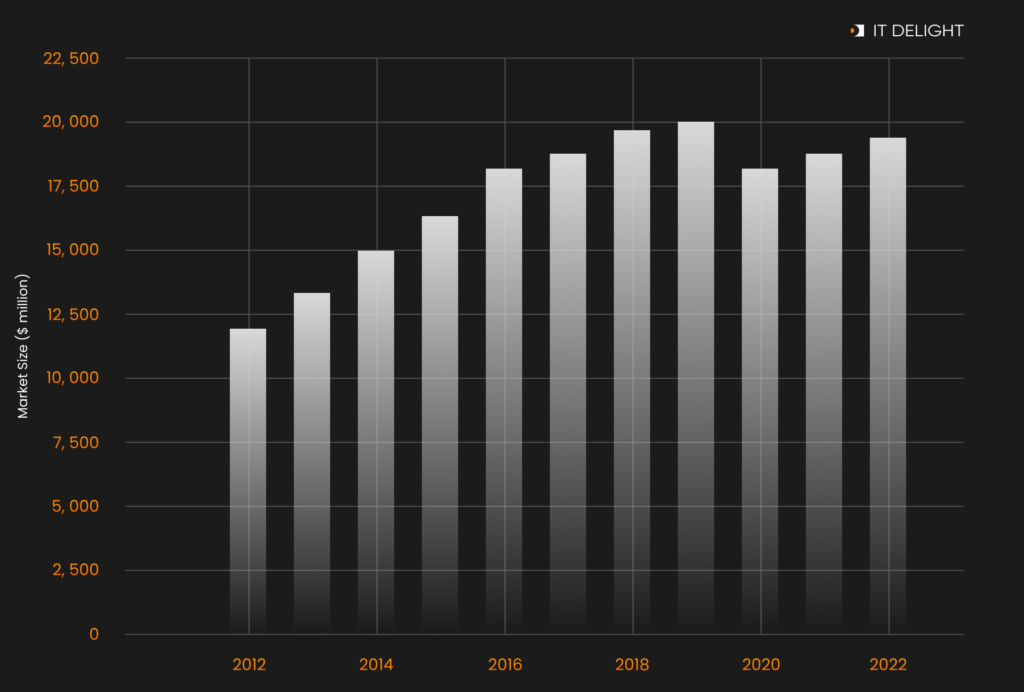 The future of the global beauty industry is also looking bright. It's expected to reach $800 billion by 2025.
Key segments of the beauty supply business
When starting a beauty product supply business it is quite important to know the key segments of the industry. The beauty supply world is filled with different opportunities for opening a beauty shop. Here're the key beauty industry segments:
Haircare products
Skincare products
Cosmetic products
Other products
Key customer segments in the beauty supply business
The first rule in the business world is "Know your customer". Therefore, before opening your beauty supply online store you should determine the customer segments you want to cater to. Here're customer segments that you should consider:
Beauty salon professionals
Beauty schools
Estheticians and beauty salon technicians
Home beauty care fans
Please note that each customer segment has its own specific needs. To build a successful beauty business, you need to determine how you can meet the needs of different market segments.
How to open a beauty supply store online
Before you order Shopware or Magento services to build your store, get familiar with the step-by-step process itself.
Step 1. Choose beauty product lines and a brand concept
The first step you should take to build a beauty supply online store is the development of a vision for the future brand and the identification of product lines for your online store.
The world of beauty products can sometimes come across as overwhelming. There're hundreds of products for you to choose from. To make a decision we suggest making product research.
How to do product research?
For instance, you can use Amazon with its giant customer base and variety of different beauty products.
You can go to Amazon's "Best Sellers in Beauty & Personal Care" to look for product ideas and inspiration. Here's what you need to pay attention to when doing a beauty product research on Amazon:
customer reviews
selling prices
product descriptions
Never underestimate the power of social media, especially when it comes to the beauty supply business. You can use Facebook and Instagram to get information about the best-selling beauty products. Follow influencers and brands to stay on top of modern trends.
If you have an idea for a product line you want to use for your beauty supply store, you can go to Google Trends to analyze its potential.
In the modern world, consumers not only expect complete transparency from beauty companies but also want to buy cruelty-free cosmetics with organic ingredients. Today, consumers are prioritizing effectiveness and ingredients over price. For instance, the global value of natural cosmetics is expected to reach $54.5 billion by 2027.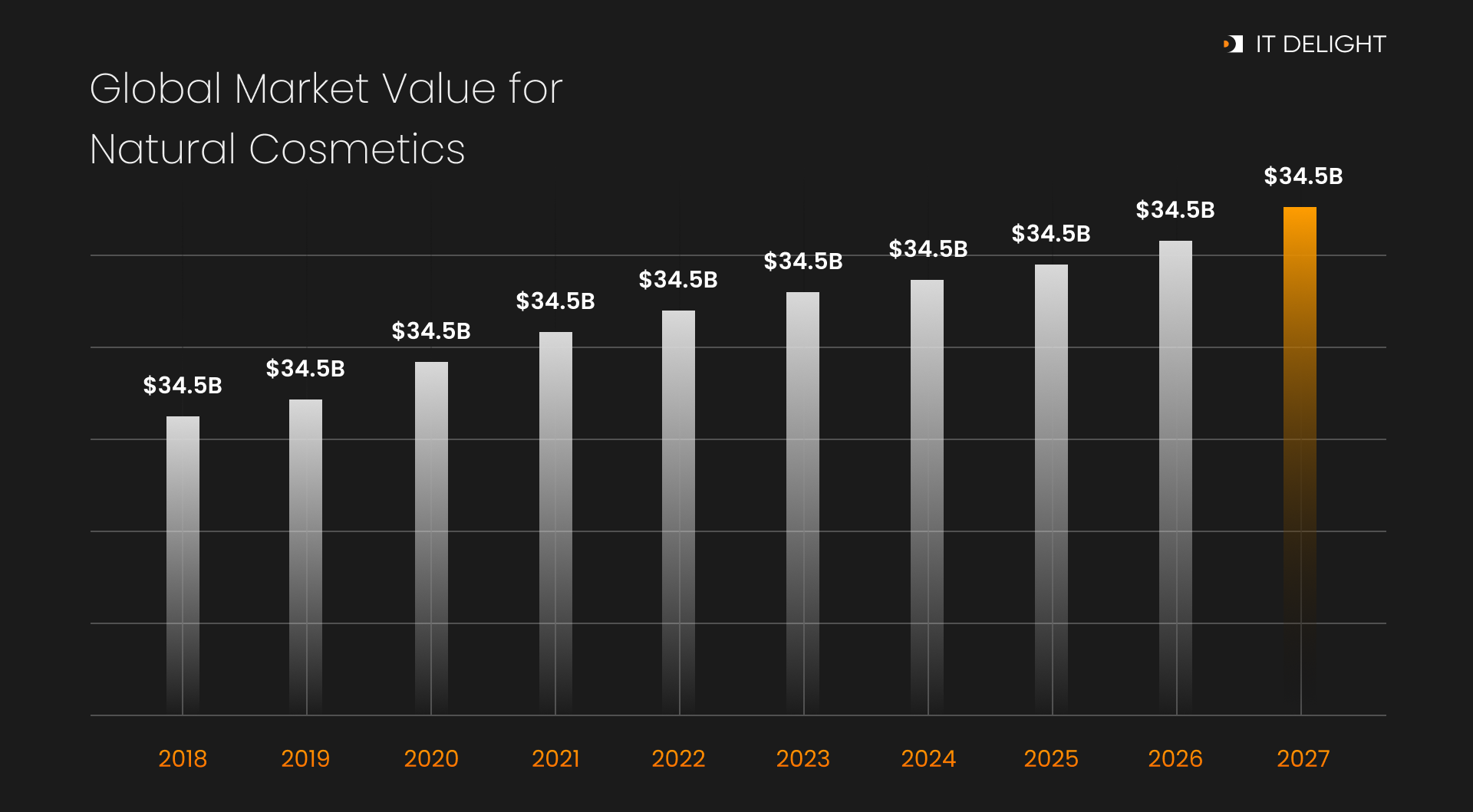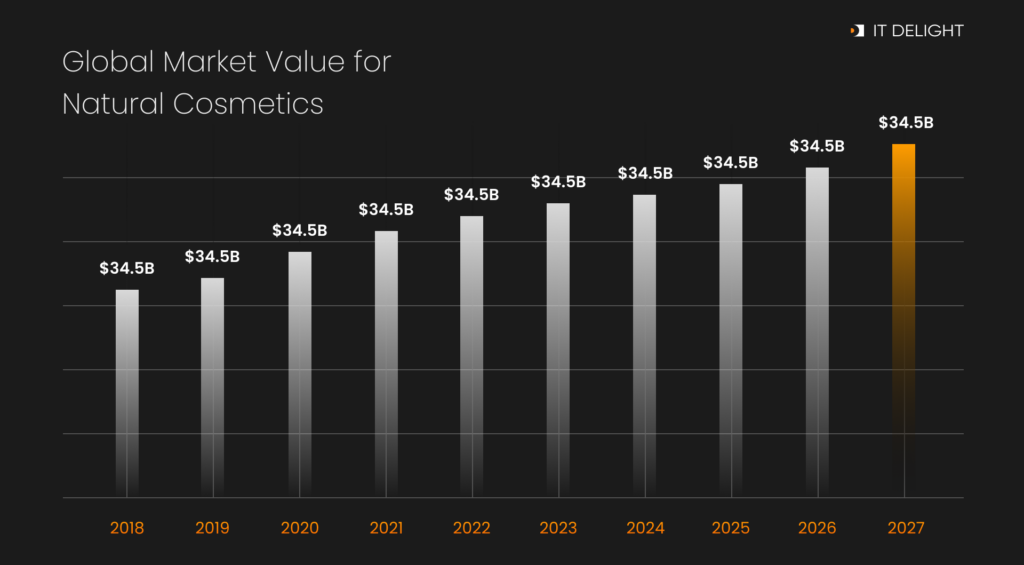 Step 2. Research the beauty supply market
The next step will be the research of the beauty supply market. There're to types of market research you should use: primary and secondary. Both of them are essential for high-quality research.
Primary market research
You'll have to directly interact with your current or potential customers for the primary market research. This type of research is needed for collecting data on the target market and then segmenting the market into smaller and more specific parts. With the help of primary market research, you can find out more about your target market.
Secondary market research
Secondary market research is based on gathering information from open sources. Also for this kind of research, you can purchase market reports with in-depth data on your target audience. Secondary market research helps determine areas that should be investigated through primary research. The secondary research lets you find insights like the industry status, niche market, and competitors.
Step 3. Decide on the business model


To launch your own beauty supply store you'll need to choose a business model. There're four main business models:
Dropshipping
Such a business model implies the process of selling products online without inventory. So, this is how it works, buyers place orders, then sellers send those orders to third-party vendors who ship the ordered items directly to the buyer.
Dropshipping model doesn't require warehouses and frees you from the overly complex logistics. This model is great for small businesses. The revenue depends on the difference between the supplier price and the price that you establish in your store.
White Labeling
In the white label business model, products are manufactured by one company without labeling and then sold to different dealers. For instance, a white label sells one kind of product to ten different retailers. Then each retailer puts its own brand on it, changes the package, and sells to customers.
Manufacturing
In this model, your beauty product is custom made and you have the legal right to sell the product under your own brand name. This model is usually a good idea for big beauty supply companies.
Wholesale Warehousing
This model involves buying products, storing them in a warehouse, and selling them through an online beauty store. However, this model is considered quite complex because you have to invest in storage space and inventory management tools. But, this model gives you full control over product quality, compliance, and delivery.
Step 4. Register your beauty online business
The next step is to legally register your online beauty supply store. To build a trustworthy brand and respected beauty brand it is crucial to get proper business licenses and seller's permits.
For example, if you open a beauty supply store in the US, you'll need to register the Employer Identification Number (EIN) from the IRS. EIN is a unique security code that identifies your business transaction and lets you open a corporate bank account and submit documents.
What's more, if you're making your own line of products, get insured. Cosmetics can cause skin reactions and allergies. Of course, you don't want to get involved in litigation without potential liability coverage.
Step 5. Choose eCommerce platform
Today, there're tons of options when it comes to choosing an eCommerce website development platform to let you build a successful online beauty supply store.
Based on our extensive experience with Shopware Magento development services, we suggest you go with the Magento platform for making an online beauty supply shop. Magento is one of the most popular eCommerce platforms that is a great choice for all business sizes. Magento platform gives you the opportunity to provide your customers with an amazing shopping experience. The platform has a giant pool of features, is highly customizable, and is optimizable for mobile shopping.
Many well-known beauty brands use Magento for their eCommerce website, such as Sigma Beauty, Regis Corporation, Pierre Fabre, etc.
Looking for a beauty supply eCommerce development company?
Drop your contacts and we will contact you soon
Step 6. Hire a beauty supply website development company
Hiring a development team for your beauty products website is not an easy task. When dealing with beauty website development companies, you should learn the following important information:
How does the company arrange its workflow?
What is the team size?
How many years of experience does the company have developing eCommerce projects?
Does the company have certified developers?
Does the company willing to sign an NDA?
Make an informed decision based on the requirements of your project.
Step 7. Determine the features of the beauty supply website
The next step will be determining the features that you want to have on your beauty supply website. We made a list of the core features that have to be in every beauty supply eCommerce website.
User profile
Your customers should be able to have their own account where they can look at their search history, see their favorite products, and have their shipping and payment information saved.
Search
Provide your customers with an advanced search. Use filters and labels (filter by color, size, price, ingredients, etc.), autocorrect to complete the search, and the image search to find a similar product.
Product pages
The product pages should have detailed information on the selling item, high-quality photos, and videos of the product. You can add product images that rotate 360 degrees for a better presentation. Also, you can add the zoom feature for images.
Reviews
Customers are more likely to make a purchase on your website if they see reviews from other customers. Adding a review feature will reassure your visitors that your business is legit.
Shopping cart
Your customers should be able to add products to a shopping cart, change the quantity of the products, and proceed with payment.
Payment getaway
Remember that the development of a beauty site cannot be completed without payment system integration. The most popular payment getaway today are PayPal, Stripe, and Shopify Pay.
Shipping
Shipping is a vital feature of a beauty supply website e-commerce business. Your customers would like to receive their products as soon as possible. To avoid any misunderstanding always be clear about your shipping policy.
Step 8. Ensure the security of your beauty website


Security is the foundation of your beauty supply website. Never neglect this stage of the development process. For instance, if you are building a Magento beauty eCommerce website you can do the following things to improve security.
Implement the two-factor authentication (2FA). Magento 2 has a great two-factor authentication extension. This 2FA extension uses four different types of authenticators and only trusted devices can get access to the Magento 2 backend.
Always have a backup plan. In order to create a secure and smoothly running beauty supply eCommerce website, it is recommended to use an hourly off-site backup plan and downloadable backups. If something happens to your beauty supply website, the backup plan will fix any service outage.
Use encrypted connection (SSL/HTTPS). You can enable an encrypted connection for the Magento beauty supply website by checking the "Use Secure URLs" tab in the system menu. This will provide your website with a secure HTTPS/SSL URL.
How much does it cost to open a beauty supply store
Now, let's find out how much it costs to make a beauty supply eCommerce website. Finding a professional team to develop a beauty supply website is not an easy task. Prices for an hourly rate can range from $20 to $200 depending on the team's technical skills, location, and knowledge level.
So, what options do you have in this situation? You can choose an in-house team if you want to have complete control over the development process. But, you should be aware that this option is the most expensive. You would have to pay each team member a salary, find and pay for an office. Another option is to turn to an outsourcing team.
Read our article "How Much Does It Cost to Hire a Magento Developer?" to find out more on this topic.
The popularity of using outsourcing development teams for various projects is now quite high. Outsourcing is cost-effective and provides you with a high quality of development, and ease of communication. Outsourcing development companies have a wide range of professional developers. The cost of outsourced development depends on where you go.
Below we have compiled a chart of development costs per hour by region. As you can see, the most expensive prices in the US and Canada are $150-200 an hour, while the lowest prices are in Asia and South America, $15-45 an hour.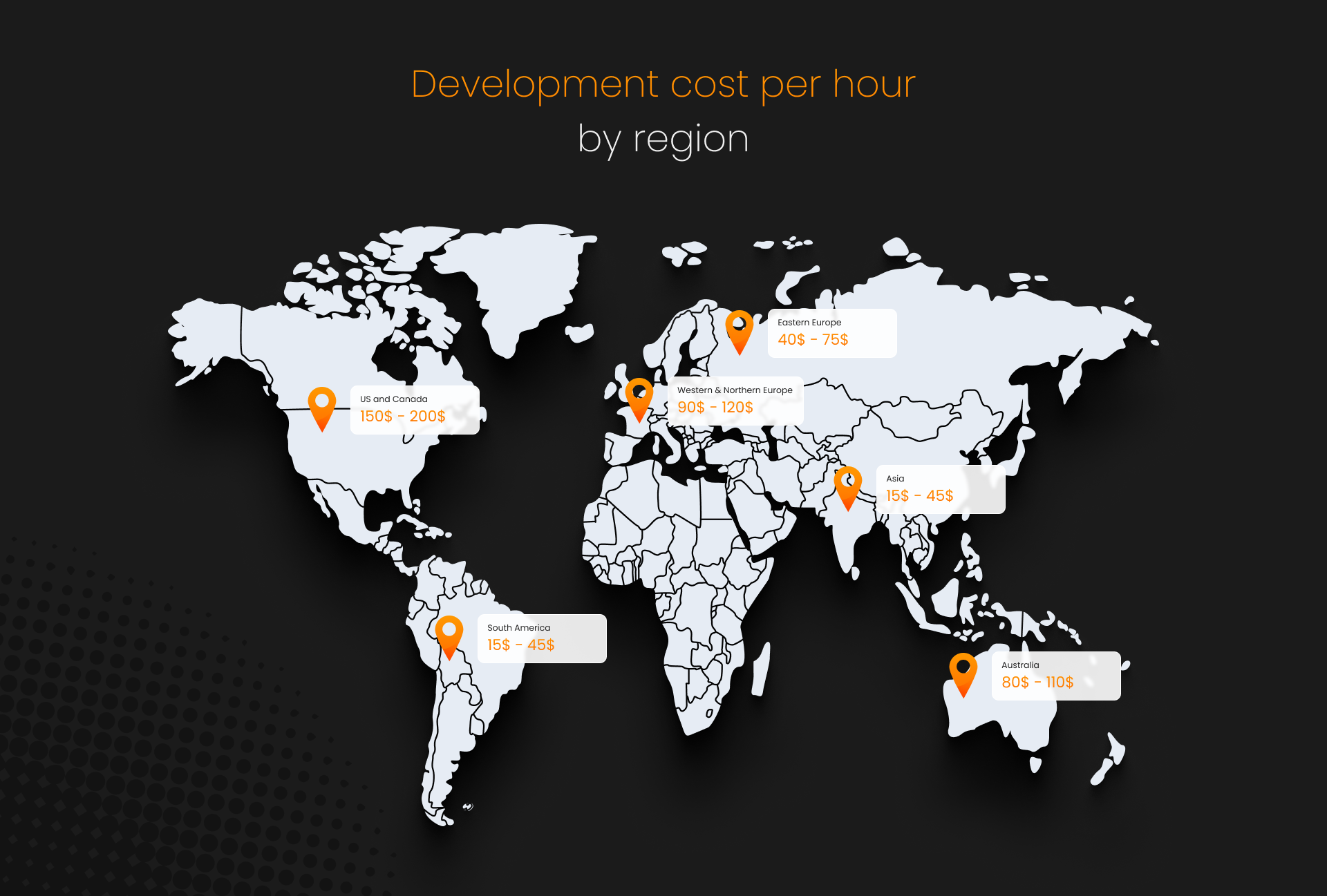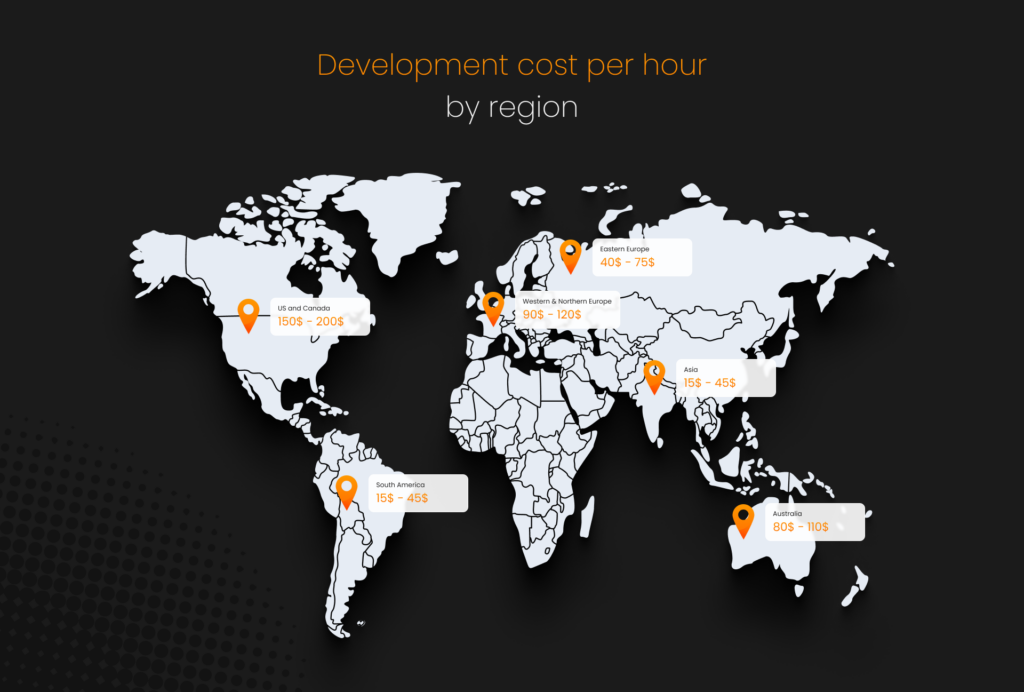 The cost of a beauty supply eCommerce website will also depend on the time spent on development. Here are the main factors that affect the project development time:
Project size
Design complexity
Number of functions
Development team size
Final thoughts on building a beauty supply eCommerce website
Launching a beauty supply eCommerce website is a complex and cost-consuming task. We hope that this article has helped you understand the factors behind the development process. IT Delight has extensive experience in web development, especially in building beauty eCommerce websites. Contact us if you have any questions about this topic.