With digitally native businesses now multiplying at a rapid rate across online and social purchasing platforms, eCommerce is still the main driver of beauty sales globally. The global beauty market includes makeup, cosmetics, skincare, and hair care products. It even extends to fragrances and deodorants. All of this is not limited by age, gender, or cultural background. So, you can see an extensive growth of the beauty industry in eCommerce and probably consider using cosmetics & makeup web development services.
In reality, the beauty business is so vast and varied, with so many brands and an infinite number of communication channels, that its mass items and luxury lines have made their way into virtually every home in the modern world. Consumers in every price range and demographic are gurus on the market, and they know all there is to know about the most popular products, where to get them, and how much they cost.
Beauty Industry Figures
With a predicted $784.6B in revenue by 2025, the beauty business will only get more massive in the online marketplace.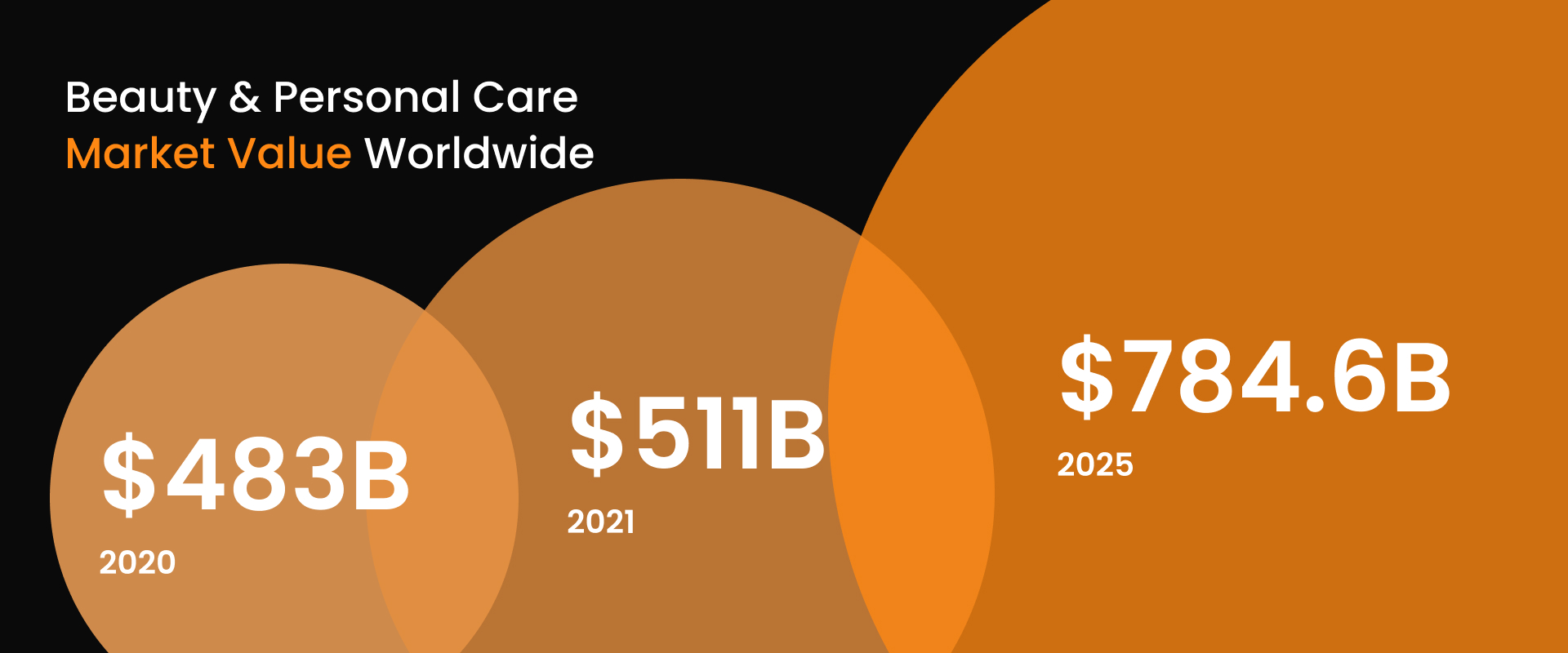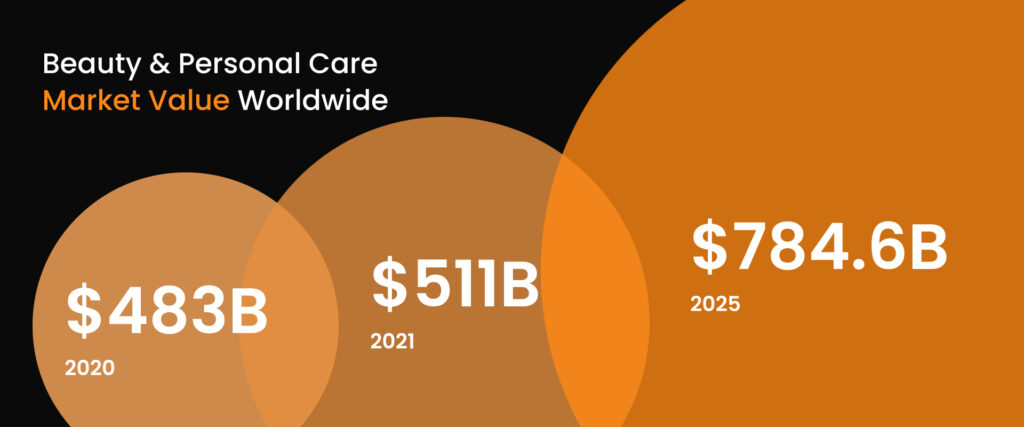 According to some experts, the beauty Internet market in the United States is predicted to increase by 4,8% in 2023. Below, you can see how online and offline distribution methods are evolving.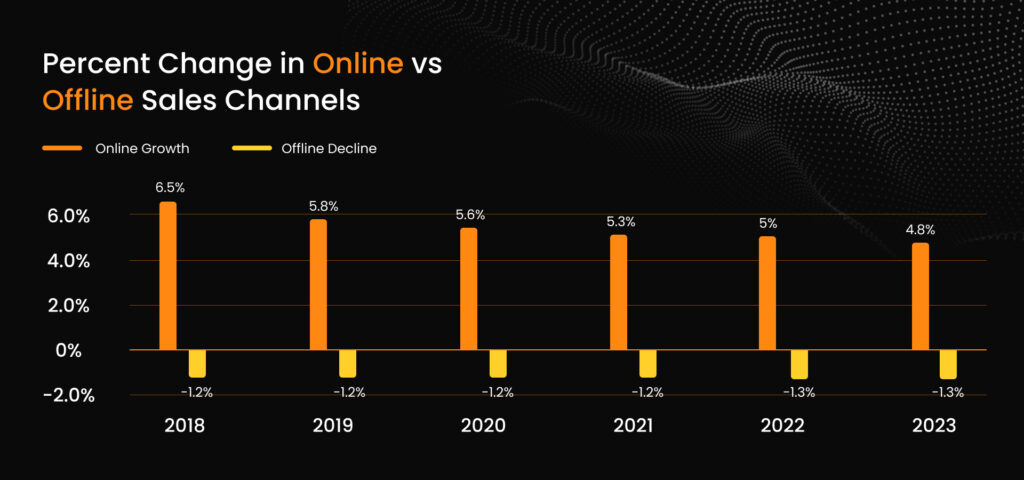 What's important, is that eCommerce allows for better manufacturer diversification. The traditional retailer market is not so versatile compared to the online one.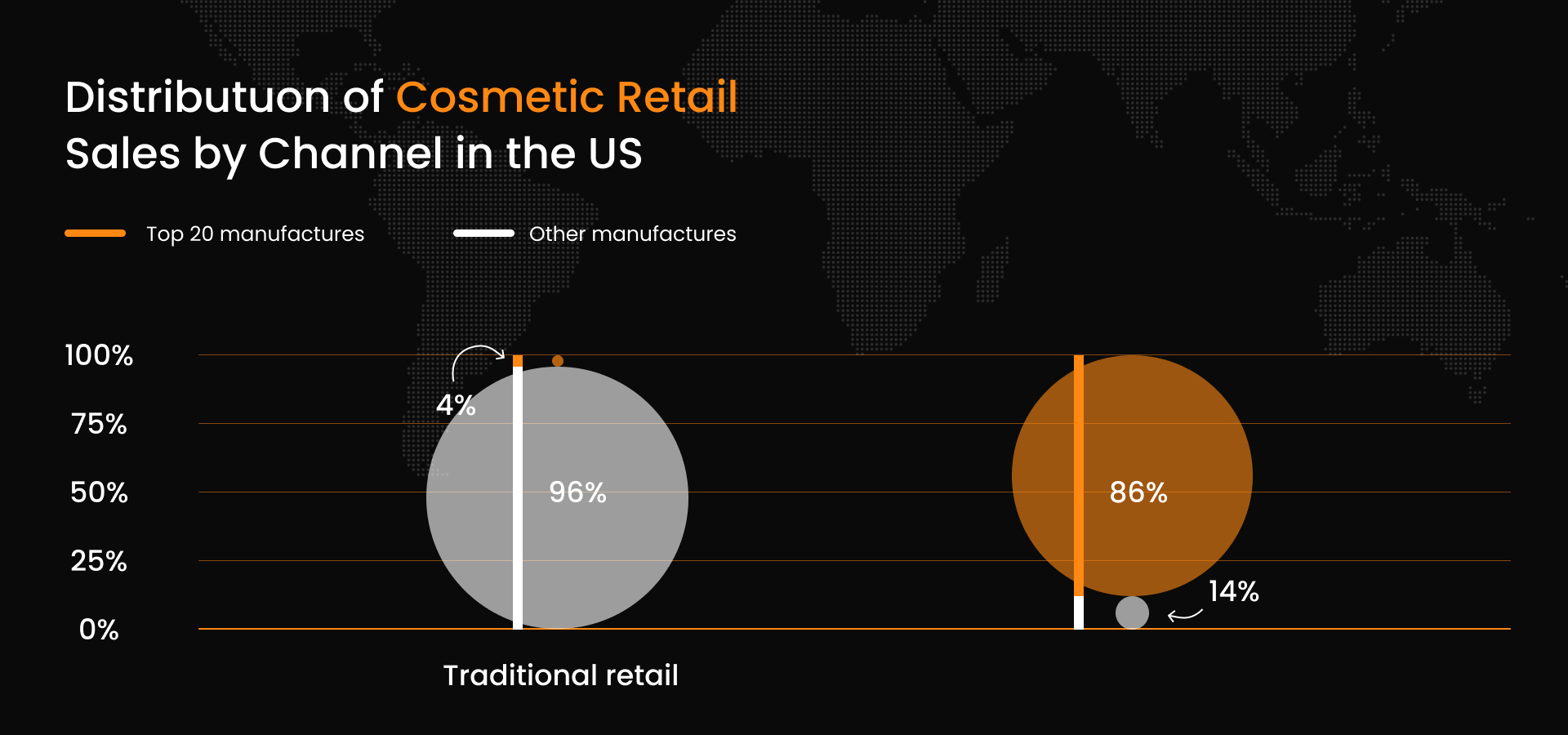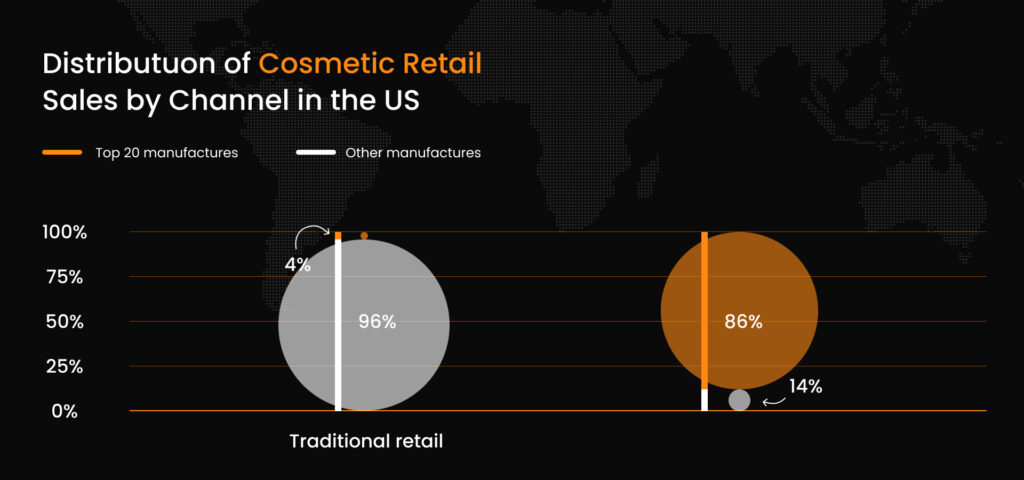 2022 Beauty Shoppers: Online or Offline?
A few years after the pandemic, do more people buy health and cosmetic items online than in-store? The newest YouGov product, Global Profiles, collects data on customer preferences in the industry, revealing their buying habits. Worldwide Profiles analyses consumer attitudes, emotions, actions, and routines while keeping an eye on 43 markets' web browsing and global trends.
Twenty-three percent of people throughout the world say they buy health and beauty products equally from online and brick-and-mortar retailers. Roughly 10% of customers worldwide say they always or almost always buy health and beauty items online, and over twice as many say they mainly or almost always shop online (22%). Nearly 20% of people report never shopping online, while another 35% say they seldom purchase online.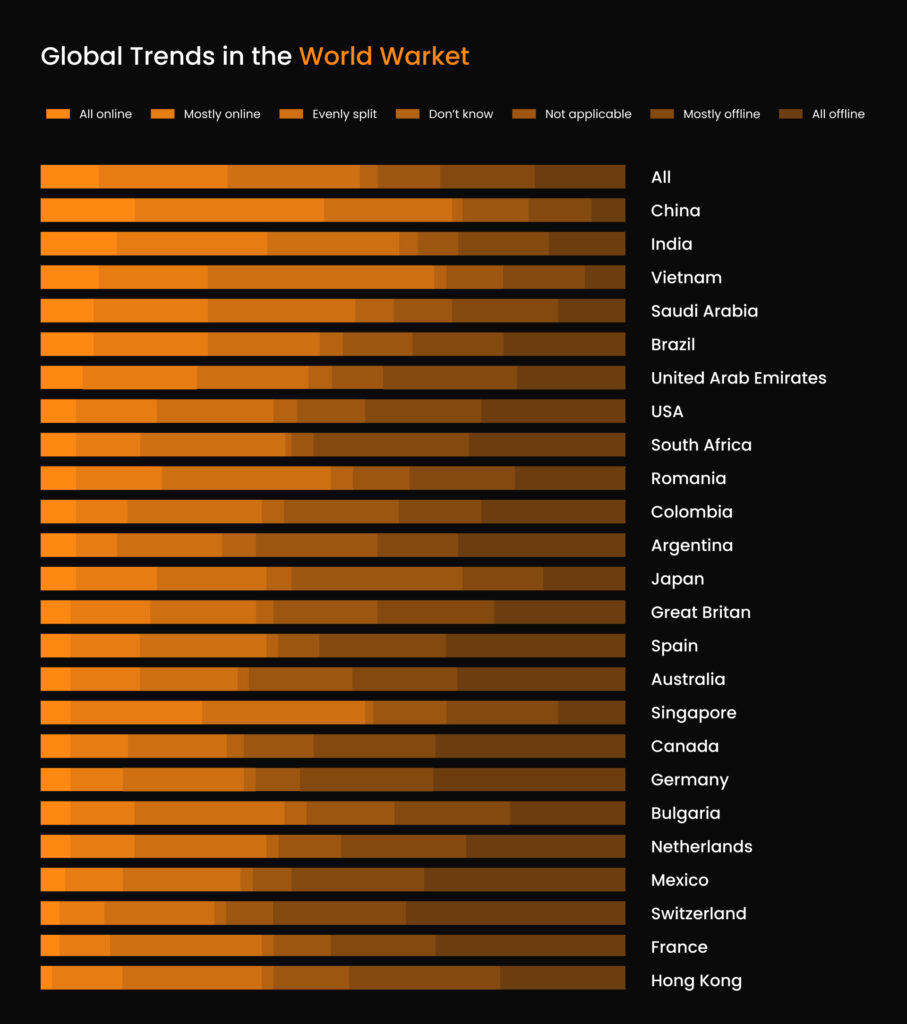 Asian market
Consumers in China (16%) and India (13%), who are ahead of the curve in this regard, are the most likely to conduct all of their shopping online. In Vietnam, just 10% of consumers are likely to do so. But in other Asian economies, like Singapore (where the share is at 5%) or Hong Kong (where it's at 2%), just around one in twenty shoppers prefers to do all of their shopping online.
European market
A larger percentage of consumers may choose to purchase in-store because of the inability to try on cosmetic goods before buying them. Consumers in the European markets are less likely to buy cosmetics online than those in other parts of the world. Shoppers in Switzerland (37%), Germany (32%), and France (32%), say they are more likely to do it entirely offline. But still, a bigger share of buyers get their beauty products from eCommerce stores.

North American market
More than a third of Canadians (32%) and Mexicans (33%), two of the largest North American marketplaces, claim they never purchase online. In contrast, over a quarter of Americans (24%) report never buying health and beauty items anywhere other than a physical shop. Despite that, a big percentage of the North American population goes online to purchase beauty goods.
The multi-billion dollar online beauty market is flourishing. The beauty business is increasingly dominated by specialized, niche products (consider handcrafted soaps and cosmetics). If you're a business owner in the cosmetics industry, you can afford not to have a web presence.
Don't bother looking elsewhere for information about opening a cosmetics shop after reading this. Using a simple five-step structure, this article makes the procedure manageable for everyone. If you still need help, check our B2C eCommerce development services page.
Creating an Online Beauty Supply Store
There is no need to continue searching for information on how to launch a beauty supply store. Here, we'll take you through the entire procedure step-by-step.
Your beauty supply store will be prepared for opening as soon as you've completed these steps.
Create a concept for your online cosmetics boutique
Start by determining the distinctive voice of your store or the precise need that your business will fill as you embark on your online beauty store adventure.

This crucial step will guide every other choice you make, from naming your shop to creating a logo and website. Consider the following questions:
Who are you trying to reach? Do your offerings target Gen Z or Gen X consumers? Your target market should like the way your store looks and feels.
What distinguishes your brand? Do you want your followers to find your social media feeds full of humorous posts, pure beauty ideas, or authoritative explanations of the active chemicals in your cosmetics?
What do you prioritize? Do you want to market a complete range of natural skincare or hair products, a particular lip gloss in the exact shade of pink, or nail polishes and healthcare products? Initially keeping your beauty salon product range limited might aid in the development of a specialized brand, but you should also allow for future expansion.

You'll be able to come up with a brief, memorable name that accurately describes what you're offering as you become more aware of your store's emphasis. Your brand identity is complete once you've settled on a name.
Create a logo
After you have settled on a name for your store and have perfected your brand's identity, you can go on to design a logo for your business.
As a business owner in the cosmetics industry, you have excellent taste and a clear vision; similarly, you can recognize excellent graphic design even if you lack the skills to create it yourself.
To create a logo that captures your style, pick a couple of your favourites and play around with fonts, graphics, and colors.
Additionally, with your logo in place, you're prepared to begin developing your website.
Get your platform designed and built
Even if you don't know how to code, you can use website-building tools to make a site that represents the style and feel of your business.


Explore available layouts by using the beauty website creator. Choose a header picture for your home page once you've found the one you like. Your beauty shop's banner might benefit from a header picture that includes:
One of your beauty items on a model.
Photos that show the items laid out in a flat-lay format and the organic ingredients that go into making them.
A picture that represents your company's values.
After settling on a header picture, you'll be able to go on to the rest of the site's customization options.
Opt for a color scheme
If you take a close look at your logo and header picture, you might be able to deduce your color palette. Take inspiration from color palettes to further personalize your template.
Try out different colors of a header, background, links, and textures, while sticking to a color scheme that's easy on the eyes. If you're an expert in beauty, you probably have an eye for what makes a color "pop," so use a vibrant logo and header picture with more subdued text or the other way around.
Need help with a website for your beauty shop?
Contact us and we'll get back to you with the best eCommerce suggestions
Pick your fonts
Make sure the page's copy and navigational content all go in with your brand's overall tone. If you're just starting out in typeface design, there are several guidelines you can follow. The use of sans-serif typefaces can reduce eye strain. Therefore, they are a great option for any text-heavy sections of your website. You should also avoid using a wide variety of typefaces in your writing. At most, you need three. Titles and text may be made more noticeable by using bold, italics, and other formatting styles.
Come up with a text to fill your web pages with
After the layout of your site is complete, you can go on to add content to the various pages.
You'll need to get these three key pages in place before you can go on to construct your shop as you design your website.
Main Page
Information Page
Contact form
Create a frequently asked questions section, a portfolio, and more as your beauty supplies company expands. This first step, however, requires your attention to the first three pages. You may always add on afterward.
Pick a memorable domain for your store
The domain name you choose for your online shop is the first impression visitors will get of your business. If you want to make a good first impression, give your company a name that relates directly to what it says in its logo.


If your shop's name is already in use by another establishment, consider adding your location's name to the end.
Check out the yearly costs of each plan after conducting a search for your preferred domain name. After finding your ideal companion and developing your platform, all that's left to do is fill the shelves and begin selling.
What to Expect From the Beauty eCommerce Market in 2023
When it comes to online shopping, the cosmetics business has always been a trendsetter. Clean beauty, hyper-customized skincare, and AI-powered makeup are just a few ways that the cosmetics industry is trying to better serve its customers.
We've done an in-depth analysis of the dynamic beauty e-commerce landscape and compiled a list of the trends we believe will drive the industry ahead in the coming year and beyond.
Advanced Virtual Try-On Capable of Using AI and AR
Before the pandemic, anyone who wanted to buy cosmetics would go to a store, pick up a tester, and use it to select the right color for their complexion. Now, this is no longer a practical choice due to rising hygiene concerns and the rising need for individualized product suggestions. Consequently, innovative companies have started using beauty technology, such as augmented reality (AR) and artificial intelligence (AI) driven virtual try-on systems, to allow clients to safely and accurately test items.
Using cutting-edge AI and AR technologies, we provide customers with quick, tailored product suggestions.


With the use of AI and augmented reality, consumers may have their face traits assessed in a matter of seconds to obtain personalized product suggestions. There are several distinguishing factors among beauty product purchasers, such as skin tone and facial structure. Skincare companies may benefit from artificial intelligence skin technology by using it to better understand their customers' skin issues and provide more accurate recommendations.
Virtual try-on technology powered by augmented reality and artificial intelligence is the future of a more satisfying cosmetic experience, and it may boost consumer trust in products by letting them see how they look and feel in advance of a purchase. The omnichannel shopping experience can also benefit from this technology's simple implementation.
Social Commerce
The cosmetics business heavily utilizes online communities to spread the word of newly released items. Brands may interact with their customers on these sites to better understand their wants and requirements.
Brands need to offer a seamless omnichannel shopping experience across all touchpoints, including social commerce platforms if they want to give the greatest experiences to consumers. An effective social commerce strategy is a powerful tool for businesses to interact with customers. One of the most efficient methods for brands to tailor their social commerce strategy and provide customers with more value is through augmented reality shoppable posts.


Shoppers may try on things virtually while engaging with company content on social media platforms like Facebook and Instagram thanks to augmented reality shoppable postings. This is a highly engaging experience that encourages customers to learn more about the company both online and in-store.
Incorporating QR Codes
By 2024, mobile commerce is expected to generate $488 billion, accounting for 44% of all e-commerce, according to data from Insider Intelligence. The use of QR codes has increased dramatically as people have become increasingly reliant on their mobile devices in the wake of the pandemic.
In an increasingly touchless environment, QR codes have evolved as a practical means of accessing information and making purchases. Customers have learned to trust QR codes and now anticipate having a similar experience when interacting with their favorite companies.


It is possible for cosmetics companies to increase customer involvement in-store by including mobile/QR code touchpoints. QR codes will play a significant role in creating shoppable beauty experiences, as they may be displayed on shelves in-store to allow customers to scan and have access to further information about a product, sign up for a newsletter, leave a review, or gain access to special offers. QR codes may also be used to direct consumers to in-store virtual try-on experiences, where they can get a feel for a product before buying it.
Final thoughts
The digital transition that has been taking place in the beauty sector over the past two years does not appear to be slowing down, as new consumer habits meet a market that is becoming increasingly diverse. More and more money is being spent online, and if brands don't learn to adapt, they'll lose out on a lot of cash and potential consumers. If you don't want to be one of those missing a great opportunity, contact our team.