The fashion industry has made a switch to the online world long ago. But still, not so many entrepreneurs have created a web version of their business. Why? The reasons can be various but one of them is that it's difficult to choose a reliable platform for an Online Fashion Store . What to do in this case? Read below, we have a solution for you.
Why Shopware 6 Is Perfect for Developing a Online Fashion Store


The fashion industry has always been a fast-paced, ever-evolving space. With the rise of online shopping, it's more critical than ever for fashion brands to have a dynamic, scalable, and user-friendly e-commerce platform. Here's why Shopware stands out as the go-to solution:
Intuitive User Interface


Shopware's e-commerce platform has an intuitive user interface that's designed with both merchants and consumers in mind. If you're into fashion and want a store that looks amazing, Shopware has got you covered. They've got sleek design options that will make your fashion items shine.
Scalability


As your fashion store gets bigger, your needs will also increase. Shopware is designed to handle all kinds of online stores, from small boutiques to big fashion websites with lots of products.
Customization


Every fashion brand's got its own dope style, and your online shop should totally reflect that, ya know? Shopware has so many cool customization options that your fashion store will totally stand out in the crowded e-commerce marketplace.
Seamless Omnichannel Experience

Shopware is super cool because it works seamlessly with all kinds of sales channels. No matter if your customers are shopping on their phone, computer, or in a physical store, their experience is always awesome and consistent.
Statistics Speak


Shopware is crushing it with over 100,000 online shops worldwide. That's some serious proof that it's reliable and efficient. Also, like, in this survey, a whopping 80% of fashion retailers using Shopware said they saw a big jump in their sales for the year and way more customers getting involved.
Integrated Marketing Tools


Shopware knows that if you want your online fashion store to do well, you gotta have some killer marketing. The platform has cool tools that help fashion retailers get more people to their store, keep customers coming back, and make more sales.
SEO-Optimized


In the fast-paced world of fashion online shopping, being seen is super important. Shopware's SEO tools are awesome! They make sure your fashion store shows up at the top of search engine results, bringing lots of people to your online shop.
Cost-Effective


It's important to invest in the right e-commerce platform, but it shouldn't cost you an arm and a leg. Shopware is a super affordable option that gives you a lot of bang for your buck, especially if you're a fashion brand trying to get the most out of your investment.
What Functional Set Is Needed to Develop a Shopware 6 Online Fashion Store


Let's explore the essential functionalities that Shopware 6 offers, ensuring your fashion e-commerce site stands out in a competitive market.
Shopping Cart


An essential component of any e-commerce site, the Shopware shopping cart facilitates seamless buying experiences. The shopping cart utilizes AJAX-based updates, ensuring smooth addition or removal of products without refreshing the entire page. For an online shop catering to fashion, quick cart access and clear visuals of added products enhance user satisfaction.
Saved Products (Wishlist)


With Shopware's built-in wishlist functionality, fashion enthusiasts can save their favorite items for later. This feature not only enhances the shopping experience but also offers e-commerce sites a way to gather data on popular products, enabling targeted marketing campaigns.
Search Bar


Shopware's search functionality is powered by a robust algorithm that fetches results based on product names, descriptions, and even meta tags. For fashion stores, having a search bar that understands user intent and offers accurate results is crucial in guiding shoppers to their desired products.
Shipping and Payment Options


Shopware supports multiple shipping and payment integrations. By offering a variety of shipping methods (express, standard, pick-up) and payment options (credit card, PayPal, bank transfer, etc.), a Shopware fashion e-commerce site ensures convenience for its diverse clientele.
Social Media and Share Buttons


In the world of fashion e-commerce, social proof and sharing are vital. Shopware allows for seamless integration of social media buttons, enabling users to share their favorite products across platforms. Plus, embedding "share" buttons directly on product pages can amplify the reach of fashion items.
Special Offers


Shopware's promotional tools let e-commerce stores highlight special offers easily. Whether it's a seasonal sale, discount codes, or buy-one-get-one-free deals, having a dedicated section for such promotions ensures that fashion enthusiasts don't miss out on enticing deals.
Product Filters


Shopware's product filtering system is both dynamic and customizable. For fashion online shops, filters like size, color, brand, and price range are invaluable, allowing shoppers to find the perfect outfit or accessory with ease.
Recommended Products


Using intelligent algorithms, Shopware's "Recommended Products" feature showcases items based on a user's browsing history or popular trends. For a fashion e-commerce site, this functionality can increase cross-selling and up-selling opportunities.
Professional Customer Service


Shopware offers integration with various customer service tools, including live chat plugins. Given the competitive nature of fashion e-commerce, having accessible, professional customer service can differentiate one online shop from another.
Fashion Blog


A fashion blog integrated into a Shopware e-commerce site serves multiple purposes. Not only does it provide value through fashion tips and insights, but it also boosts SEO, driving organic traffic to the online shop. Shopware supports easy blog integrations, complete with commenting systems and social sharing capabilities.
What You Need to Create a Online Fashion Shopware 6 Marketplace


If you wanna do well in the online fashion world, you gotta make an easy-to-use website for your business. Creating a fashion Shopware marketplace isn't just about picking cool designs. It's all about the nitty-gritty backend stuff, smart planning, and using fancy tools from platforms like Shopware. So, if you're a business owner looking to get a fashion e-commerce site up and running using Shopware, here's what you'll need from a development team:
1. Strategic Consultation and Planning
Let's chat about strategy and planning! Before you jump into the whole e-commerce thing, it's super important to really get the fashion industry and how it works online. You gotta know all the little details and stuff. Work with a team who knows their stuff in Shopware to make sure your online shop matches what you want and who you're trying to reach.


2. Making a Great Shopware 6 Theme
Fashion is all about looking good and keeping up with the latest trends. Your e-commerce site should totally mirror this. Hire Shopware 6 developers who are really good at making cool themes that match the latest fashion trends. This will make your store look super unique.
3. Adding Cool Shopware 6 Plugins
Shopware has a bunch of awesome plugins that make online shopping even better. Depending on what your store needs, you can add cool stuff like product filters, recommendation engines, and social media buttons to make the user experience even better.


4. Easy Payment and Shipping Stuff
An online store needs smooth transactions to do its thing. With Shopware's secure payment gateway integrations, you can offer all sorts of payment options. Also, adding different shipping choices will be great for fashion lovers from all over, whether they're local or international.
5. Responsive Design for All Devices
The fashion crowd is huge, with people using desktops and mobiles to shop. Make sure your Shopware online shop is super responsive, so it looks awesome for all the fashionistas checking it out on any device.
6. Training and Shopware 6 Dashboard Management
Once you've got your fashion store up and running, you gotta make sure you manage it like a pro. Hey, why not try some training sessions with your development team to get the hang of the Shopware 6 dashboard? You'll learn all about product uploads, sales analytics, and more.
7. SEO and Digital Marketing Strategy
A cool Shopware fashion store is only as good as how many people can see it. Work with experts to set up an SEO plan so your online store gets a good ranking and attracts lots of visitors naturally.


8. Ongoing Tech Support
The online world is always changing, and so are its challenges. Get help from our Shopware development team to fix any problems and keep your fashion e-commerce site running smoothly.
So basically, if you want to get into the fashion e-commerce game with Shopware, you gotta have a good mix of looking good, working well, and having a plan. If you team up with a talented development crew, you can totally tap into Shopware's power and create an awesome online store in the fashion world. If you're into turning your fashion dreams into a cool online store, using Shopware is the way to go for sure. It's gonna help you rock it and be successful.
The Best Shopware 6 Themes for Fashion Store
The theme is like the vibe of the whole online shop. Having a cool theme can grab people's attention right away, but if it doesn't match up, it might turn people off from buying stuff.
Fashion Theme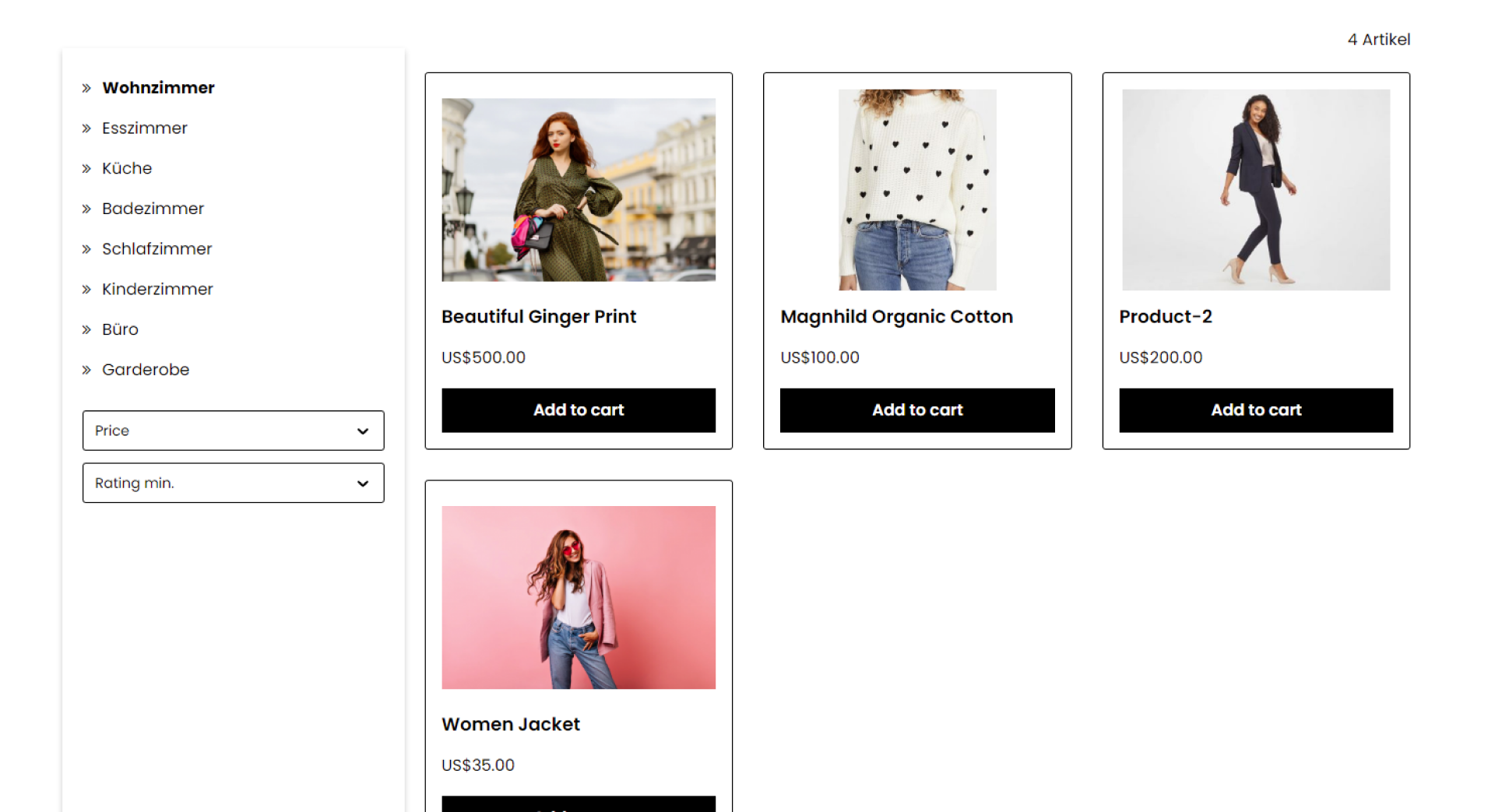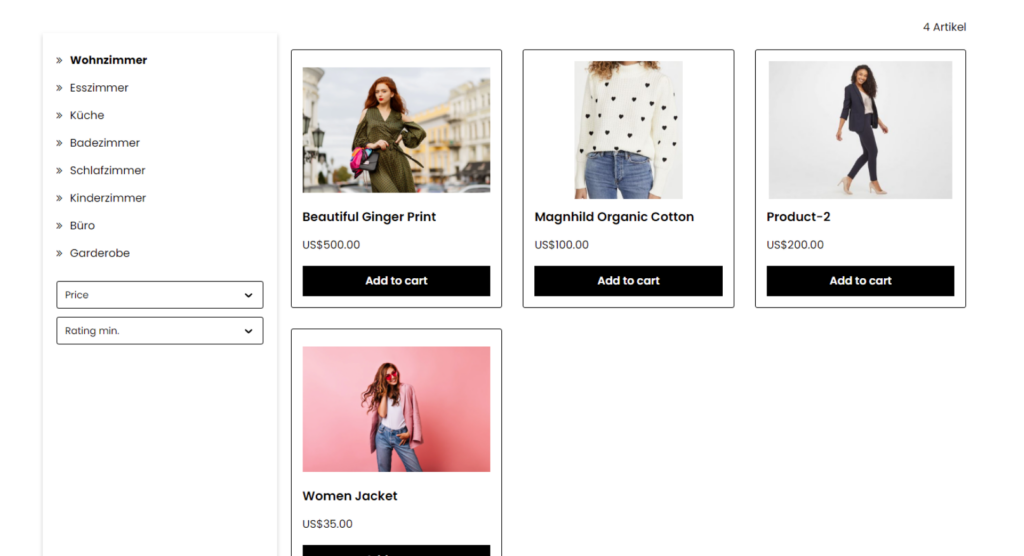 by VimirLab Solutions

The theme is super responsive, so you can shop seamlessly on any device – whether it's a desktop, mobile, or tablet. The design is super modern and blends perfectly with the HTML5 & CSS3 structure, so your store will look cool and work great.
Customization is super easy with this theme. The e-store has a tonne of cool features that let owners show off their brand in their own way. No compromises! There are so many options when it comes to tweaking colour palettes, fonts, or icons. Some cool things about it are:
Responsive Design: Makes sure that no matter what device you're using, the browsing experience stays consistent.
FontAwesome Integration: Gives you access to a bunch of cool icons, making your site look awesome and work better.
iPads and iPhones Compatibility: Makes browsing super smooth for Apple device users.
Super Easy Customization: Makes it a breeze to change colours and layout so your store totally matches your brand's vibe.
Billing options:
Monthly
Annually
€ 120.00 /billed annually
Want to get a theme tailored for your fashion store?
Leave us your contact details and we'll get back to you.
Theme Pluto – Fashion Template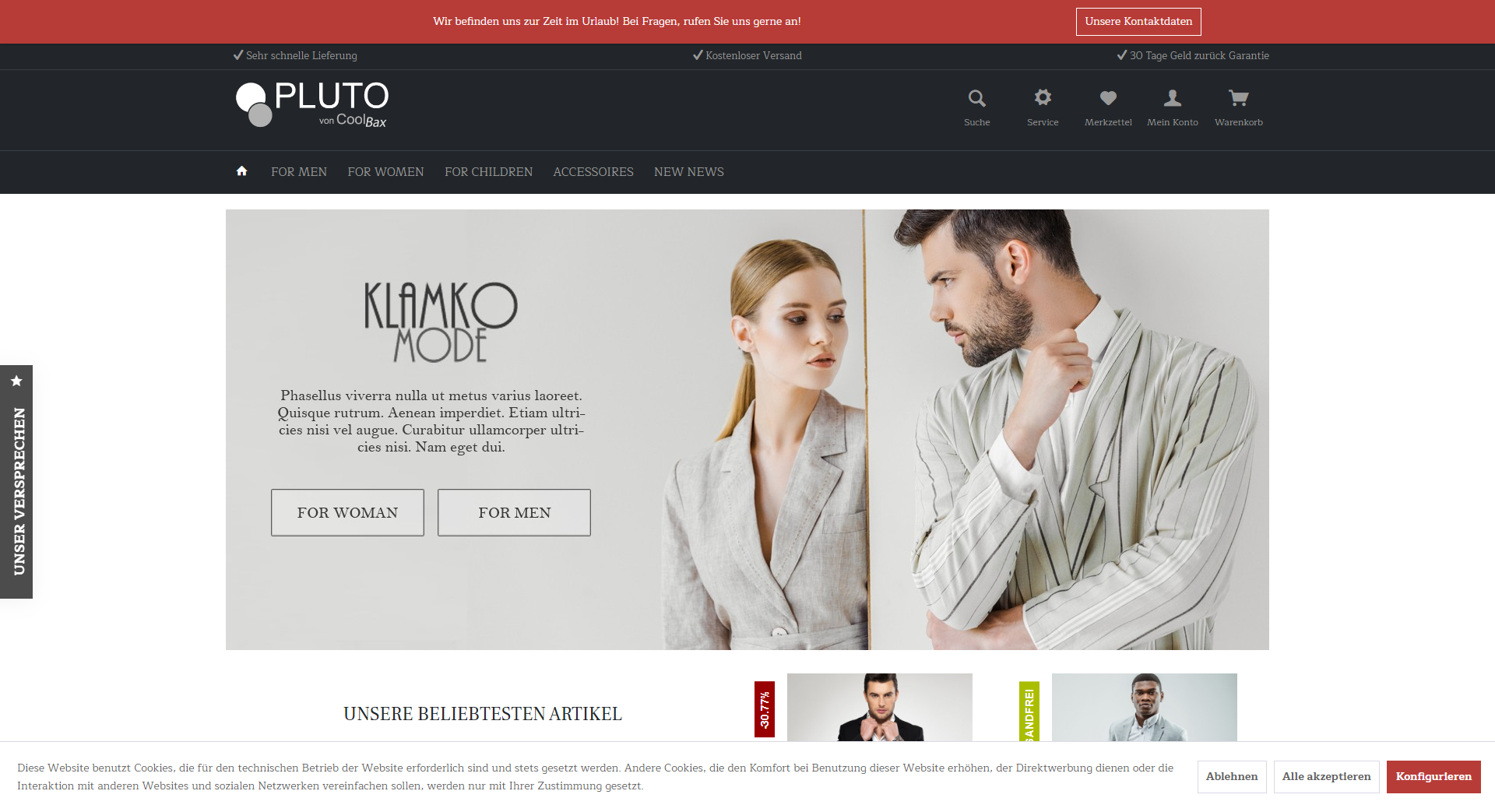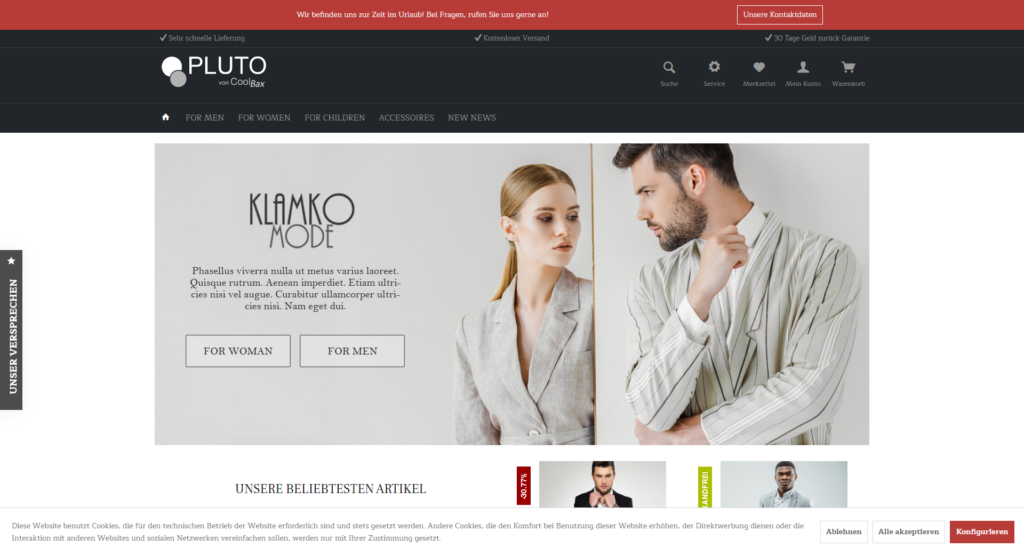 by coolbax
Seeking a sleek, modern design for your Shopware 5 fashion store that's compatible across devices? Introduce yourself to the Pluto template. Designed with a touch of elegance, Pluto promises to illuminate your products while offering a plethora of cool, user-centric features. For flexibility, every feature can be toggled on or off based on your needs. Adhering strictly to Shopware standards and focusing on sustainable programming ensures this template stands out in quality.
Notable Features:
Adaptable Design: 100% responsive, guaranteeing a seamless experience across devices.
Font Choices: Select from 16 distinct fonts to match your brand's voice.
Customization: Over 100 color zones, allowing for intricate design choices, coupled with options for background imagery, logo sizing, and an extendable footer.
Integrated Plugins: From breadcrumb navigation enhancements to sticky menus, the theme brings added functionality, integrating multiple plugins for improved UX.
Visibility Features: Display promotions, ratings, and delivery statuses conveniently. Plus, unique additions like the "Banner Zoom" for shopping worlds and configurable top bars.
Notifications & Connectivity: Global notifications, e.g., for holidays, and connections to platforms like Google and Bing.
Exclusive Additions: Theme Pluto offers 22 exclusive plugins that can't be found elsewhere in the Shopware Store, amplifying your store's capabilities.
Billing options:
Rental
€ 311.88 /billed annually
Purchase
Lite Passion Theme | Responsive, customizable and modern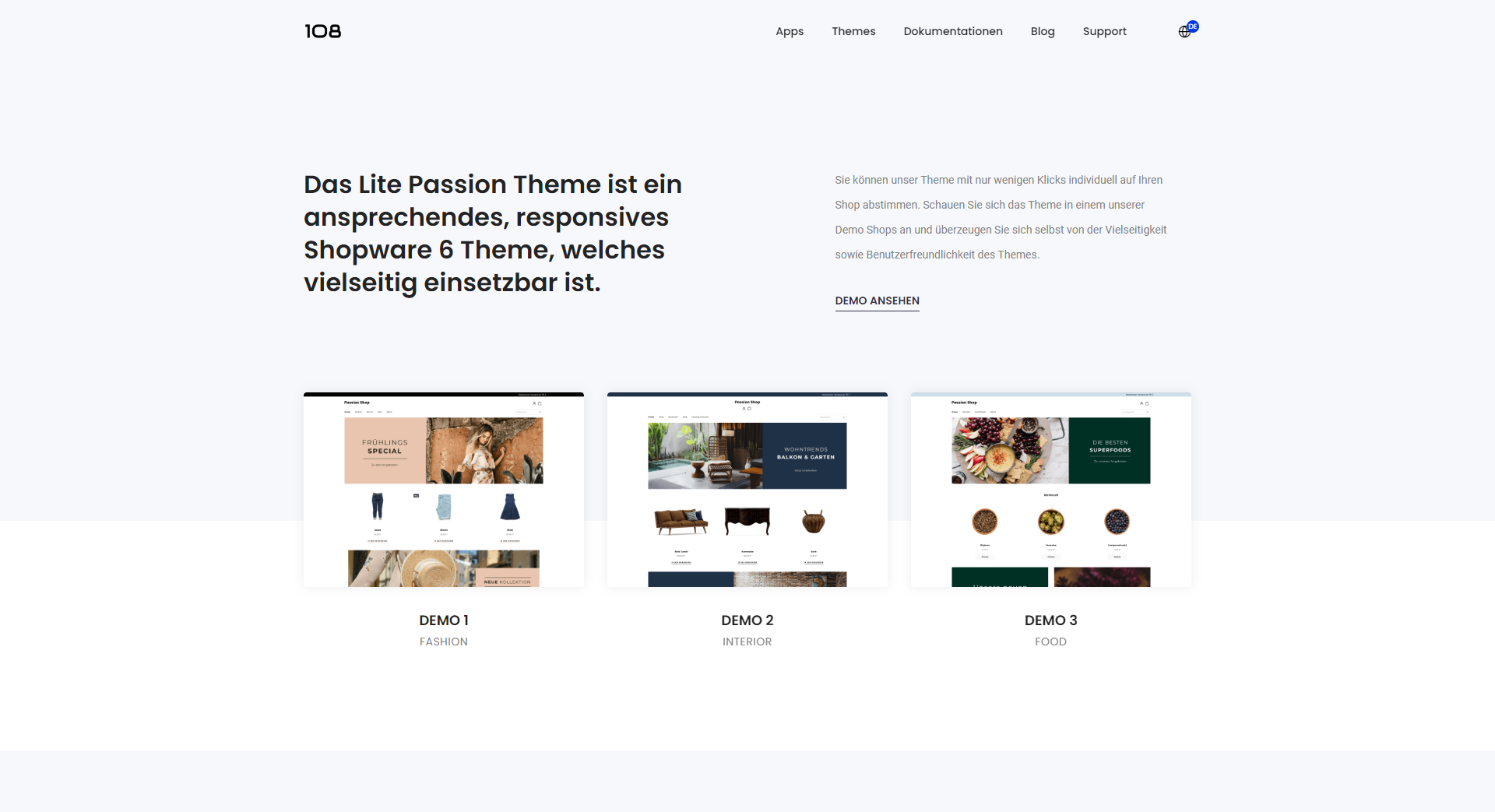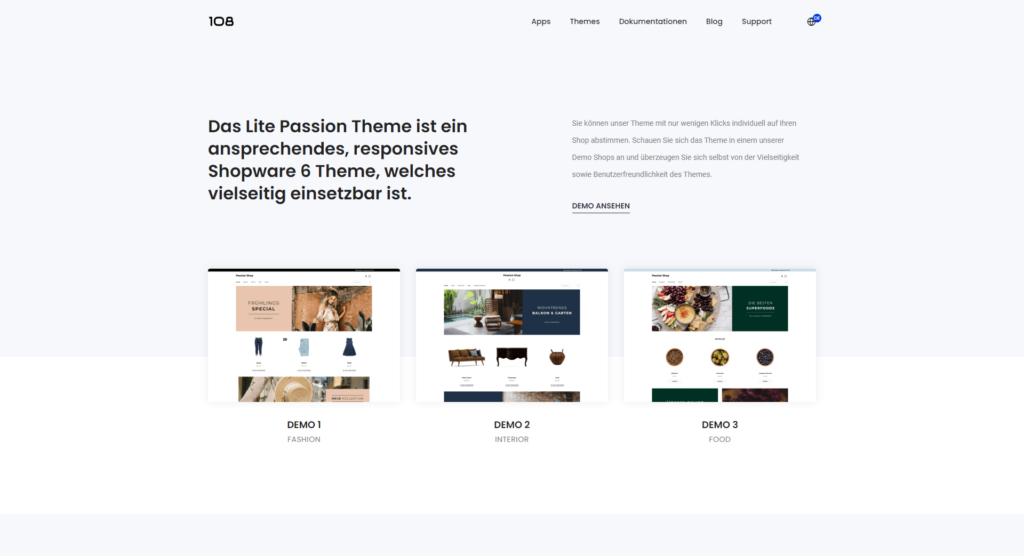 by Code 108
Presenting the Lite Passion Theme, a tailor-made solution for Shopware fashion stores. This theme promises not just aesthetics, but also fluidity, adapting seamlessly across various screen dimensions.
Key Takeaways:
Adaptive Design: Experience a design that's not only modern and enticing but also completely responsive, ensuring that your online fashion store looks impeccable on every device.
Customization Galore: With over 30 distinct theme settings, tweak and tune every aspect, from headers to icons, to align perfectly with your brand aesthetics.
Sticky Menu: Enhancing user navigation, this feature remains visible as users scroll, ensuring they always have access to key areas of your shop.
Connectivity: With easy social media integration, customers can now connect to your channels directly from the footer, fostering community and engagement.
Eye-catching Effects: Modern shopping cart button effects that not just look good but elevate the user experience.
At its core, the Lite Passion Theme is more than just a look; it's a toolkit. Designed specifically for Shopware 6, it caters to both the tech-savvy and the novices. Want to try before you commit? There's a free trial version and a demo to get a hands-on feel. Dive in and give your fashion store the upgrade it deserves with the Lite Passion Theme.
Billing options:
Monthly
Annually
€ 269.90 /billed annually
How Much Does it Cost to Develop a Fashion Store on Shopware 6?
Creating a captivating online fashion store with Shopware can be a rewarding venture, but understanding the associated costs is essential. When hiring developers from IT Delight, several factors contribute to the total expenditure. Here's a breakdown.
1. Initial Consultation and Strategy Planning
Before any development begins, IT Delight would engage in extensive consultation sessions to understand your vision, goals, and specific needs for the fashion store. This might involve market research, target audience analysis, and setting up the project roadmap.
2. Custom Theme Development
One of the significant costs comes from creating a bespoke theme that embodies the essence of your brand. Fashion is all about presentation, and a custom theme ensures your store resonates with your audience and stands out in the crowded e-commerce landscape.
3. Shopware 6 Plugin Integration
While Shopware offers numerous in-built features, you might require additional plugins to enhance the functionality of your online store. Depending on the plugins selected, costs can vary. Essential plugins for a fashion store, such as product zoom, size guides, and lookbooks, might add to the expenses.
4. Responsive Design Adaptation
Ensuring your Shopware fashion store is fully optimized for mobiles, tablets, and various screen sizes is crucial. While Shopware is inherently responsive, further tweaks for specific design elements tailored for the fashion industry might inflate the costs slightly.
5. Payment Gateway and Shipping Integration
Integrating multiple payment gateways for a seamless checkout experience and incorporating various shipping options (especially if catering to an international audience) would have its associated costs.
6. SEO and Digital Marketing Setup
To ensure your store attracts organic traffic, IT Delight might offer initial SEO setup and digital marketing strategies tailored for the fashion industry. This could include keyword optimization, meta tag setups, and even content strategy.
7. Training and Support of Online Fashion Store
Post-launch, IT Delight would provide training sessions to help you manage your Shopware dashboard. Additionally, they might offer post-launch support packages to handle any bugs, updates, or tweaks, which will be a recurring cost.
8. Additional Features and Customizations
Depending on your vision, you might opt for added features or customizations unique to your brand. These could be interactive lookbooks, virtual try-on tools, or AI-based recommendation engines. Each added feature would have its price tag.
So, the exact cost of developing a fashion store on Shopware with IT Delight depends on various factors ranging from design complexity to the number of custom features you want. It's recommended to reach out to IT Delight directly for a comprehensive quote. Remember, while there's an initial investment, the right online platform can offer exponential returns in the dynamic world of fashion e-commerce.
Wrapping Up
When it comes to e-commerce, especially in fashion, you gotta choose a platform that's strong, flexible, and all about the user. It's super important with all the complicated stuff involved. Shopware is killing it in this field, offering mad scalability, flexibility, and a tonne of features that are perfect for the fashion industry. But, you know, Shopware is really something when it's in the hands of experts.
So do you want to bring your fashion vision to life with Shopware? You can totally count on IT Delight to make your dream store come alive online. Let's get started with us today!