With online beauty sales soaring to unprecedented heights, the real question isn't whether you should venture into this thriving industry, but rather, how can you successfully build an online cosmetics store and marketplace that stands out in the digital crowd? In a market where innovation and aesthetics are the currency of success, let's explore how Shopware 6 can help you carve your niche and flourish in the cosmetics e-commerce landscape.
Why Shopware 6 Is the Right Choice for a Cosmetics Store


Shopware, a leading e-commerce platform, has emerged as the ideal choice for those aiming to establish a cosmetics store, and there are several compelling reasons why:
Versatile Product Management


Shopware 6 simplifies cosmetics inventory management with its versatile product management system. Easily categorize and showcase your diverse range of products, including makeup, skincare, and fragrances, in a way that suits your branding and customer preferences.
Customer-Centric Shopping Experience


Shopware 6 empowers you to offer a personalized shopping experience to cosmetics enthusiasts. Implement features like product recommendations, wish lists, and reviews to engage customers and encourage repeat purchases.
International Expansion


If you have global ambitions for your cosmetics brand, Shopware's multilingual and multi-currency support makes international expansion seamless. You can reach a wider audience by launching localized versions of your online shop in multiple countries.
Virtual Try-On


In the cosmetics industry, allowing customers to virtually try on makeup products is a game-changer. Shopware 6 supports integration with virtual try-on tools, enhancing the online shopping experience and reducing return rates.
Subscription Services


Many cosmetics customers prefer subscription-based models for their favorite products. Shopware 6 offers plugins and extensions to set up subscription services, ensuring a steady revenue stream and customer loyalty.
AI-Powered Insights


Shopware 6 integrates with AI and machine learning tools to provide actionable insights. Analyze customer behavior, optimize your cosmetics store's layout, and predict trends to stay ahead of the competition.
Social Commerce Integration


Leverage the power of social media in your e-commerce strategy. Shopware 6 allows seamless integration with social commerce platforms, making it easy to showcase your cosmetics products on Facebook, Instagram, and other popular networks.
Advanced Security Measures


With cosmetics products often being premium and high-value items, security is paramount. Shopware 6 employs advanced security measures, including encryption and secure payment gateways, to protect both your business and customers.
Content-First Approach


Shopware 6 recognizes the importance of content marketing in the cosmetics industry. It offers robust content management tools to create engaging product descriptions, blog posts, and tutorials, driving organic traffic to your online shop.
Sustainability Initiatives


As the cosmetics industry shifts towards sustainability, Shopware 6 supports your efforts to showcase eco-friendly and cruelty-free products. Highlight your commitment to responsible cosmetics production to attract conscious consumers.
Incorporating these unique features, Shopware 6 enables you to create an exceptional online cosmetics store that not only meets but exceeds the expectations of your target audience. Whether you're just starting your cosmetics e-commerce journey or looking to elevate your existing online shop, Shopware 6 provides the tools and capabilities needed to thrive in the competitive cosmetics e-commerce landscape.
What Functional Set Is Needed to Develop Cosmetics Store Basic Shopware 6


This comprehensive guide breaks down the technical details and functional components needed to craft a cosmetics e-commerce site that not only meets industry standards but also excels in terms of user experience, international reach, security, and sustainability.
1. Product Management:


Effective cosmetics product management is the cornerstone of your Shopware-based store. To cater to the intricacies of the cosmetics industry, your e-commerce platform should support a range of essential features.
Extensive Product Attributes: Cosmetics products often have intricate attributes like shades, ingredients, and skin type suitability. Ensure your Shopware 6 setup accommodates these details.
Variant Support: Support for product variants (e.g., different shades of lipstick) is crucial to showcase product diversity effectively.
Product Media: Robust support for high-quality images and videos to showcase cosmetics products.
Product Recommendations: Implement AI-driven product recommendations to cross-sell and upsell cosmetics items based on customer preferences.
2. User Experience:


Creating an engaging and user-friendly cosmetics store is pivotal in the digital age. In this section, we'll delve into how Shopware 6 can help you craft a compelling user experience tailored to cosmetics enthusiasts.
Responsive Design: Ensure your cosmetics store is responsive across all devices for a seamless user experience.
Virtual Try-On: Integration with virtual try-on tools for makeup products to enhance the shopping experience.
User Reviews and Ratings: Allow customers to leave reviews and ratings for cosmetics products.
3. Internationalization:


The cosmetics market is global, and your cosmetics e-commerce site must reflect this reality. Discover how Shopware's internationalization capabilities can help you reach a broader audience.
Multilingual Support: If targeting global markets, enable multiple languages on your cosmetics e-commerce site.
Multi-Currency Support: Facilitate transactions in different currencies to cater to international customers.
4. Checkout and Payments:


Smooth and secure transactions are paramount in the cosmetics industry, where customers often invest in high-value products. In this section, we'll explore the checkout and payment features crucial for your cosmetics store.
Secure Payment Gateways: Integrate secure payment gateways for safe transactions, keeping in mind the high-value nature of cosmetics products.
Guest Checkout: Provide a guest checkout option for customers who prefer a quick purchase process.
Subscription Services: If offering subscription-based cosmetics products, ensure seamless subscription management.
5. Content Management:


Content plays a significant role in cosmetics marketing. Here, we'll delve into how Shopware 6 empowers you to create engaging content and optimize it for search engines.
Blogging: Implement a robust blogging platform to create content around cosmetics tips, trends, and product guides.
SEO Tools: Utilize Shopware's SEO features to optimize your cosmetics store for search engines and improve discoverability.
6. Inventory and Order Management:


Efficiently managing cosmetics inventory and processing orders is essential to keep your store running smoothly. We'll explore how Shopware 6 helps you tackle these logistics.
Stock Management: Efficiently manage cosmetics inventory, especially when dealing with limited edition or seasonal products.
Order Processing: Streamline order processing, including order tracking and management.
7. Marketing and Analytics:


Marketing is the driving force behind cosmetics sales. Learn how Shopware's marketing and analytics tools can supercharge your cosmetics business by helping you understand and engage with your customers.
Marketing Automation: Utilize marketing automation tools to create targeted campaigns for cosmetics products.
Analytics Integration: Integrate with analytics tools to track customer behavior, sales, and website performance.
8. Security and Compliance:


In the cosmetics industry, trust and security are paramount. Discover the measures you can take to ensure your cosmetics e-commerce site is secure and compliant with regulations.
Data Protection: Ensure compliance with data protection regulations, especially when dealing with customer information.
SSL Encryption: Implement SSL encryption to secure customer data during transactions.
9. Customer Support:


Exceptional customer support is vital in the cosmetics industry, where customers often seek product recommendations and advice. We'll explore how Shopware 6 facilitates customer engagement.
Live Chat: Offer live chat support to assist customers with cosmetics product inquiries.
FAQs and Knowledge Base: Create an extensive FAQs section and knowledge base for self-service customer support.
10. Social Commerce:


Social media is a powerful tool for cosmetics marketing. In this section, we'll discuss how Shopware 6 integrates with social platforms to enhance your cosmetics store's visibility and engagement.
Social Media Integration: Seamlessly integrate your cosmetics store with social media platforms for product promotion and customer engagement.
11. Sustainability Features:


Sustainability is increasingly important in cosmetics. Discover how Shopware 6 can help you highlight eco-friendly products and communicate your commitment to sustainability.
Eco-Friendly Product Showcase: Showcase your eco-friendly and sustainable cosmetics products prominently.
Sustainability Messaging: Craft compelling messaging around your cosmetics brand's sustainability initiatives.
12. Community Engagement:


Building a community around your cosmetics brand can foster loyalty and advocacy. We'll explore how Shopware 6 supports community engagement through various features.
User-Generated Content: Encourage customers to share their cosmetics experiences and reviews.
Forums and Community Boards: Create spaces for cosmetics enthusiasts to connect and discuss products.
Team Requirements for Cosmetics Shopware 6 Marketplace Development


Building a cosmetics Shopware 6 marketplace involves multiple facets of development, design, and management. Here's an overview of the key team members you'll need:
E-commerce Developer:
Role: A proficient e-commerce developer with expertise in Shopware 6 is the backbone of your project. They will be responsible for setting up the marketplace, customizing Shopware 6, and ensuring its functionality aligns with your cosmetics marketplace's specific needs.
Expertise: Shopware, PHP, MySQL, e-commerce development.
Web Designer:
Role: A web designer plays a critical role in creating an attractive and user-friendly cosmetics marketplace. They will design the layout, user interface, and overall aesthetic to captivate your audience.
Expertise: Web design, UI/UX design, graphic design.
Content Creator:
Role: Compelling content is essential for showcasing cosmetics products effectively. A content creator will craft product descriptions, blog posts, and marketing materials that resonate with your target audience.
Expertise: Copywriting, content strategy, SEO.
SEO Specialist:
Role: To ensure your cosmetics marketplace ranks well on search engines, an SEO specialist will optimize the website's structure, metadata, and content for improved visibility and organic traffic.
Expertise: SEO strategy, keyword research, on-page optimization.
Security Expert:
Role: Security is paramount, especially when handling customer data and transactions in the cosmetics industry. A security expert will ensure that your marketplace is protected from potential threats and vulnerabilities.
Expertise: Cybersecurity, data protection, SSL implementation.
Marketing and Sales Team:
Role: Your marketing and sales team will strategize and execute campaigns to attract cosmetics sellers and buyers to your marketplace. They will also manage partnerships and promotions.
Expertise: Digital marketing, email marketing, sales strategies.
10 Technical Steps to Launch Your Cosmetics Shopware 6 Marketplace
Now, let's dive into the technical steps to get your cosmetics Shopware 6 marketplace up and running:
Step #1: Register a Domain Name:
Explanation: Your domain name is your online identity. Choose a domain name that reflects your cosmetics marketplace's brand and is easy for customers to remember.
Considerations: Opt for a domain name that aligns with the cosmetics industry and is unique. Register it through a reputable domain registrar.

Step #2: Subscribe to a Hosting Provider:
Explanation: Hosting is where your cosmetics marketplace will reside on the internet. Select a hosting provider that offers the necessary resources and performance for your Shopware-based marketplace.
Considerations: Consider factors like server location, scalability options, and customer support when choosing a hosting provider.
Step #3: Buy an SSL Certificate:
Explanation: SSL (Secure Sockets Layer) is vital for securing customer data and transactions on your cosmetics marketplace. It encrypts data to protect it from potential threats.
Considerations: Invest in a reputable SSL certificate to build trust with customers. Ensure it covers subdomains if needed.


Step #4: Install Shopware 6:
Explanation: Shopware 6 is the foundation of your cosmetics marketplace. Install the Shopware 6 platform on your hosting server, ensuring that it's compatible with your server environment.
Considerations: Choose the appropriate Shopware 6 version and ensure it supports the cosmetics marketplace functionalities you require.
Step #5: Customize Shopware 6:
Explanation: Tailor Shopware 6 to your cosmetics marketplace's unique needs. Customize the design, layout, and features to create a visually appealing and user-friendly platform.
Considerations: Work closely with your web designer and e-commerce developer to ensure the customization aligns with your brand and target audience.

Step #6: Implement Marketplace Features:
Explanation: Transform your Shopware 6 setup into a fully-fledged cosmetics marketplace by integrating essential features. This includes product listings, seller profiles, shopping cart functionality, and payment gateways.
Considerations: Explore third-party plugins or custom development to add marketplace-specific features like multi-vendor support and commission systems.
Step #7: User Testing and Quality Assurance:
Explanation: Thoroughly test your cosmetics marketplace to identify and resolve any bugs or issues. Ensure that the user experience is smooth and seamless for both buyers and sellers.
Considerations: Conduct user testing with real cosmetics products and transactions to mimic real-world scenarios.


Step #8: Launch and Marketing:
Explanation: Once your cosmetics marketplace is polished and ready, launch it to the public. Create a marketing plan to attract cosmetics sellers and buyers to your platform.
Considerations: Use a combination of digital marketing channels, including social media, email marketing, and SEO, to drive traffic and registrations.
Step #9: Seller Onboarding:
Explanation: Enable cosmetics sellers to join your marketplace. Create a straightforward registration process and provide them with tools to list their products, manage inventory, and track sales.
Considerations: Develop clear guidelines and policies for sellers to ensure a consistent quality of cosmetics products on your platform.


Step #10: Customer Support and Maintenance:
Explanation: Set up customer support channels to assist both buyers and sellers with inquiries, disputes, and issues. Regularly maintain and update your cosmetics marketplace to enhance functionality and security.
Considerations: Offer multiple communication channels, such as live chat and email, for customer support. Implement periodic security audits and software updates.
The Best Shopware 6 Themes for Cosmetics Store
Template "One"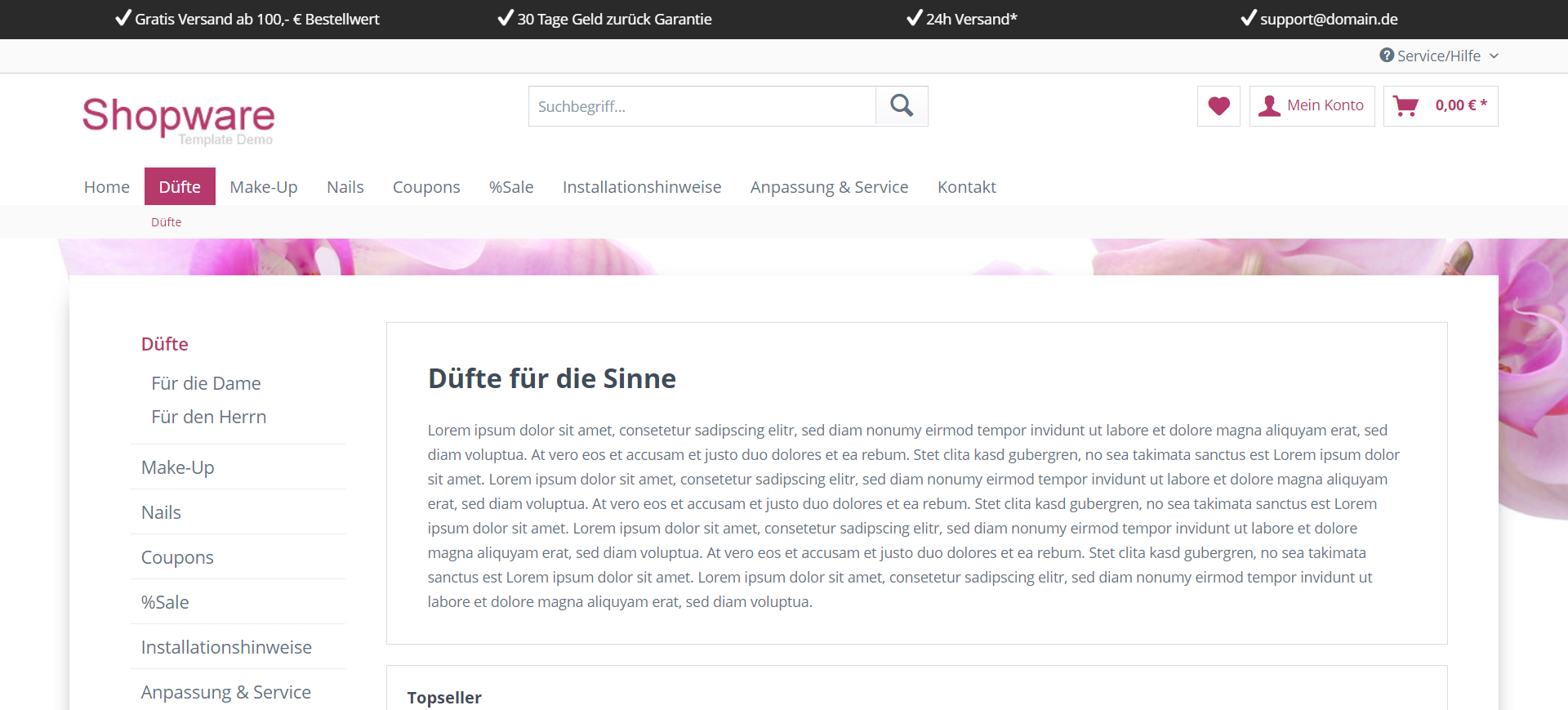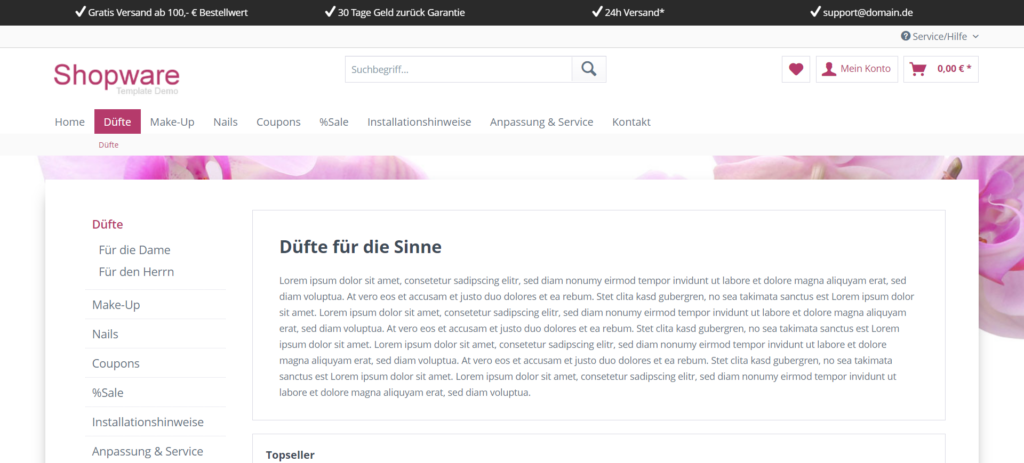 This theme is designed for the established Shopware shop system, built upon the basic template, ensuring seamless compatibility with future Shopware updates. Our Shopware Themes and Templates provide unencrypted source files, guaranteeing flexibility and customization options. When you purchase any online shop template, a themed Shopware Template, or a personalized Shopware Template, you have the freedom to tailor it to your brand's color scheme, incorporate your logo, and more.
Please note that product images, banners, and text elements showcased in the template theme serve as content-related design suggestions and are not included in the package.
Billing options:
Rental
Monthly
Purchase
Theme "SunBeam" (cosmetics, holiday – orange-gray)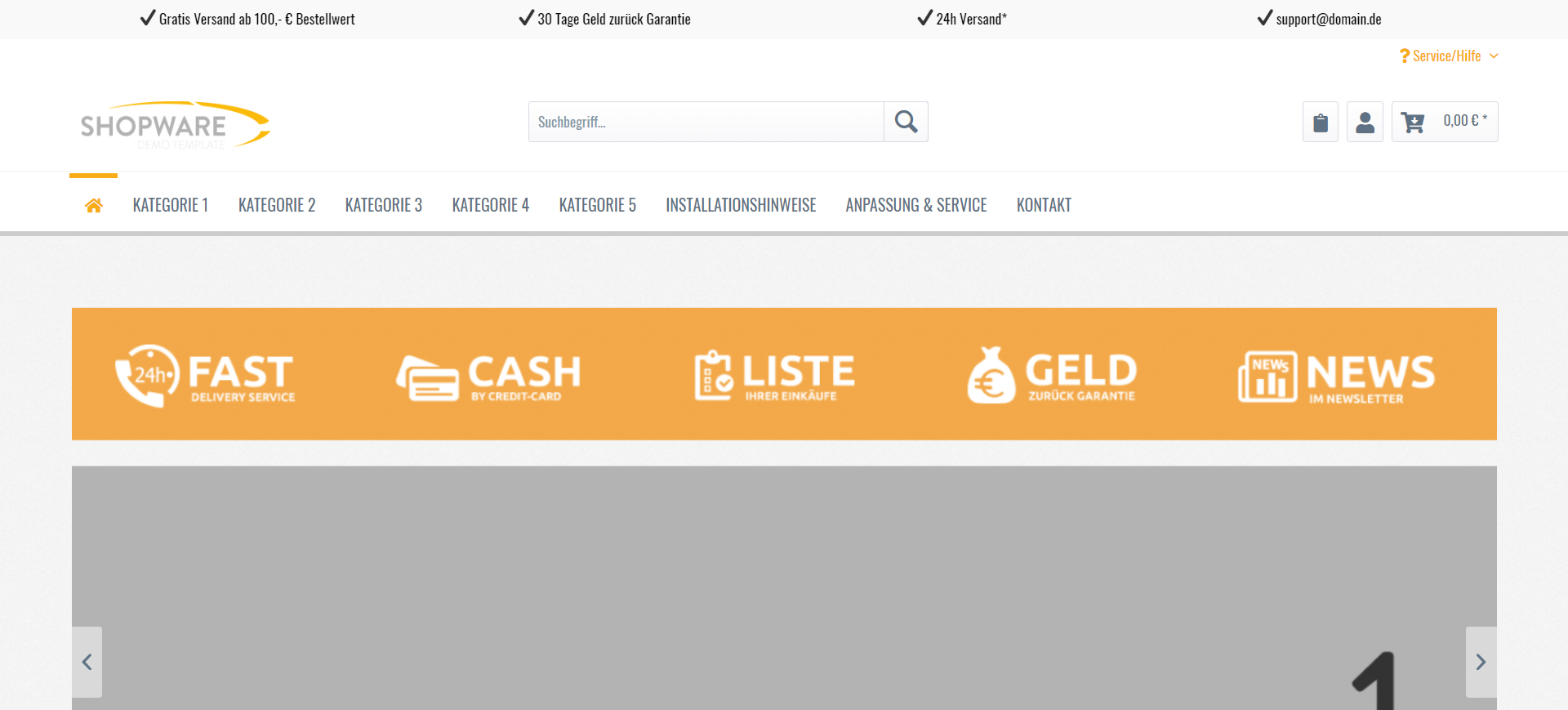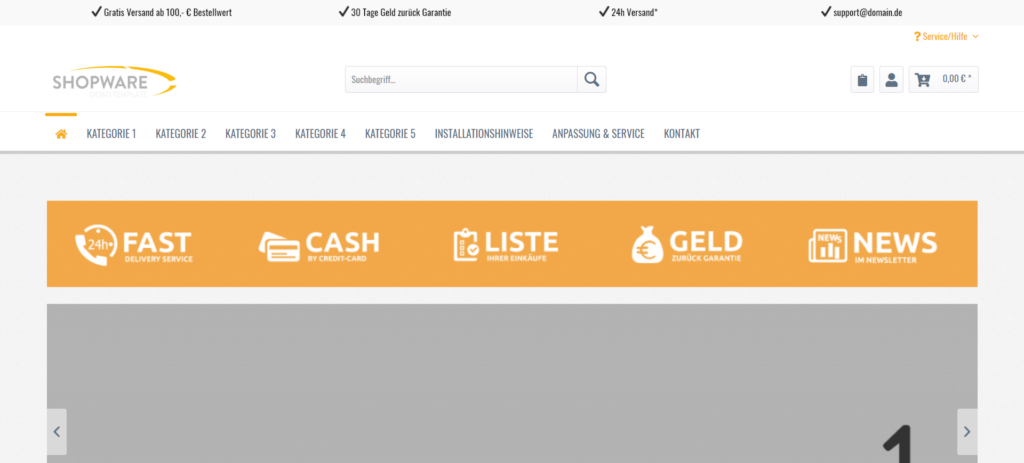 "One" by TemplateScout is a top-tier, responsive template built upon the foundational Shopware design. This template is a breath of fresh air, boasting a vibrant and sunny shop appearance. It offers effortless installation and, once set up, delivers a distinctive and easily recognizable visual identity.
Shopware's "One" theme is the perfect choice for industries where a sense of value and classic aesthetics hold paramount importance. Particularly well-suited for cosmetics and travel-related businesses, it enables you to convey a strong brand presence. With its energizing orange accents, our Shopware template "One" infuses a fresh vibrancy that can significantly boost sales, even beyond the sectors mentioned. Elevate your product presentation, achieve a subtle yet impactful visual appeal, and capture your customers' attention with this dynamic theme.
Billing options:
Monthly
Rental
Purchase
Magazine | Clean Premium Responsive Template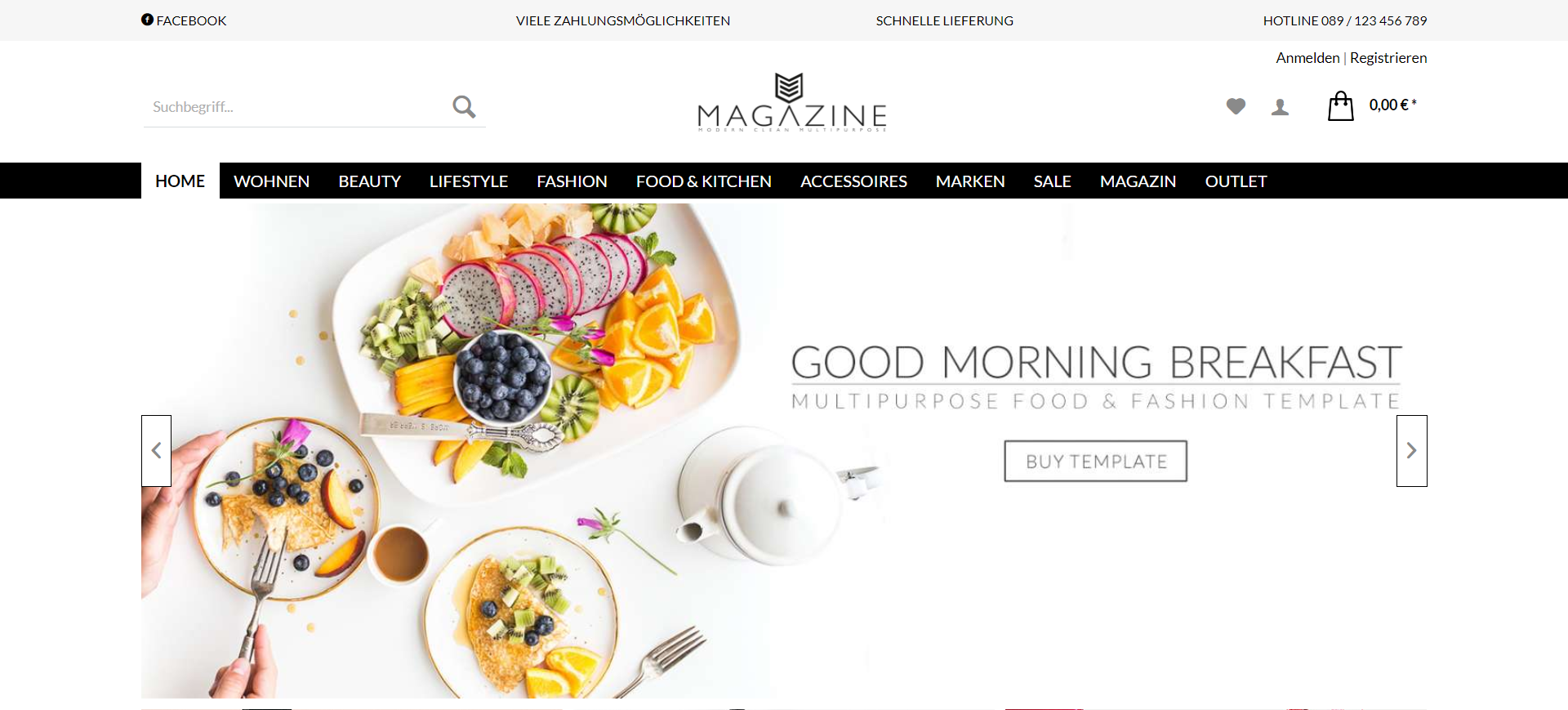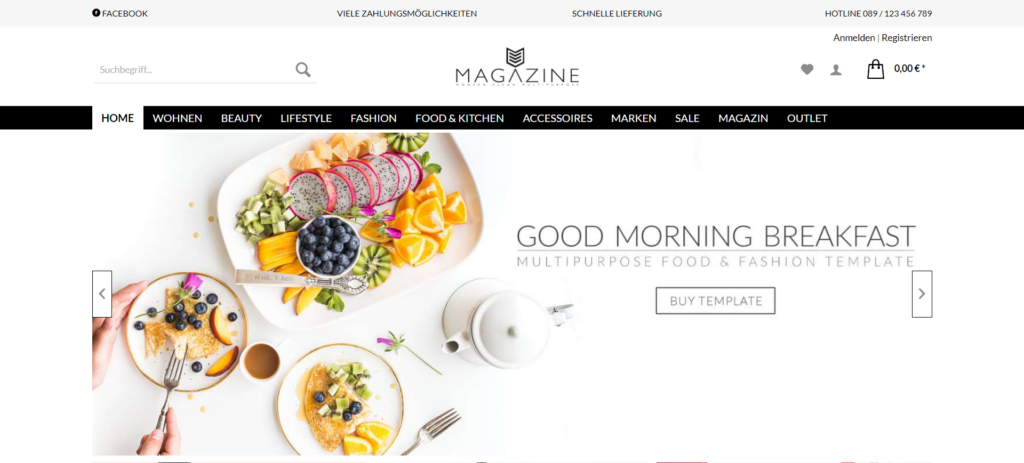 "Magazine | Clean Premium Responsive Template" from shop-templates.com is a versatile and visually captivating Shopware theme designed to elevate your online presence. With its impressive array of features and user-friendly customization options, this theme is a standout choice for businesses looking to create a striking and highly functional e-commerce platform.
The Magazine theme's clean and stylish design is its hallmark, setting it apart from the rest. Its easy customization capabilities make it a top-tier premium theme, allowing users to tailor their online store effortlessly. Whether you're a seasoned e-commerce professional or a newcomer, no programming skills are needed to create a unique and engaging shopping experience.
Key features of this theme include full responsiveness across all devices, unlimited color options to match your brand identity, built-in SEO optimization for improved visibility, and retina-ready graphics that ensure crisp and clear visuals, even on high-resolution screens. Moreover, it boasts compatibility with all major browsers and utilizes modern CSS3 and LESS styling for a polished look.
Billing options:
Rental
Monthly
Purchase
If you want to clearly emphasize the individuality of your store and cannot choose a theme that meets your requirements, get a custom Shopware 6 Theme developed by our experts.
Looking for custom solutions for your cosmetics store?
Leave us your contact details and we'll get back to you.
How Much Does it Cost to Develop a Cosmetics Store on Shopware?
Developing a cosmetics store on Shopware can be a transformative journey, but understanding the associated costs is crucial for planning and budgeting. Here's a breakdown to help you navigate the financial aspect of your cosmetics e-commerce venture.
1. Initial Consultation and Strategy Planning
This phase involves market research, target audience analysis, and setting up a strategic roadmap to ensure your online store aligns with your business objectives.
2. Custom Theme Development
The cosmetics industry thrives on aesthetics, and a tailor-made theme ensures that your store resonates with your audience and stands out in the competitive e-commerce landscape.
3. Shopware Plugin Integration
While Shopware offers a range of built-in features, you may require additional plugins to enhance the functionality of your cosmetics store.
4. Responsive Design Adaptation
Ensuring your Shopware cosmetics store is fully optimized for various devices, including mobile phones and tablets, is essential in today's digital landscape.
5. Payment Gateway and Shipping Integration
Seamless and secure transactions are paramount in the cosmetics industry, where customers often invest in premium products. It's also important to include different delivery options, especially if your target audience extends beyond national borders.
6. SEO and Digital Marketing Setup
To ensure that your cosmetics store attracts organic traffic, IT Delight will provide initial SEO setup and implement digital marketing strategies tailored to the cosmetics industry.
7. Training and Support
After the successful launch of your cosmetics store, IT Delight will offer training sessions to help you manage your Shopware dashboard efficiently. Furthermore, ongoing support packages will be available to handle any post-launch requirements.
8. Additional Features and Customizations
Depending on your vision and the unique requirements of your cosmetics brand, you may opt for additional features and customizations.
The exact cost of developing a cosmetics store on Shopware with IT Delight will depend on various factors, including the complexity of design and the number of custom features you wish to incorporate. It is recommended to reach out directly for a comprehensive quote. Remember that while there is an initial investment, the right online platform can offer substantial returns in the dynamic world of cosmetics e-commerce.
Wrapping Up
When it comes to cosmetics e-commerce, selecting the right platform is crucial for success. Shopware, with its scalability, flexibility, and an array of features tailored to the cosmetics industry, emerges as a robust choice for entrepreneurs looking to establish their online presence. However, the key to a successful cosmetics store lies in the hands of experts who can bring your vision to life online.
At IT Delight, we understand the unique challenges and opportunities within the cosmetics industry. Our team of dedicated professionals is here to guide you through the process of developing a cosmetics store on Shopware, ensuring that your brand shines in the digital world.
Contact us today and take the first step toward realizing your cosmetics e-commerce dream.