A logo is one of the first things that your clients remember about you and associate you with. So, getting it right should be at the top of your priority list. Take your time creating a logo representing your brand's identity and core values.
Luckily, customization is one of the many benefits of Magento. You can customize pretty much anything, including the site logo. In order to change the logo, you'll need to take a few simple steps that we covered in this article. Let's figure out how to change logo in Magento 2 together.
Why Do You Need a Memorable Logo?


The logo is the key element that differentiates your company from the competition. For example, if the customer bought from you before, they'll remember your company when stumbling upon your company again on some other channel. That will only work, though, if the logo is memorable.
The logo will be placed in the header of the website as well as email templates, sales documentation, invoices, etc. Your audience expects to see a memorable and efficient logo that will catch their attention. Now, let's move on to the tutorial on how to change the logo.
Go to Content – Configuration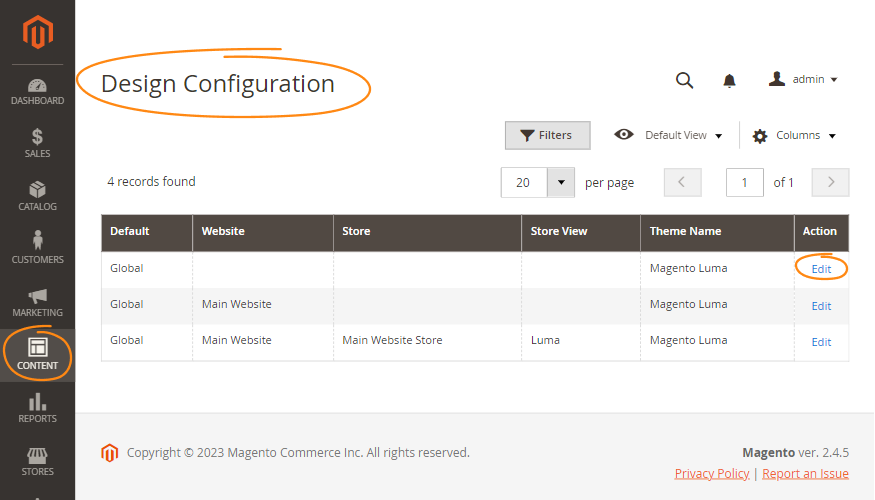 Let's change your Magento 2 logo. First, proceed to your Magento admin panel. Press the Content, then the Design, then Design Configuration.
Choose the Theme
Design Configuration is a set of design rules and configuration settings that allow you to modify the different parts of your website.
Now you have to find the store view that needs to be changed. Go to the Action section and press Edit.
Change Default Theme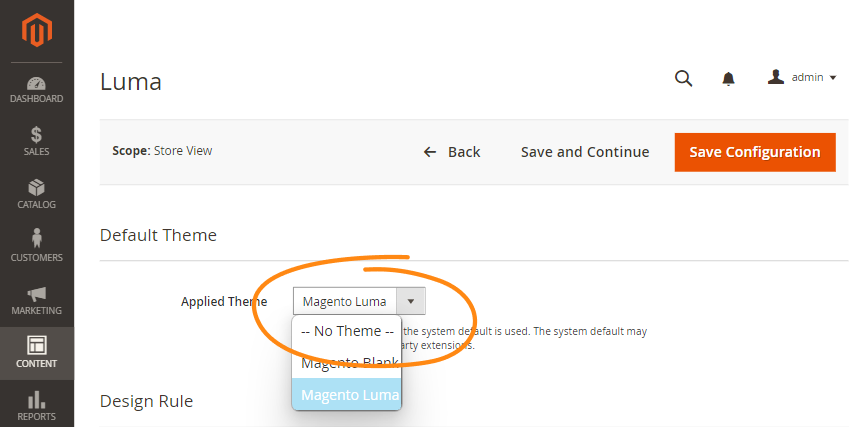 Magento 2 offers you two themes: Magento Black and Magento Luma. In order to change the Default Theme, set the Applied Theme to the theme you chose. The default theme will be automatically applied if you don't set the specific theme. If you need to make changes to the default theme, third-party extensions are designed for that. Additionally, you can also choose the Hyva theme for Magento 2 as it has multiple advantages.
Proceed to the Header Section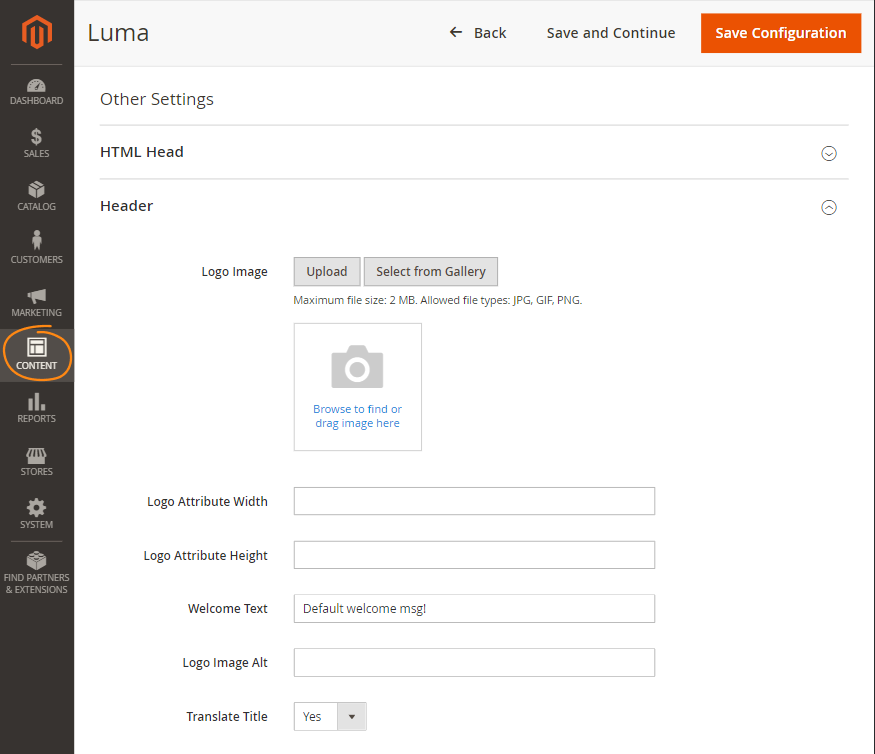 Go to the Other Settings, then press the Header button. In this section, you can change the following characteristics:
Logo Image. By pressing the Upload button, you can upload the new logo. Images can be uploaded in the following formats: PNG, GIF, JPG, and JPEG.
Logo Image Width/Logo Image Height. You can either leave the default settings or enter your own parameters.
Logo Image Alt. Here you can enter the texts that will be displayed when a person hovers over the image.
Welcome Text. You can create a welcome message that will appear in the header of the store.
If you need any kind of help with that, you can hire Magento web designers that will speed up all the processes.
Save the Configuration


Once you've completed all of the previous steps, press the button Save and Continue or Save Configuration. That will finish the process, and you'll have a new logo in your Magento 2 store. To check whether everything looks right, refresh the website, and you'll see how the new logo looks.
Need help configuring settings of your Magento 2 store?
Our team has years of experience building & maintaining Magento 2 store. Contact us and we'll help you set your online store
Where do you need to use the logo?


The website's header is not the only place that requires a logo. In fact, there are plenty of places where you can put a logo in order to increase trust, present a more professional image, and use it as a marketing tool. For example, logos are often used in:
Emails
Invoices
Social media content
Forms or surveys
Business cards
The key to successful marketing is consistency, and if you have the same logo across multiple channels when interacting with customers, they are more likely to remember your brand.
Tips on Creating a Memorable Logo


We've gathered a few tips on how to create a logo that your customers will remember and will want to share with their friends:
Create a clear concept. Your logo has to represent your brand's identity and values, all in one image. Did you know that 76% of brands have only one or two colors in their logos? You need to make sure that it's not overflowing with text or design details; it is simple but understandable at first glance.
Stand out from the crowd. Make sure that your logo is not similar or doesn't remind the logos of the competitors in any way.
Beware of trends. While the colors, size, and other surface details may change over time, the essential image is what will stay with you for years to come. Hence, don't rely on the current trends when working on that.
If you want to learn more about how to make sure that website's visual part contributes to your success, check out our article on how to choose the right theme for your store:
Final thoughts
That's it! Now you know how to set up a logo in your Magento 2 store. Setting up a Magento 2 store is much more than just changing your logo, though. If you have a business idea but don't know how to implement it or don't know how to approach Magento 2 setting up, we're here to help you out. We offer top-notch Magento development services, covering every aspect of web development, from design and web development to maintenance and support.