Here at IT Delight, we focus on Magento web development services. We believe it's important to stay up to date with the current top 10 eCommerce websites so that we can apply what we've learned to our clients We analyzed a bunch of online stores and came to the conclusion that lots of the most successful and world-famous brands are actually using the Magento CMS platform for their eCommerce websites. The vast majority of leading e-commerce development companies choose Magento because of its huge contribution to the success of the world's leading e-commerce brands.
Magento for eCommerce website development
Magento is one of the most popular e-commerce platforms for selling products online. This platform is suitable for businesses of all sizes and shapes. It doesn't matter if you run a small business or a large enterprise, Magento eCommerce development is still a good idea.
Magento development is a great platform to start your e-commerce business. The platform's slogan reads: "Designed for growth, built for flexibility." Magento provides an incredible opportunity for retailers to start their business with basic e-commerce functionality and eventually upgrade to a more sophisticated version of Magento.
Magento gives you all the options and tools to build a successful eCommerce store. The platform has all the features you need including tools for analytics, marketing, conversion monitoring and optimization, shopping cart system, website builder, and product catalog management. But even with all those incredible features, don't forget about Magento speed optimization services for your store.
Top 10 stores built with Magento in the USA (by revenue)
We made a list of 10 Magento eCommerce stores based on their revenue in the USA. Let's take a look at how the Magento platform accelerated business growth in different industries:
1. Cisco store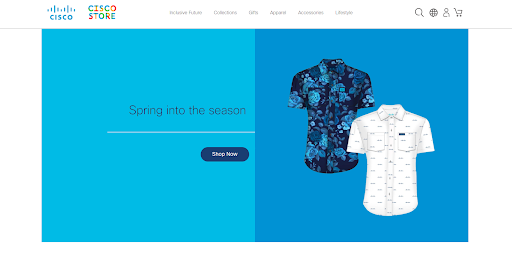 Cisco Systems headlines the B2B technology brands. The company is considered one of the most successful and most well-known software and technology companies in the industry. It offers a variety of top-notch products for B2B businesses.
The company uses Magento for its online store to power its CMS platform. Cisco had chosen the Magento development because of the wide range of the extensions that ate built specifically for B2B clients.
Now, let's allow numbers to speak for themself. The Cisco store tops our list for sales revenue in the US with an impressive $24+ million. The website is ranked 866 worldwide and has 65,5 million users a month.
The Cisco store is filled with useful and convenient eCommerce features. Product pages are user-friendly, have all the necessary information, high-quality photography, and mention trending products. Magento powers features like shopping cart, social media reviews, advanced search with filters, etc.
2. My Nintendo store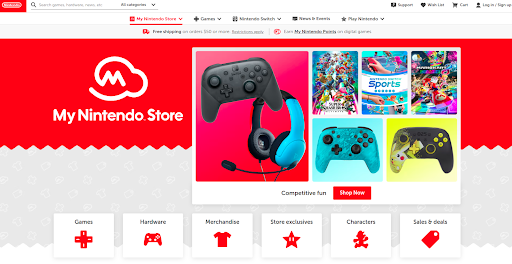 The company Nintendo was founded in 1889 as the Nintendo Karuta by master Fusajiro Yamauchi. Nintendo is a Japanese multinational video game company based in Kyoto, that develops video games and game consoles.
Nintendo uses Magento to power its online store. The Nintendo store website provides its visitors with a convenient and fun user experience. Website visitors have the option to shop for games based on the characters and add games to their wish list or shopping cart. The site provides users with numerous rewards, deals, and offers.
Therefore, here's what the numbers are saying about this Magento-made eCommerce website. The My Nintendo store takes second place on our list for sales revenue in the US with $3.7+ million. The website is ranked 1346 worldwide and has 40.3 million users a month.
3. Car and Driver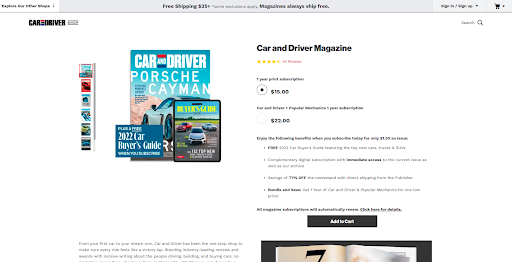 Car and Driver is an American magazine for car enthusiasts, founded as Sports Cars Illustrated in 1955. The magazine gained its popularity as one of the first to unashamedly criticize the American automakers.
The Car and Driver uses the Magento platform for its online store, where it sells subscriptions for the magazine. The website itself is simple and uncluttered. It shows customers options for subscriptions and detailed descriptions of what they will get. Also, the Car and Driver store has a review feature which is essential for any eCommerce website.
Now, let's take a look at the important numbers of this Magento-made eCommerce website. The Car and Driver store takes third place on our list for sales revenue in the US with $2.6+ million. The website has 41K users a month.
4. Tommy Hilfiger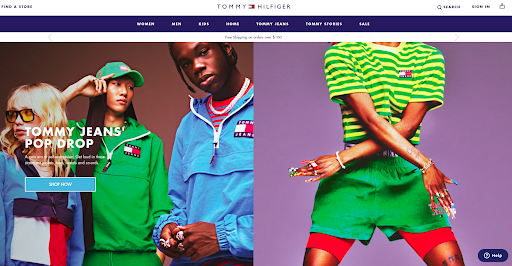 Tommy Hilfiger B.V. is an American clothing company founded in 1985. It produces clothing, accessories, perfumes, and footwear. Throughout the years Tommy Hilfiger has gained a reputation for making high-quality products.
As a leading design brand, Tommy Hilfiger has chosen Magento to expand its e-commerce presence in Australia and New Zealand. Its website makes good use of Magento's promotional features. Also, Tommy Hilfiger uses Magento's gift card feature to let its customers purchase virtual gift cards which they can use for online shopping on the website.
Tommy Hilfiger's eCommerce website takes fourth place on our list with $1.9+ million in sales revenue. The website is ranked 4597 worldwide and has 10.8 million users a month.
5. Kate spade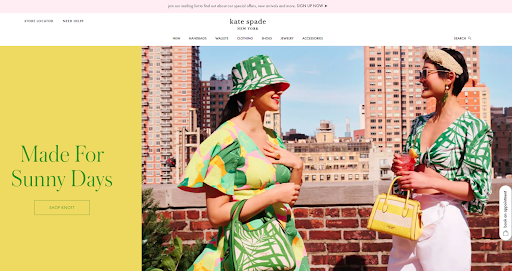 Kate Spade was founded in 1993 in America by Kate and Andy Spade as a luxury design house. The company initially prioritized selling handbags, but has expanded over time to include stationery, organizers, shoes, beauty products, and more. Today, Kate Spade has a full line of women's clothing. The company's products are available in retail stores in the United States and can be shipped worldwide.
Kate Spade's website is filled with convenient and useful Magento features like advanced search, products suggestions, user-friendly navigation, and more.
So, what the numbers are going to say about this Magento-made eCommerce website. The Kate spade store takes fifth place on our list for sales revenue in the US with $1.6+ million. The website's global rank is 8281 and with 6.6 million users a month.
6. Carter's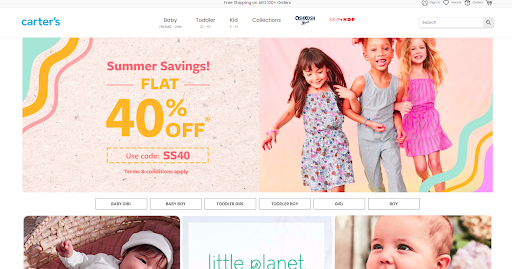 Carter's Inc. is an American designer and retailer of children's clothing. It was established in 1865 by William Carter. You can purchase Carter products at Carter's own retail stores, the Carter website, and other outlets.
This Magento website provides its customers with the following functionality:
Product presentation
Shipping
Wish-list
Shopping cart
Deals and offers
Product Categories
Search
Carter's eCommerce website takes sixth place on our list with $1.2+ million in sales revenue. The website is ranked 1208 worldwide and has 8 million users a month.
7. Bed Bath & Beyond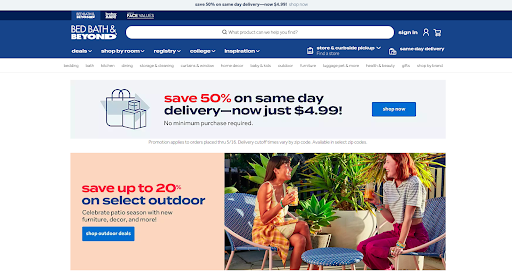 Bed Bath & Beyond is one of the largest multi-channel home and decor retailers. The company has over 1,460 stores in the United States, Canada, and Mexico.
Bed Bath & Beyond has rolled out Algonomy FIND to add to its eCommerce website an algorithmically personalized product search. It integrated Adobe Magento's eCommerce platform to analyze real-time shopper behavior and customize search results.
So, what the numbers are going to say about this Magento-made eCommerce website. The Bed Bath & Beyond store takes seventh place on our list for sales revenue in the US with $1.1+ million. The website's global rank is 1529 with 34.5 million users a month.
8. The great courses
The Great Courses is an eCommerce website with a collection of college-level audio and video courses and documentaries. Content is created and distributed by The Teaching Company, a US company based in Chantilly, Virginia. Since the start of its journey, the company has created more than 700 courses and sold more than 14 million copies.
On this Magento website, you can create your own digital library, explore courses by categories, and use advanced search to find exactly what suits you.
Now, let's take a look at the important numbers of this Magento-made eCommerce website. The great courses store takes eight place on our list for sales revenue in the US with $860K. The website has 824.5K users a month and a global rank of 63.694.
9. True Value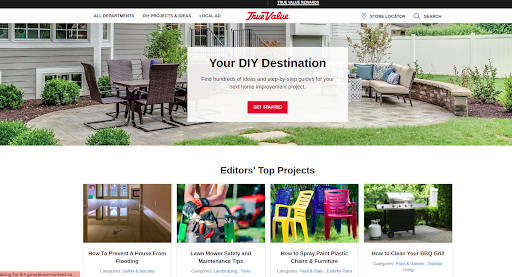 True Value is an American hardware and home goods wholesaler. On its website it lets visitors view the map of store locations, search for products by categories, watch the company's YouTube videos, etc.
So, what the numbers are going to say about this Magento-made eCommerce website. The True Value store takes ninth place on our list for sales revenue in the US with $801K. The website's global rank is 26.344 with 2 million users a month.
10. Bob's Red Mill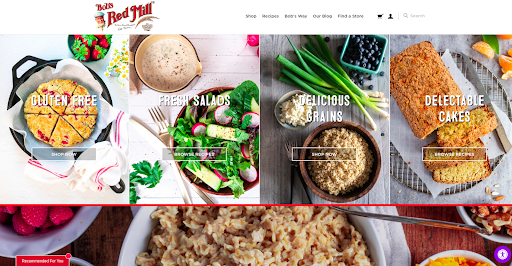 Bob's Red Mill is an American whole grain brand founded in 1978 by Bob and Charlie Moore. Bob's Red Mill makes natural, certified organic and gluten-free products from ground grains. Its products are distributed in the United States, Canada, and several other countries such as the Caribbean.
This Magento website gains customer love with the following features:
Customers reviews
Convenient store locations
Advanced search
Recipes and blog posts
Product categories
So, here's what the numbers are saying about this Magento-made eCommerce website. The Bob's Red Mill store wrapped up our list for sales revenue in the US with $694K. The website is ranked 76.745 worldwide and has 784K users a month.
Benefits of using Magento for eCommerce development
As we can see from the list above, Magento development has played a big part in the success of the biggest eCommerce stores in the USA. Let's dive deeper into the world of Magento eCommerce development and find out what benefits it brings to retail businesses.
Flexibility
Magento gives businesses the advantage of using a flexible framework that lets them incorporate different features with minimal development costs. You can make appropriate adjustments to the website's structure to suit your business needs. The platform lets you effortlessly add the required features and use top-level methodologies on your website with minimal setup.
Advanced analytics
With Magento, you get access to advanced analytics and statistics. With the provided user and order statistics, you can easily retarget a customer. Magento integrates with Google Analytics and Website Optimizer to give you access to detailed information about your customers' wants and needs. The administrator has the ability to track trends and plan actions using the built-in reporting system. Apart from this, Magento's reporting feature gives you insight into different metrics such as total sales, most viewed and purchased products, received orders, etc.
Simplified payment processes
Magento can be effortlessly integrated with numerous payment gateways such as PayPal, Amazon, Google, etc.
With the Magento platform, you can improve your checkout process and enhance business conversions. Magento provides SSL security for external and internal orders. This eCommerce development platform lets website visitors save items in carts, receive gift messages, and access delivery schedules.
SEO oriented
It's no secret that all websites need to be optimized for SEO, especially eCommerce online stores. The e-commerce website development platform you choose should support features that will help your site rank well in searches. Magento gives you built-in SEO features and tons of options for meta tags, descriptions, keywords, URLs, and more.
Magento SEO-oriented features:
SEO meta tags for product pages
Customizable URLs
Alt attributes for images
HTML and XML sitemaps
Canonical tags and snippets
Google Adwords for voice search
Social network purchases
Today shopping through social networks is a new normal. Therefore, integrating social media into your eCommerce website is essential in order to improve your reach and increase sales. With Magento, you can make buttons on your website for all social media accounts of your brand. By clicking these buttons your clients will be able to visit your site and make purchases.
For instance, Magento also gives your customers the opportunity to share product links with their friends through social media. For social media features, Magento uses Beetailer integration.
Top-level security
Magento is famous for its security features to protect your e-commerce website and minimize security risks. Please note that it is important to use the latest version of Magento as it has a two-factor authentication extension that allows only trustworthy individuals to access the back end using four different authentication mechanisms. In addition, developers have the opportunity to make a unique path for the admin panel.
Magento uses advanced password management tools and the SHA-256 hashing algorithm. These tools let you set password standards for eCommerce websites. Magento has the option to set file system permissions automatically and restrict user access to important files.
4 Tips Magento eCommerce website development based on the top 10 eCommerce website
In this article, we analyzed the most successful Magento eCommerce websites based on their sales revenue data. Now, let's sum up what exactly helped these online stores to get to where they are now.
As an experienced provider of Magento consulting services, there are five main tips we can give for a successful Magento website development.
Always go for responsive design. Customers are browsing your site from various devices, therefore you need to make sure that your web page looks attractive on all of them. Responsive website design can increase conversions and site's rankings in search engines.
Make sure that your site has an intuitive navigation structure. Importantly, remember that buyers need no more than two or three clicks to get their desired product. If customers take too long to navigate your site, they will simply move on to your competitors.
Use high-quality images. Notice that every website that we observed today had an amazing photography quality. One of the best things you can do with your website is to invest in high-quality images. This way your products will look professional.
Don't forget about personalization. Personalization plays a critical role in the overall performance of your eCommerce website, therefore it is closely related to the quality of your customer experience. With Magento's eCommerce platform you can analyze real-time shopper behavior and customize search results.
Final thoughts
Now, you know what are the top 10 eCommerce websites that use Magento as their core. As a result, this knowledge will help you make a decision when considering using Magento for your eCommerce website.
In conclusion, Magento is a good option not only for a new business but also for updating an existing eCommerce website. The Magento platform has everything you need to support your eCommerce business.
A professional Magento development company can help you build your own e-commerce website that suits your business needs. Contact us if you have any questions regarding Magento eCommerce development.