Why you should hire software developers in Ukraine and what makes IT outsourcing in Ukraine so attractive to foreign companies, and what's driving the success of the industry internally? After all, in 2021, Ukrainian startups attracted a record amount of investments of $571 million, which provides amazing opportunities for the growth of the Ukrainian IT business.
For international clients, there must be more to it than meets the eye — saving costs and getting some of the most experienced engineers money can buy. For Ukrainian IT firms, is it luck, coincidence, or have they earned their place under the sun by doing hard work?
But before we get to answering those questions, a little introduction is in order.
If you're looking to enhance your online e-commerce business with the tools offered by Magento or Shopware, IT Delight is the right vendor to choose. On the market since 2012, we've helped more than 190 clients achieve their objectives on almost 300 projects. We offer the entire range of services, from adaptation and usability studies to UI analysis, development, all the way to efficiency and effectiveness reports.  Check out our About Us – ITDelight page to learn more.
And now, back to our topic: should you or should you not work with Ukrainian developers, be it through outsourcing or augmenting your team? Let us give you a few objective reasons to make your decision an easy one.
The state of IT in Ukraine in 2022
The IT industry today is one of the most financially stable in Ukraine. IT companies pay taxes on time and in full, even under martial law. Because most software companies had business continuity plans in place, they could immediately respond to news of the war. HR managers were actively involved in planning the movement of their employees to safer places. Therefore, many developers moved to the western part of Ukraine, where it's safe.
Some developers moved to Poland, Germany, Spain, and other European countries. Today, people continue to work remotely, no matter if they relocated to another country or to the western part of Ukraine. The most obvious reason for the relatively rapid transition to a new life is the fact that IT professionals have been working remotely for quite some time due to the restrictions associated with COVID-19.
They are accustomed to the reality of WFH, so today they showed the same flexibility. Companies that remained in Ukraine organized their work in such cities as Lviv, Ivano-Frankivsk, Chernivtsi, Uzhhorod, and others. According to UN estimates, more than 11 million people left Ukraine by the end of April. However, many Ukrainian tech workers chose to stay and continue to work in software companies in their country in support of the war effort. Now let's find out why hire developers from Ukraine is a good idea.
A young and thriving industry that survives crises
As a nation, Ukrainians have a long history of overcoming adversity. The way the country's IT market responded to the pandemic is a testament to that resilience. The IT services exports, hit by a decrease in growth in April of 2020, quickly restored balance in July, as the number of vacancies went back to pre-pandemic levels (analytics by DOU, the top Ukrainian programing-oriented medium).
Over the past five years, the segment of IT services export has been growing at an impressive rate of 20 to 25%.
Source: IT Ukraine Association
Experts of the IT-Ukraine Association say that, if the number of foreign companies entering the Ukrainian IT market continues to grow, the market will have a stable growth of 22-30% per year, and by 2024 the number of specialists will also double.
The IT sector has made a significant contribution to the country's economic growth, being the 3rd largest exporter of Ukrainian services. According to PwC forecast, by 2025 the export volume of the Ukrainian IT market will reach $8.4 billion.
Ukraine has been among the world leaders in IT outsourcing for a while now, and the country's technology sector is steadily expanding every year. In 2021, the estimated value of IT exports was $6.8 billion, up 36% from 2020.
Ukraine's IT industry has quite fast and reached $839 million in February 2022, the highest monthly export in the history of the Ukrainian IT market. This is 43% more than in the same period last year.
After the outbreak of a full-scale war, the market remained virtually unchanged: in March 2022, Ukraine managed to maintain 96% of its exports of computer services compared to the previous year.
Here are some more stats that describe the Ukrainian IT industry:
According to various sources, there are anywhere from 3,000 to 5,000 software development companies currently operating in Ukraine.
IT engineers, investors, and startups participate in over 1,000 tech events held yearly in the country.
Over 100 Fortune 500 companies chose Ukraine's IT services (data by UkraineNOW).
The number of R&D centers of global companies like Google, Samsung, and Siemens located in Ukraine exceeds 100 (as per this report).
The country is in the top 30 startup ecosystems worldwide. You can find the list of successful Ukraine-based startups here.
In 2020, a record $571 million was invested in Ukrainian-founded startups.
Steady growth, great quality of work, and predictable financial outcomes are some of the defining traits of the IT industry in Ukraine. No wonder Ukrainian IT companies constantly receive top ratings and prestigious awards worldwide.
Top rankings
Ukrainian tech players have been repeatedly recognized for their excellence. Below are only a few ratings to give you an idea:
There are many good reasons why IT companies from Ukraine receive high rankings. And as always, it's people who are at the core of every business's success.
A vibrant community of professionals
Kyiv, Kharkiv, Lviv, Dnipro, and Odesa are the five IT hubs that command and shape the landscape of Ukrainian development. An estimated total of about 205,000 tech specialists are currently employed by the country's IT sector (data by Beetroot). Many of them join non-government IT associations that drive social responsibility initiatives and facilitate government cooperation.
Speaking about the Ukrainian IT market, one cannot fail to mention its driving force – technical talents. Despite a global shortage of IT professionals, Ukraine is thriving thanks to a growing number of tech graduates, graduating over 16,000 new programmers every year. By 2030, these numbers are expected to increase to 37,400 IT professionals per year, according to BRDO.
IT clusters
From the very first days of the pandemic, the Lviv IT Cluster has been at the forefront of the battle against Covid-19:
First, the organization provided tens of thousands of free express Covid tests to the local IT community. The effort brought together over 40 IT companies in the region, resulting in 6 million hryvnias collected in under a month.
Later, the IT Cluster financed insurance for Lviv's medical workers and provided many of them with protective suits.
Finally, the association played an important role in vaccinating the employees of software companies, delivering over 30,000 doses of Covid-19 vaccines.
Similar initiatives were started by most of the 20 IT clusters that exist in major hubs and smaller cities all over Ukraine. The Covid-19 crisis has brought the Ukrainian IT community together, giving new meaning to teamwork and ethics.
At the end of March, Dou, conducted a survey of about 7,000 IT professionals and asked how their lives had changed since the outbreak of war. According to the survey, almost 60% of people left their homes. Most often, they relocated to the following cities:
Lviv Oblast
Zakarpattia Oblast
Ivano-Frankivsk Oblast
The map of the main IT clusters located in Ukraine as of the beginning of 2022 is presented below. Areas of military operations are shaded. Basically, these are the eastern and southern regions of Ukraine.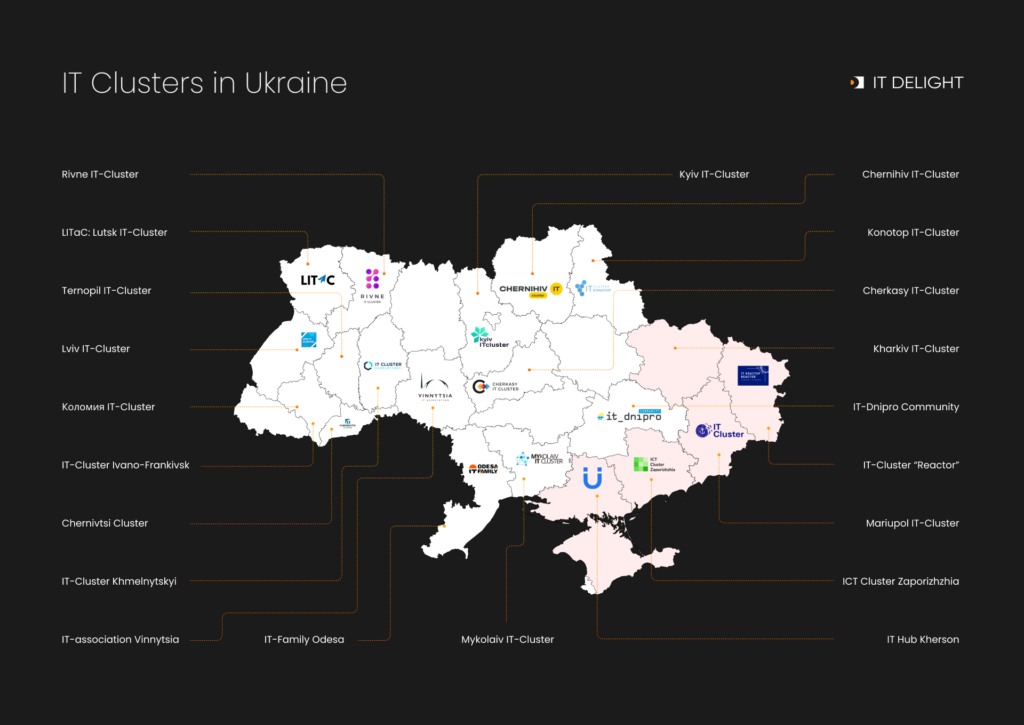 IT Ukraine Association
IT Ukraine Association's mission is to bring positive change to the country's IT industry. The association connects Ukrainian IT businesses with the state, as well as international partners to ensure steady growth and sustainable development. Educating the youth and promoting corporate social responsibility is high on the list of the organization's priorities.
These non-government associations are important agents of change that create new vectors and propel the Ukrainian IT industry forward. But that progress wouldn't be possible without a solid foundation.
A tradition of tech education
More than 30,000 tech students majoring in 23 software-related professions graduate yearly from Ukraine's educational establishments (February 2021 statistics by BRDO). Additionally, the Ministry of Education introduces new programs to improve the overall quality and relevance of education, like the US-funded Ukraine Improving Education for Results.
It all starts with education, but it's the hands-on practice that makes developers from Ukraine so good.
Diverse skills and experience
Ukrainian developers and testers are involved in various projects that use multiple combinations of technology and programming languages. This means they acquire new skills at an increased rate.
Here are some stats gathered by DOU to prove our point (the source is in Ukrainian, so we translated the most relevant statements for you):
56% of Ukrainian engineers work on outsourcing projects.
More than half of the entire talent pool has two to five years of experience.
On average, engineers have worked in 2-4 companies throughout their careers.
JavaScript is the leading programming language among Ukrainian developers, with 18% using it as primary and 41% as secondary means of coding.
As for frameworks and libraries, the top three choices are React.js, Node.js, and Angular.js.
Another interesting fact: most Ukrainian engineers are satisfied with their projects. 40% of them consider them interesting, and 18% find their work enjoyable.
Higher tech education is why it is quite easy to hire back-end programmers with sufficient skills to create highly loaded systems with complex logic.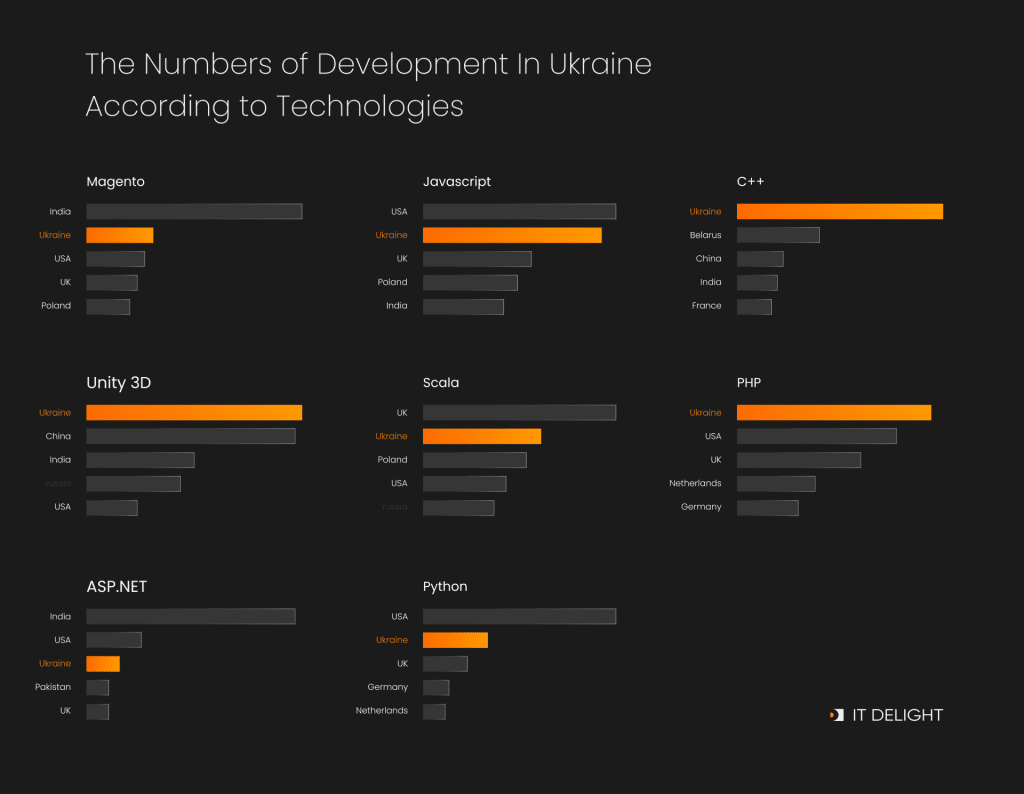 Great quality at reasonable rates
As we get to the topic of compensation, the Ukrainian outsourcing market can offer some very competitive salaries and rates. Instead of tiring you with endless rows of numbers, we'll compare salary data from Ukraine to neighboring Poland and the Czech Republic.
The median software developer rate in Ukraine amounts to just $25-40 per hour.
In Poland, you'd have to pay at least $40-$56 per hour for the same work. Similarly, the corresponding hourly rates for Czech developers would be at $34-$53.
While the difference isn't huge, keep in mind that you're getting the same — if not better — quality of work. Other expenses like renting an office or buying supplies will also be considerably lower in Ukraine. All these factors combined are enough to tip the scale in favor of hiring developers from Ukraine.
Decent English
According to EF's report, over 85% of IT tech professionals in Ukraine speak English at an intermediate — or higher — level of proficiency. Of course, many Ukrainians will have an accent, but it's soft and easily intelligible, just like with most Eastern Europeans.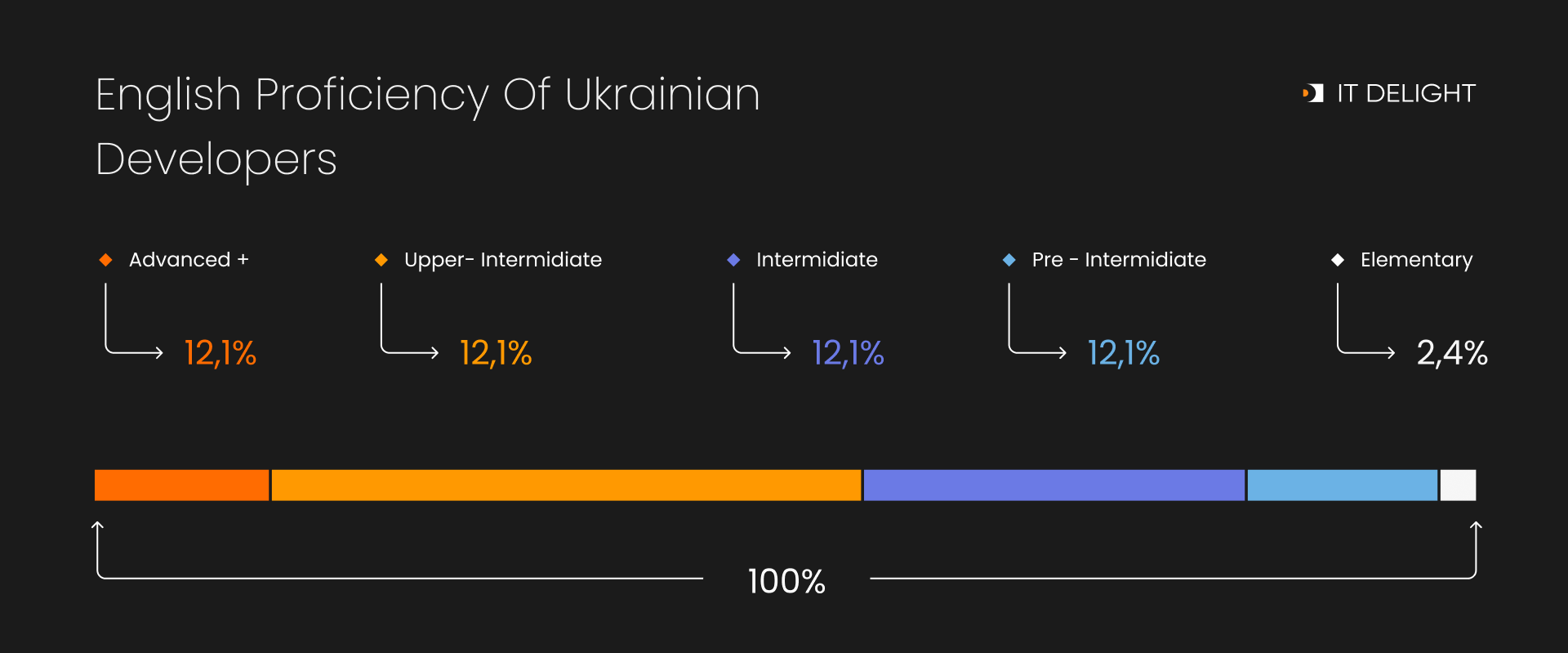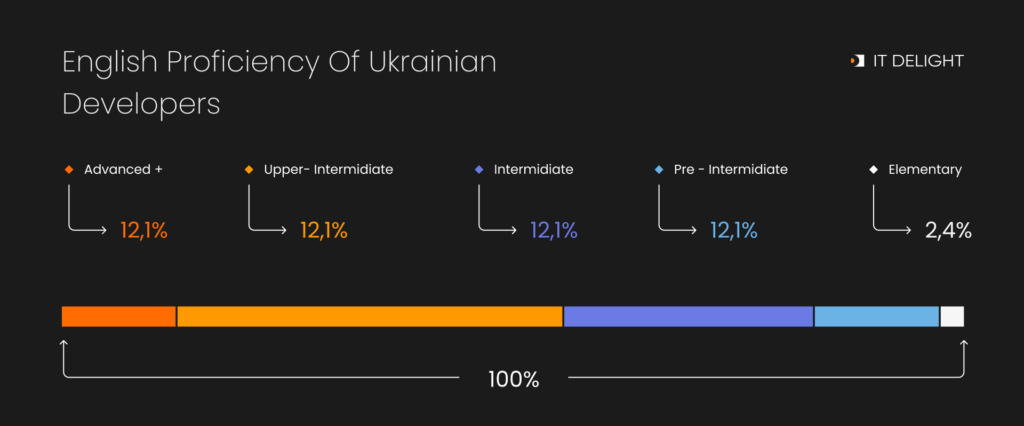 Most IT companies in Ukraine have free English courses for their employees to improve their English proficiency.
Solid work ethic
Another characteristic that Ukrainian developers share with their European counterparts is a similar work ethic. You can expect a likeness in business values and mentality and a goal-oriented mindset. The EU's recognition of these similarities was the foundation for the EU Association Agreement, effective as of December 2017.
Global mindset
Ukrainian software and web development companies share Western business culture: contrary to stereotypes, Ukrainian tech specialists are great at solving problems and exceptional communicators.
Middle and senior developers show better results if they have some level of independence. A lot of Ukrainian companies were founded by entrepreneurs from Western Europe and the USA. The head offices of most of them are located in the EU or the USA, which greatly simplifies the process of outsourcing development in Ukraine from a legal point of view.
A convenient geographic location
Ukraine's location is perfect for both nearshoring and offshoring. The country's EET (UTC+2) time zone is compatible with those of the neighboring EU countries, and it also overlaps with the working hours in the US. Compared to Asian countries with outsourcing potential (like India or the Philippines), Ukraine has a clear competitive advantage for efficient real-time communication.
Looking for Ukrainian developers?
Leave your email and we will contact you
Ukrainian programmers, who are only an hour ahead of the majority of European countries, share 7 out of 9 working hours with Western countries. By comparison, a London-based tech company working with Filipino developers has only three working hours between them. Geographically Ukraine is a convenient place for the nearshoring, as it provides uninterrupted communication and workflow between teams.
Ukraine is also an attractive offshore location for North American companies, as the 7-hour time difference between Ukraine and the East Coast allows for much more convenient working hours compared to India, Vietnam, the Philippines, and other low-income countries.
Favorable conditions for business
According to a report by Trading Economics, the index of ease of doing business has been steadily improving in Ukraine over the past decade. Just look at the graph below: the country went from being #152 in the world in 2010 to #64 in 2020!
Final thoughts on hiring Ukrainian developers
So, why hire developers in Ukraine? Ukrainian IT specialists are dedicated, hardworking, and self-sufficient. You can expect excellent technical knowledge and a high level of English language proficiency thanks to the excellent technical education in Ukraine. Most developers have extensive experience working on outsourcing projects. All these factors make Ukrainian developers great for hiring for an outsourcing project.
If you have any questions regarding the topic of hiring Ukrainian developers, check out our dedicated eCommerce development team: IT Delight page or contact us for a free consultation.