The eCommerce industry has seen a tremendous surge. Here is what you need to know: last year, retail e-commerce trades were estimated to exceed 5.7 trillion U.S. dollars worldwide. Can you imagine that?

And with so many platforms available, it's a must for businesses to select one that best aligns with their specific needs. For those in the Automotive sector, Shopware emerges as an increasingly popular choice.
Here's why choosing Shopware 6 for your automotive & auto parts online shop is a strategic move.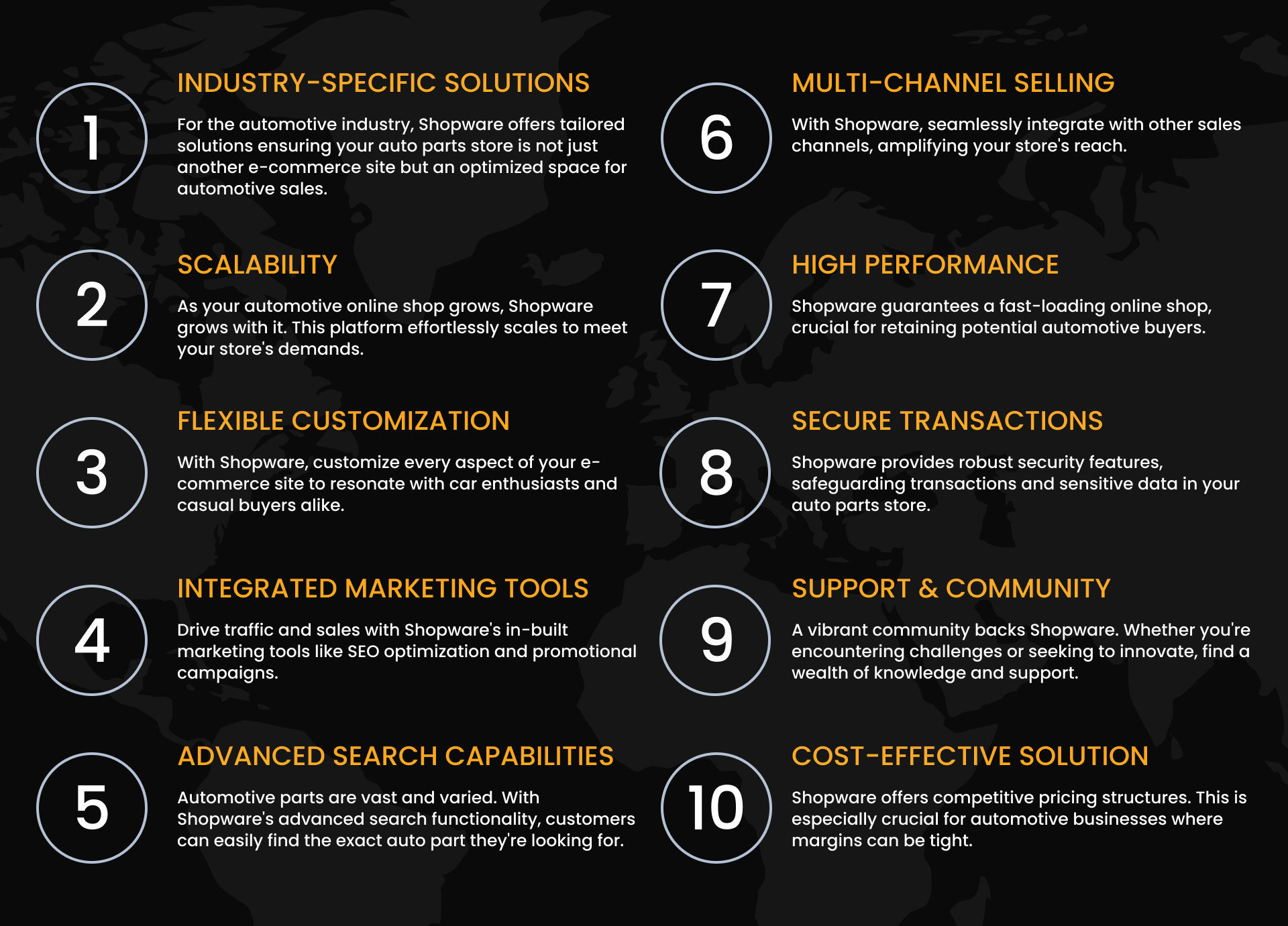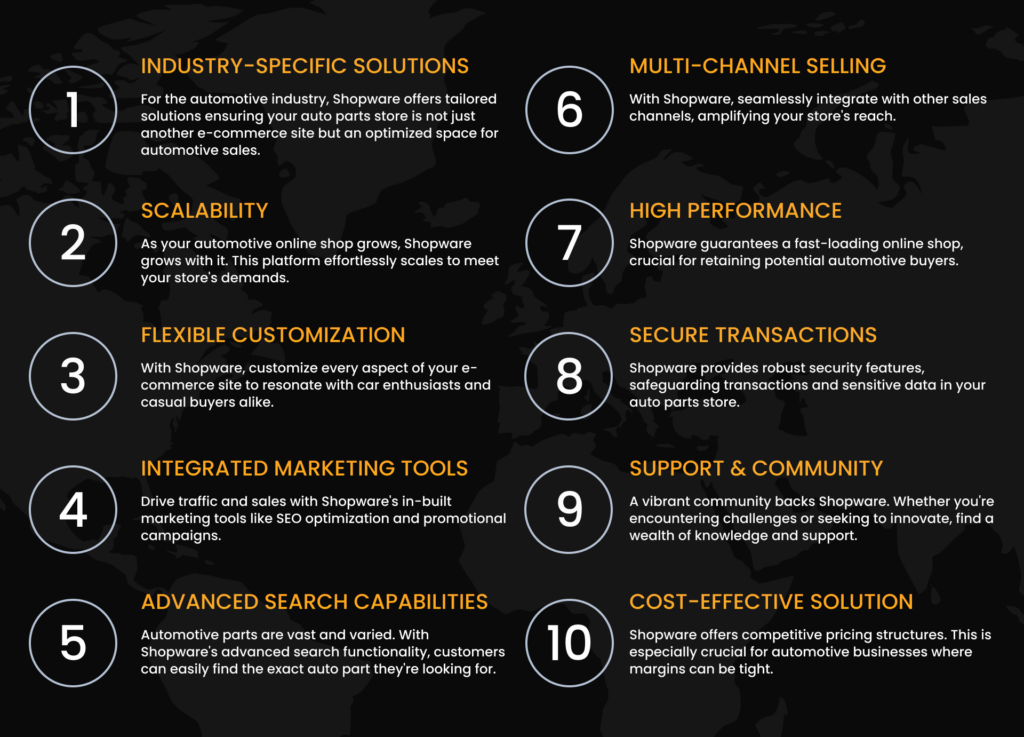 Pros of Shopware 6 for Your Online Automotive Store:
Industry-Specific Solutions: For the automotive industry, Shopware offers tailored solutions ensuring your auto parts store is not just another e-commerce site but an optimized space for automotive sales.
Scalability: As your automotive online shop grows, Shopware grows with it. This platform effortlessly scales to meet your store's demands.
Flexible Customization: With Shopware, customize every aspect of your e-commerce site to resonate with car enthusiasts and casual buyers alike.
Integrated Marketing Tools: Drive traffic and sales with Shopware's in-built marketing tools like SEO optimization and promotional campaigns.
Advanced Search Capabilities: Automotive parts are vast and varied. With Shopware's advanced search functionality, customers can easily find the exact auto part they're looking for.
Multi-Channel Selling: With Shopware, seamlessly integrate with other sales channels, amplifying your store's reach.
High Performance: Shopware guarantees a fast-loading online shop, crucial for retaining potential automotive buyers.
Secure Transactions:Shopware provides robust security features, safeguarding transactions and sensitive data in your auto parts store.
Support & Community: A vibrant community backs Shopware. Whether you're encountering challenges or seeking to innovate, find a wealth of knowledge and support.
Cost-Effective Solution: Shopware offers competitive pricing structures. This is especially crucial for automotive businesses where margins can be tight.
What's important, even these pros don't guarantee the absence of bugs, so you might need Shopware support provided by IT Delight.
What Functional Set is Needed to Develop an Automotive Store on Basic Shopware 6


Believe it or not, when venturing into the eCommerce domain, especially within the automotive sector, the platform choice can make all the difference. Shopware, with its comprehensive suite of tools, offers an optimal solution for those wanting to establish an authoritative presence in the online shop sphere. Here's a breakdown of the essential functionalities for an automotive store.
1. Shopping Cart


An intuitive shopping cart is a cornerstone of any online shop. With Shopware's robust eCommerce solutions, users can experience a seamless checkout process tailored for automotive products, ensuring that their store operates with efficiency.
2. Wishlist


The ability for customers to save and revisit their favorite automotive products enhances the user experience. Shopware integrates a wishlist feature. This platform it simpler for users to curate their desired items and return to your e-commerce site for purchase.
3. Search Bar


Given the vast array of automotive products available, a dynamic search bar is pivotal. Shopware recognizes this and provides a responsive search functionality. It ensures that customers can quickly locate the exact product they need in your store.
4. Shipping and Payment Options


Diverse shipping and payment methods are fundamental for an online shop dealing with automotive parts. Shopware's flexibility in integrating various options assures that the e-commerce site can cater to a broad audience.
5. Social Media and Share Buttons


Connectivity is paramount now. Shopware ensures that your automotive store remains connected by allowing seamless integration of social media platforms and share buttons, amplifying the store's reach and engagement.
6. Special Offers


Promotions and deals can boost sales significantly. Shopware's built-in tools enable the store to highlight automotive special offers, ensuring that customers are always aware of the best deals on your e-commerce site.
7. Product Filters


With the vast assortment of automotive products, detailed filters are crucial. Shopware's product filtering feature ensures that customers can easily narrow down their choices, enhancing their shopping experience.
8. Recommended Products


A dynamic recommendation system is vital for cross-selling and up-selling. Shopware's algorithms ensure that related automotive products are suggested to customers, increasing the store's average order value.
9. Pro Customer Service


An exceptional online shop goes beyond just selling. Shopware emphasizes the importance of professional customer service, ensuring that any queries or issues related to automotive products are addressed promptly and efficiently.
10. Blog with Tags System


Engaging content can set an e-commerce site apart. With Shopware, automotive stores can run a blog, integrated with a tag system, to provide insights, reviews, and updates about the automotive world, further establishing the store's authority in the sector.

All this is easy to implement if you understand how Shopware ecosystem works.
What Do You Need to Create an Automotive Industry Shopware Marketplace?
Building an online marketplace, especially for the expansive automotive industry, requires a strategic approach, a team of professionals, and leveraging the right tools. Shopware, known for its robust eCommerce solutions, provides a platform that can seamlessly cater to the specialized needs of an automotive online shop.

Here's a detailed step-by-step guide on what you need.
Team Requirements

To successfully develop an automotive marketplace, you'll need a team consisting of:
Project Manager: Oversees the entire project, ensuring that the development aligns with the vision and goals of the online shop.
Shopware Developers: Responsible for customizing and integrating Shopware's eCommerce functionalities to cater to the automotive sector.
UI/UX Designers: They will ensure the e-commerce site is user-friendly, responsive, and aesthetically appealing.
Digital Marketers: Will handle the promotion, SEO, and other online visibility strategies for the automotive store.
Content Creators: Needed for product descriptions, blog posts, and other relevant content for the marketplace.
Customer Support: Assists with queries, ensuring a smooth shopping experience for users.
Step#1 Register a Domain Name


Begin by choosing a domain name that reflects the automotive niche and is easy to remember. The domain should resonate with your target audience, emphasizing the niche of your Shopware online shop.
Step#2 Subscribe to a Hosting Provider


For seamless performance, opt for a hosting provider experienced in supporting Shopware eCommerce platforms. They should provide excellent uptime, fast speeds, and scalability options to accommodate the growth of your automotive store.
Step#3 Buy an SSL Certificate


Security is paramount in the eCommerce world. An SSL certificate encrypts data, ensuring the safety of both the e-commerce site and its users, thereby fostering trust in your automotive marketplace.
Step#4 Set Up Shopware 6


Install and configure Shopware on your server. Being a leader in the eCommerce arena, Shopware will provide the necessary features and tools to structure your automotive online shop.
Step#5 Product Listings and Cataloging


List automotive products with detailed descriptions, images, and prices. It's crucial to have a structured catalog system to make navigation easier for users. Shopware's interface facilitates efficient product management for your store.
Step#6 Implement Payment Gateways


Now, integrate multiple payment options into your e-commerce site, ensuring that customers have a range of choices when purchasing automotive products.
Step#7 Design & Themes


Leverage Shopware's customizable themes to align with the automotive look and feel. Ensure a responsive design that caters to various devices.
Step#8 Product Filters & Search Options


Given the variety in the automotive sector, advanced filtering options will enhance user experience. Shopware offers tools that make product search seamless.
Step#9 Marketing & SEO Integration


Use Shopware's in-built SEO tools to optimize your online shop for search engines. Further, integrate email marketing, social media, and other promotional tools to boost visibility.
Step#10 Continuous Monitoring & Updates

Regularly update product listings, monitor site traffic, and user behavior. Shopware provides analytical tools that can offer insights to help improve your automotive marketplace continually.
The Best Shopware 6 Themes for Automotive Marketplace


The automotive sector has carved out a significant niche for itself. Leveraging Shopware, a leading name in online shop solutions, businesses can now create a seamless and dynamic automotive e-commerce site. Offering a range of responsive themes tailored for the automotive industry, Shopware ensures that your online store stands out in this competitive market. But if you don't like any of standard themes, you can benefit from Shopware theme development by our company.

Before we explore the best Shopware themes that can transform your automotive store into a bustling online marketplace, check the article about the best Shopware themes.
Alice Fancy theme

Enter "Alice Fancy", an Automotive-centric Shopware design theme tailored to meet the unique requirements of automotive enthusiasts and businesses.
Highlights
Shorter text lines for product specifications, ensuring better readability for intricate automotive details in your online shop.
The brand color, prominently featured at the top, facilitates strong brand recognition, ensuring your store stands out amidst competitors.
Incorporated with the sleek and professional PublicSans typeface – a free and open-source font, adding a touch of modernity.
Adjustable font weight and size for category and product titles, catering to the diverse range of automotive products.
The default page backdrop is a gentle light grey, providing a neutral canvas for vivid automotive product images.
Features
Modify theme colors to align with your brand or the color palette of popular automotive brands.
Fine-tune font size, weight, and color on product and category pages to emphasize essential automotive details.
Highlight prices with adjustable font sizes and colors, ensuring the best deals pop on your e-commerce site.
Personalize the purchase button, choosing its color palette for both the background and the text.
Define the button radius to echo the sleek design lines of modern automobiles.
Choose border colors to frame automotive content compellingly.
Settle on a footer section color that integrates effortlessly with the overall theme.
Equip your Shopware store with the "Alice Fancy" theme, and drive your automotive products into the spotlight, ready for the eCommerce fast lane.
Billing options
Monthly
Cancelable monthly
Annually
Free trial month
€ 348.00 / billed annually
Want to get a theme tailored for your automotive store?
Leave us your contact details and we'll get back to you.
Template "Redblack"


"REDBLACK" is a uniquely crafted Shopware theme designed specifically for the automotive sector. With its vivid black, red, and anthracite shades, this responsive template stands out. It is a preferred choice for automotive industries such as car tuning, motorcycling, motorsport, RC cars, and model making.
Key Features of "REDBLACK" Shopware Theme
Bold Palette: Classic black background magnifies product visibility, ensuring maximum focus in your online shop.
Striking Red Accents: Infuses an energetic appeal, crucial for brand recognition in the crowded automotive eCommerce landscape.
Smooth Updates: Built for seamless transitions during Shopware updates, ensuring your e-commerce site's longevity.
Industry Fit: Tailored specifically for the automotive world, including car parts, RC cars, and automotive engineering.
Corporate Identity Compliant: Especially designed for businesses boasting a black and red CI, enhancing brand consistency.
eCommerce Ready: Engineered to tackle the vast expanse of online providers, ensuring your store remains at the forefront.
The "REDBLACK" theme is more than just an aesthetic choice; it's a strategic asset for businesses looking to leave an indelible mark in the automotive eCommerce sector. Tailored for compatibility, versatility, and visual appeal, it promises to be the vehicle that drives your online shop to the pinnacle of eCommerce success.
Billing options:
Rental
Buy
The Best Plugins for Automotive Shopware 6 Stores
In fact, Shopware not only promises a robust foundation for an online store but also offers an expansive range of plugins designed to boost:
efficiency
data management
overall user experience.
By the way, did you know that you can enhance user experience with the help of our unique Give a Hint plugin? Check it out!
But of course, you may not find a perfect one for your business even given the diversity. In this case, solve your problem with the help of custom Shopware plugin development.
SEO Professional


You must know that navigating the automotive eCommerce world requires precision, especially on Shopware platforms. So, enter SEO Professional by Dreischild GmbH, a tailor-made solution for online shops in the automotive sector. Here's why it's indispensable as one of the best Shopware plugins:
Holistic SEO: With a myriad of integrated SEO settings, this plugin ensures your Shopware e-commerce site stands out in every search.
Meta Mastery: Enhanced meta tags cater specifically to automotive product listings, optimizing their visibility on online shop searches.
SERP Preview: This feature ensures every automotive product in your store shines in Google search results.
Bulk Generators: Manage hundreds of automotive products with ease, setting uniform SEO across your Shopware online shop.
Efficient URL Redirects: Seamless transitions from outdated automotive products to the latest models enhance the user experience in your Shopware store.
In the realm of automotive eCommerce, SEO Professional equips your Shopware store with advanced tools, ensuring an optimized online shop experience for both store owners and customers. Invest in the best for your automotive e-commerce site.
Google Tag Manager + Google Analytics 4 + Remarketing (SW6)

by codiverse
Shopware, a renowned platform in the eCommerce landscape, introduces its latest plugin, the Google Tag Manager, tailored to meet the dynamic needs of the automotive online shop sector.
Key Highlights:
Google Analytics 4 Integration: With native support added in versions 6.2.0 and 6.1.60, this plugin is now primed for the newest GA4 events. It elevates data handling for automotive e-commerce site owners, ensuring they have the right metrics to drive business decisions.
Data Layer Proficiency: Gain deeper insights into your automotive store with enriched data layers. Whether it's a car accessory or a service, track every action with precision.
Optimized Conversions: With enhanced conversion features, scale your automotive online shop's ROI seamlessly.
Prompt Support: A robust plugin requires equally strong backup. Get quick assistance anytime you face a challenge in your Shopware store.
Dive Deeper: The plugin's recent major update aligns with Google's transition to Google Analytics 4, ensuring your automotive eCommerce site remains ahead of the curve. This move is pivotal, especially with Google's announcement to phase out Universal Analytics by 07/01/2023. The newer structure prioritizes GA4, although provisions for the older Enhanced Ecommerce structure are retained temporarily.
Mollie Payments Plugin for Shopware 6


by Mollie
Elevate your automotive online shop with the Mollie Payments Plugin for Shopware 6. With support for a broad spectrum of payment methods ranging from Visa, Mastercard, and PayPal to localized options like iDEAL or SOFORT Banking, your automotive store is poised to cater to every customer preference.
Beyond just payments, Mollie's integration with Shopware 6's flow builder enriches your store with tools to streamline order management and business automation. Moreover, its compatibility with Shopware 6 headless solutions ensures that your automotive e-commerce site offers Mollie payment methods, irrespective of the storefront.
Top Highlights:
Cost-Efficient: Pay solely per transaction. Mollie ensures no hidden charges, monthly fees, or plugin costs bogging down your store's revenue.
All-in-One Solution: Gain access to a plethora of payment methods in a single contract, perfect for an automotive e-commerce site looking to cater to a diverse clientele.
Seamless Onboarding: Dive into an efficient setup, get your account up and running within just 1-2 business days.
Diverse Payment Options: Cater to your global customer base by offering both major international and local payment methods.
Key Features:
Tailored Checkouts: Customisation and localisation are the future. Create a checkout tailored for your automotive customers' needs.
Safety First: Assure customers with dynamic 3D secure and PCI-DSS level 1 certification, ensuring the safest credit card transactions.
Recurring Revenue: Introduce subscriptions, letting customers continuously subscribe to automotive products or services.
Multicurrency and Mobile-Ready: Whether it's offering payments in different currencies or catering to mobile shoppers, Mollie has you covered.
Intuitive Dashboard: Navigate payments, access real-time accounting details, and process refunds effortlessly.
Wrapping Up
Summing up, by leveraging Shopware's versatile eCommerce platform, businesses can seamlessly align their automotive offerings with market demand, ensuring scalability and efficiency. But, just like a high-performance vehicle, an online automotive store needs the right team behind it to truly shine.
So, your next pit-stop? IT Delight. With our expertise in crafting bespoke Shopware solutions tailored to the automotive industry, we'll supercharge your eCommerce journey.
Ready to turbocharge your online automotive store with Shopware? Connect with IT Delight today and pave the way for unparalleled digital success.