Before we talk about online medical supply stores, let's note that the digital transformation of the medical industry is underway. Now, it's opening avenues for businesses to deliver supplies efficiently and effectively. Shopware, a pivotal player in the e-commerce domain, provides a solid foundation to build a state-of-the-art medical supply online shop. Here's a deep dive into why and how.
With its unique selling points and robust framework, Shopware 6 is perfectly poised to house a medical supply e-commerce site. Here's why.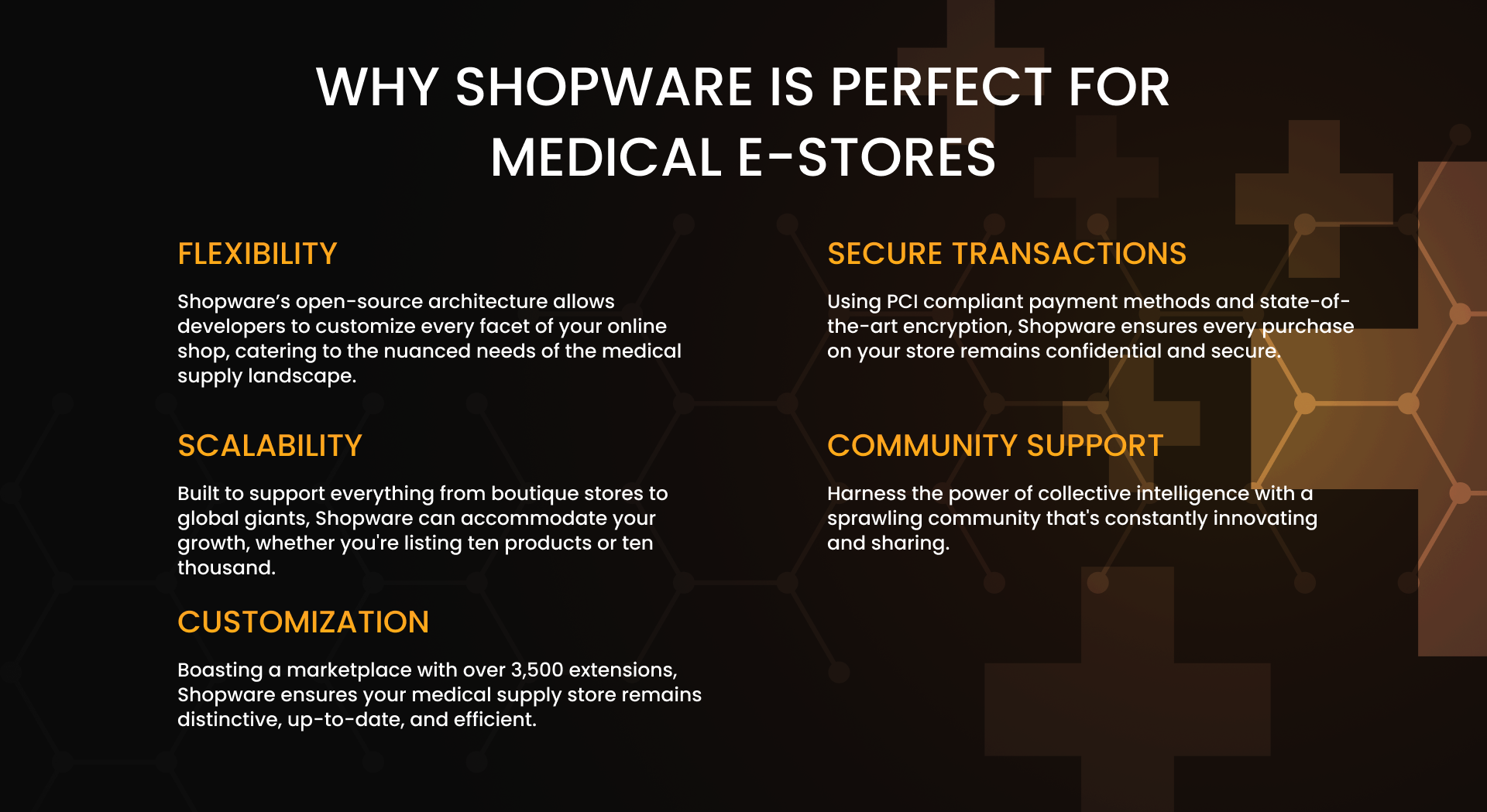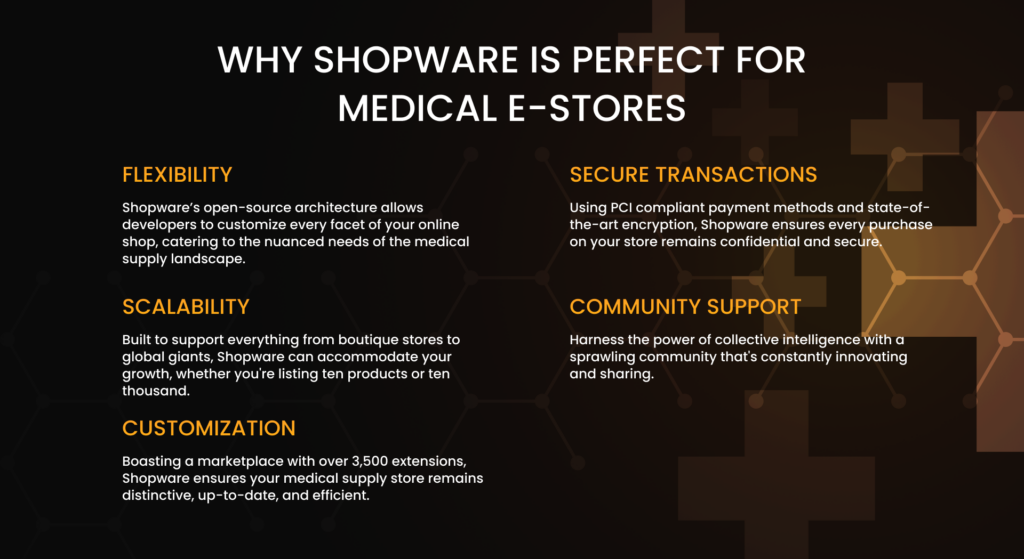 Pros:
Flexibility: Shopware's open-source architecture allows developers to customize every facet of your online shop, catering to the nuanced needs of the medical supply landscape.
Scalability: Built to support everything from boutique stores to global giants, Shopware can accommodate your growth, whether you're listing ten products or ten thousand.
Customization: Boasting a marketplace with over 3,500 extensions, Shopware ensures your medical supply store remains distinctive, up-to-date, and efficient.
Secure Transactions: Using PCI compliant payment methods and state-of-the-art encryption, Shopware ensures every purchase on your store remains confidential and secure.
Community Support: Harness the power of collective intelligence with a sprawling community that's constantly innovating and sharing. Alongside community support, you can always get professional Shopware support.
What Functional Set is Needed to Develop a Medical Supply Store on Basic Shopware 6


What are the most important components of the medical supply store on Shopware? Our experts from IT Delight have made a list of them based on the best platforms developed with the help of Shopware. Check them out below.
Shopping Cart


Shopware's AJAX-powered shopping cart offers immediate item and pricing updates, making it ideal for an online shop specializing in Medical Supply. The feature not only enhances user experience but also minimizes errors, essential for medical orders where precision is key. This real-time capability means that if a product goes out of stock or a discount kicks in, the cart updates instantly. Thus, Shopware's shopping cart feature provides both the user and e-commerce site owner with a more streamlined, accurate transaction process.
Saved Products (Wishlist)


The Saved Products feature, commonly known as the Wishlist, is an asset for any Medical Supply online shop using the Shopware platform. Engineered for speed and user accessibility, this tool isn't a mere bookmark for desired items. It actually goes beyond by incorporating smart functionalities like automated restock reminders and price drop alerts.
Search Bar


The Search Bar in a Shopware-run medical supply e-commerce site is far from a basic text input field. Leveraging Elasticsearch technology, it's designed to yield quick and precise results, cutting through the complexity of medical terminology. This robust search functionality is further enhanced with features like auto-suggest and error tolerance, meaning if you type in an acronym or make a slight typo, the search engine can intelligently predict and correct, guiding users to the exact products they need.
Shipping and Payment Options


The flexibility of Shopware's e-commerce site capabilities extends to its vast array of shipping and payment options. API integrations with major global shipping providers are not just about wider reach; they're about precision in delivering medical supplies where and when they're needed. Payment gateways are equally diversified, accommodating everything from credit cards to digital wallets, catering to specific local preferences and international needs alike.
Social Media and Share Buttons

In the medical supply industry, word-of-mouth can be powerful. Shopware's integrated social media plugins don't just add a button; they create an ecosystem where sharing is intuitive and organic. In fact, these functionalities can lead to heightened brand awareness and, consequently, a broader customer base for your online shop.
Special Offers


Discounts and loyalty rewards aren't just buzzwords in Shopware; they are meticulously crafted strategies. What's more, the platform allows the setting of time-sensitive offers, bulk purchase discounts, and loyalty points, each designed not just to entice but to engage. For medical institutions, these features could mean the difference between a one-time purchase and a long-term contract.
Product Filters


With medical supplies, the devil is often in the details. Shopware's advanced filtering system utilizes both attributes and property systems, making it easy for customers to narrow down their search to the exact specification they need, down to the most minute detail.
Recommended Products


Shopware steps into the realm of artificial intelligence with its "Recommendation Engine" plugin. This isn't just about showing customers more products; it's about showing them the right ones. Based on historical data and user behavior, these personalized recommendations can significantly boost add-on sales.
Professional Customer Service


Immediate, informed customer service is not just an add-on but a necessity, especially in the medical supply sector. Shopware allows seamless integration with leading customer service platforms like Zendesk or LiveChat, thus ensuring that urgent queries are addressed promptly—a crucial aspect when it comes to medical supplies.
Blog with Tags System


While most see a blog as a sideline, in a Shopware store, it's an informational powerhouse. Especially in the medical supply field, where regulations and guidelines are ever-changing, a well-maintained blog can serve as a hub for essential information. Shopware's in-built blogging system comes with an advanced tagging mechanism, helping organize content for easy navigation.
What Do You Need to Create a Medical Supply Shopware 6 Marketplace?


Do you know that creating a Shopware 6 e-commerce site requires both strategic and technical prowess?
Step#1 Register a Domain Name
Secure a memorable, brand-reflective domain. Platforms like Namecheap or GoDaddy offer domain registration along with insights into SEO-friendly names.
Step#2 Subscribe to a Hosting Provider

Shopware requires PHP-based hosting. Opt for providers like SiteGround or A2 Hosting, known for their Shopware compatibility and optimized performance.
Step#3 Buy an SSL Certificate
It's absolutely essential for trust and security. Providers like DigiCert or Let's Encrypt offer SSL certificates, ensuring data encryption and safeguarding transactions.
Step#4 Initial Setup and Installation
Start with downloading and installing the Shopware package. Ensure the server requirements — like the PHP version, memory limit, and necessary extensions — are met.
Step#5 Theme Selection and Customization


Pick a responsive theme that resonates with the medical supply industry. Shopware's theme store offers several options. Post selection, tweak the Shopware website design to align with your brand's colors, logos, and ethos.
Step#6 Product Cataloging and Inventory Management
Segment products into categories and subcategories. Integrate with inventory management tools like Pickware or Mollie, facilitating real-time stock tracking, automated reordering, and multichannel sales.
Step#7 Integrating Payment Gateways
Integrate multiple payment solutions — credit cards, bank transfers, digital wallets, and even medical financing options. Shopware's compatibility with platforms like PayPal, Stripe, and Klarna simplifies this.
Step#8 Setting Up Shipping and Logistics


Partner with major carriers and integrate plugins like DHL or FedEx. Determine shipping rates, zones, and track order deliveries within Shopware's interface.
Step#9 SEO Optimization and Analytics Integration
Incorporate SEO-friendly URLs, meta tags, and sitemaps. Integrate tools like Google Analytics and the Shopware SEO Suite to monitor website traffic and understand user behavior. If you can't do it by yourse;f, order SEO services from IT Delights.
Step#10 Implementing Security Protocols
Beyond SSL, ensure regular site backups, integrate security plugins, and employ practices like two-factor authentication and firewall protection.
Step#11 Mobile Optimization and Testing


As a significant portion of users will access the e-commerce site via mobile, ensure the store is mobile-friendly. Use Shopware's mobile testing tools to simulate and optimize the user experience on various devices.
Step#12 Customer Feedback Mechanism
Integrate tools for reviews, ratings, and feedback. This not only builds trust but provides invaluable insights into product performance and customer preferences.
Step#13 Implement Loyalty and Rewards Program


Utilize the best Shopware plugins or inbuilt tools to set up loyalty programs, offering discounts, points, or gifts. This encourages repeat purchases and fosters a loyal customer base.
Step#14 Continuous Updates and Maintenance
Stay abreast of Shopware updates, ensuring your online shop remains secure and takes advantage of new features. Regularly update themes, plugins, and extensions to optimize performance.
Building a top-notch medical supply e-commerce site on Shopware requires commitment and attention to detail. Luckily, with the outlined steps and by leveraging the platform's vast capabilities, business owners can craft a store that stands out in the competitive landscape. To make sure about that, cjeck out our Shopware consulting services.
The Best Shopware Themes for Medical Supply Store
If you decided to postpone the development of a custom Shopware theme for your store, consider the best ready-made solutions we've gathered for you. However, if any of these meets your requirements, get a custom Shopware theme developed by our experts.
Theme "Simple Medi" (Medicine, Technology EDV turquoise gray)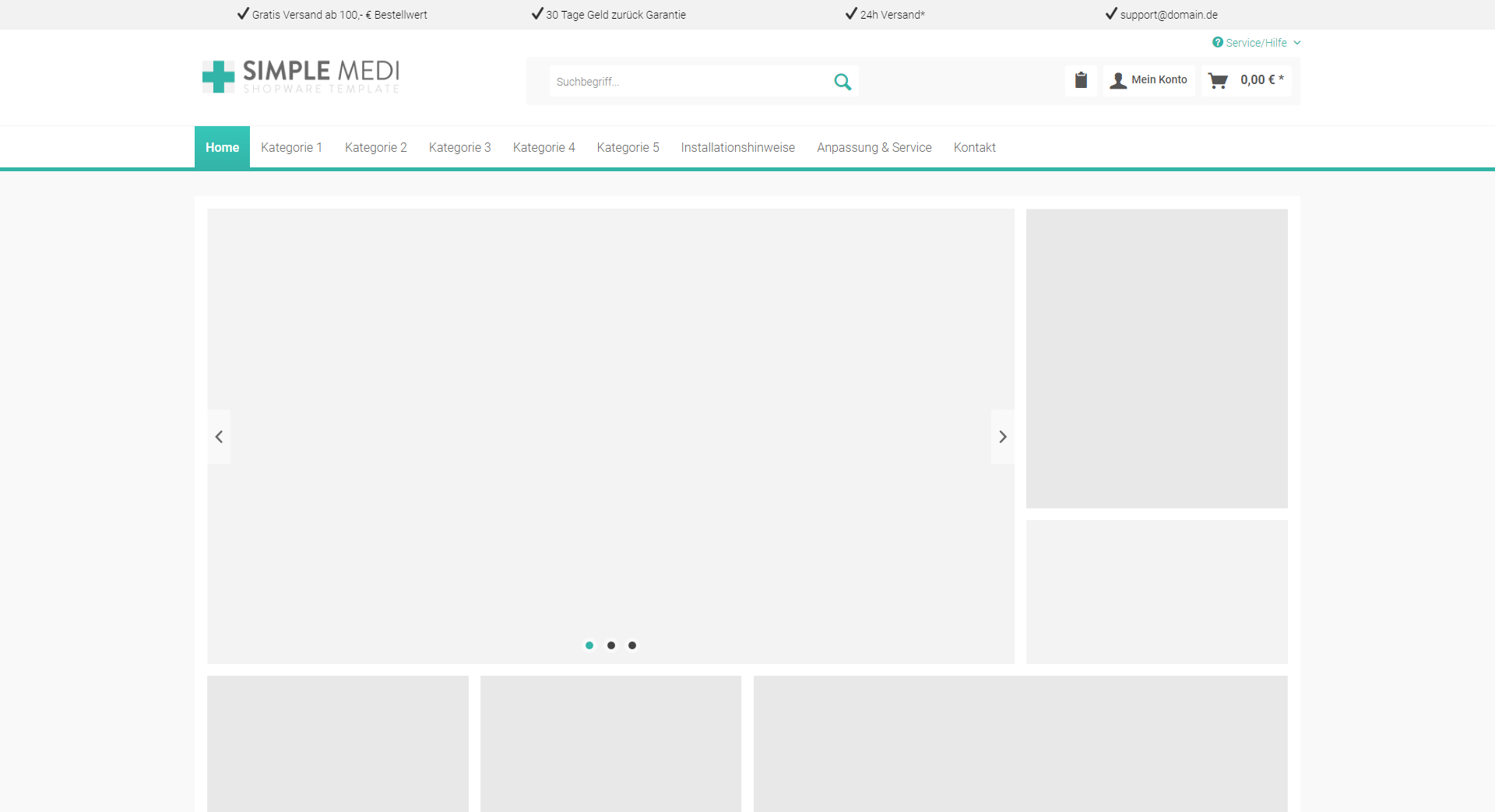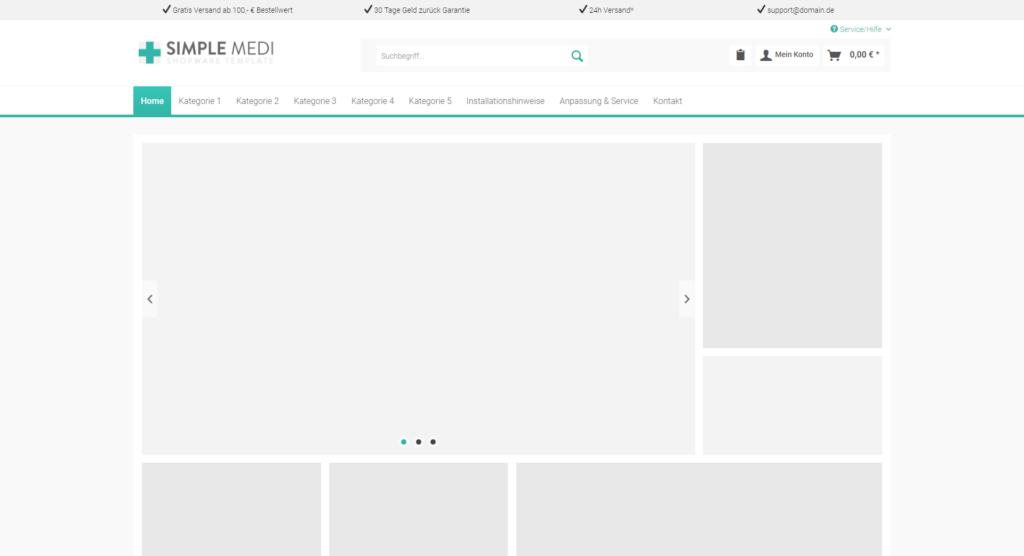 Behold "Simple Medi," an expertly-crafted Shopware template that's anything but simple when it comes to its capabilities. With its unique and eye-catching turquoise gray design, this template doesn't just blend into the e-commerce landscape—it stands out, making your online shop unforgettable. Ideal for a myriad of industries from medical supply to sports and electronics, this theme's versatile classic look ensures that your products remain the focal point.
In a digital ecosystem saturated with online stores, Simple Medi offers more than just a splash of color; it offers brand identity. Designed to resonate with e-commerce sites that utilize a turquoise-gray corporate identity, this Shopware template has already carved a niche for itself in the competitive world of online trading. It's not just about looking good; it's about functionality. This Shopware theme has been engineered for seamless updates, ensuring your e-commerce site is always at the forefront of technology.
If you're in the medical supply business or any other industry, and you're seeking a platform to launch or upgrade your online store, then the Simple Medi Shopware template offers not just a color scheme but a comprehensive e-commerce solution. Don't get lost in the digital crowd; let Simple Medi guide your brand to the forefront of the e-commerce world.
Billing options:
Monthly
Purchase
Want to get a theme tailored for your medical store?
Leave us your contact details and we'll get back to you.
Theme "Nine"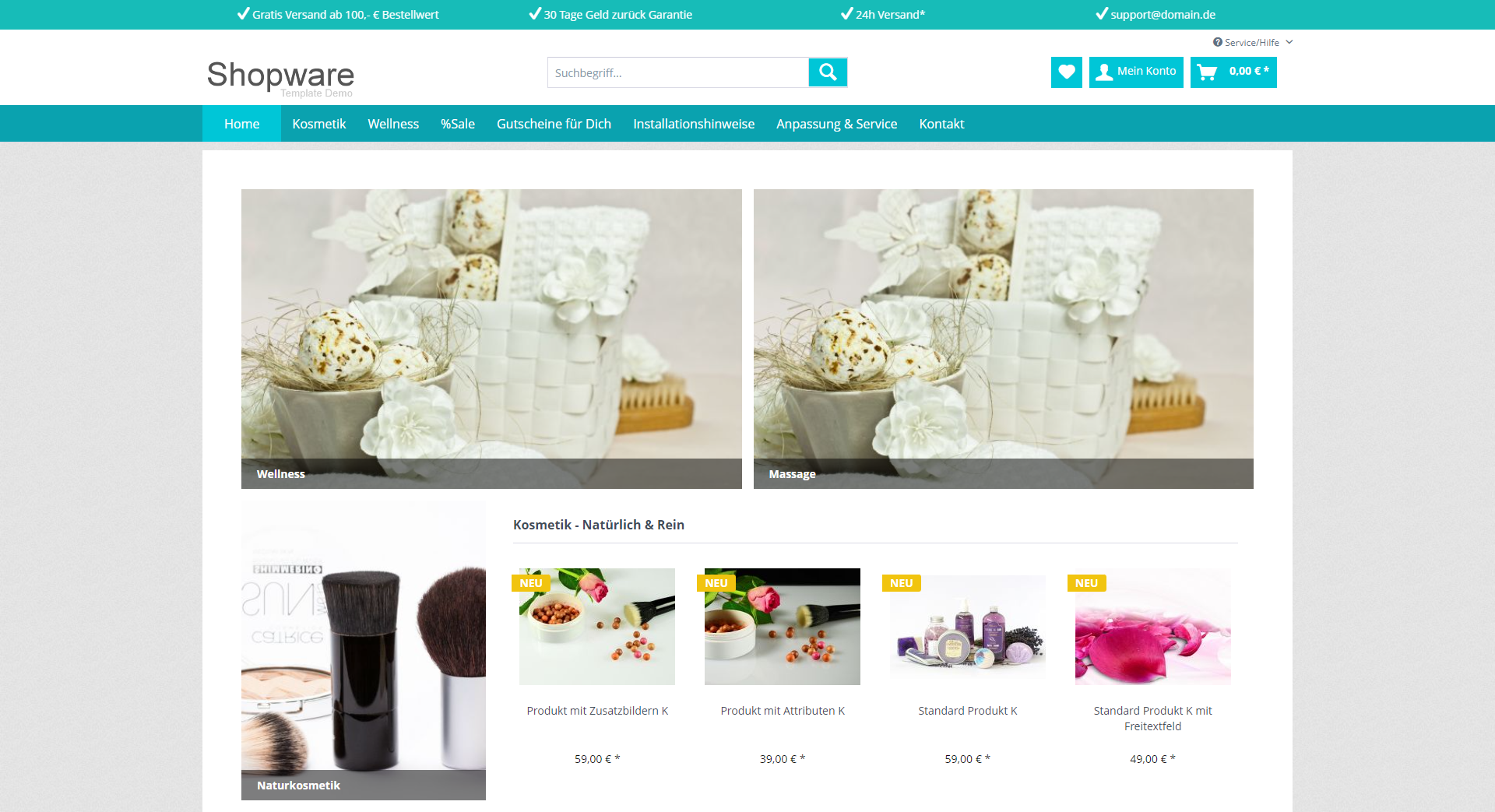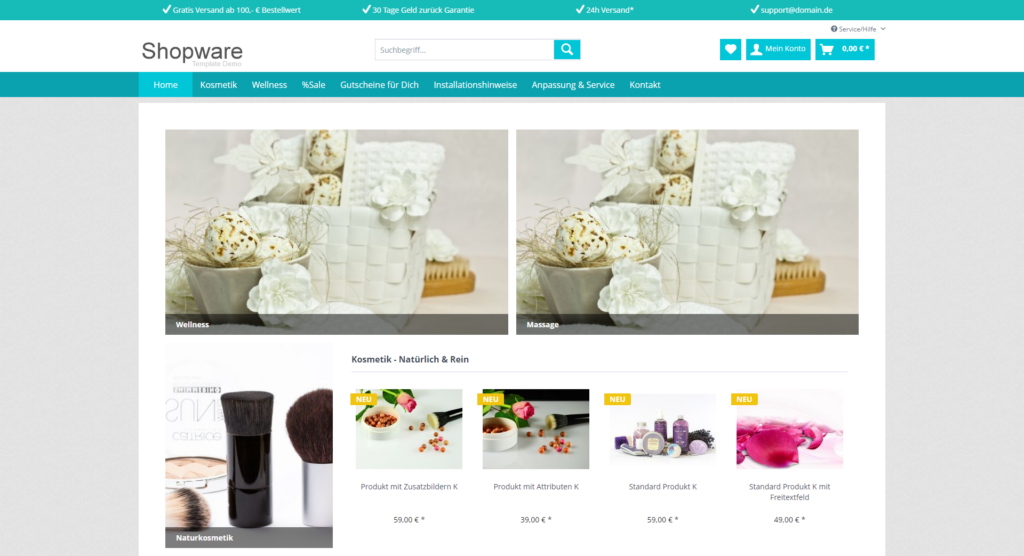 This responsive Shopware template is a versatile powerhouse tailored for online stores across a spectrum of industries. From Medical Supply stores to lifestyle and sports sectors, Theme "Nine" adapts effortlessly. Besides, denched in a sophisticated palette of turquoise and gray, it not only captures attention but keeps it.
Beyond just looks, Theme "Nine" is loaded with an array of functionalities that make it an e-commerce site's dream. It offers a fluid user experience optimized for both desktop (at 1280 pixels) and mobile platforms, in line with Shopware's responsive view standards. The theme seamlessly integrates with all product languages and can be further edited using an HTML editor, with Dreamweaver being the recommended choice.
Now, let's talk features:
A sticky main navigation that offers user convenience as they scroll.
Two selectable 'up' functions for navigation flexibility.
A versatile advantage bar you can place via Topnavigation, under main navigation, or via the footer.
Newsletter integration that can be toggled on/off both in full width via footer or in a standard box.
Customizable Community and Shipping service boxes in the footer, allowing you to toggle them on/off based on need.
An additional Payment service provider box in the footer, giving you the freedom to switch it off/on according to your store's requirements.
A free text field in the footer for adding any other information, switchable on/off for your convenience.
And if that's not enough, Theme "Nine" ensures your online store remains compatible with future Shopware updates.
Billing options:
Buy
Theme "SunBeam"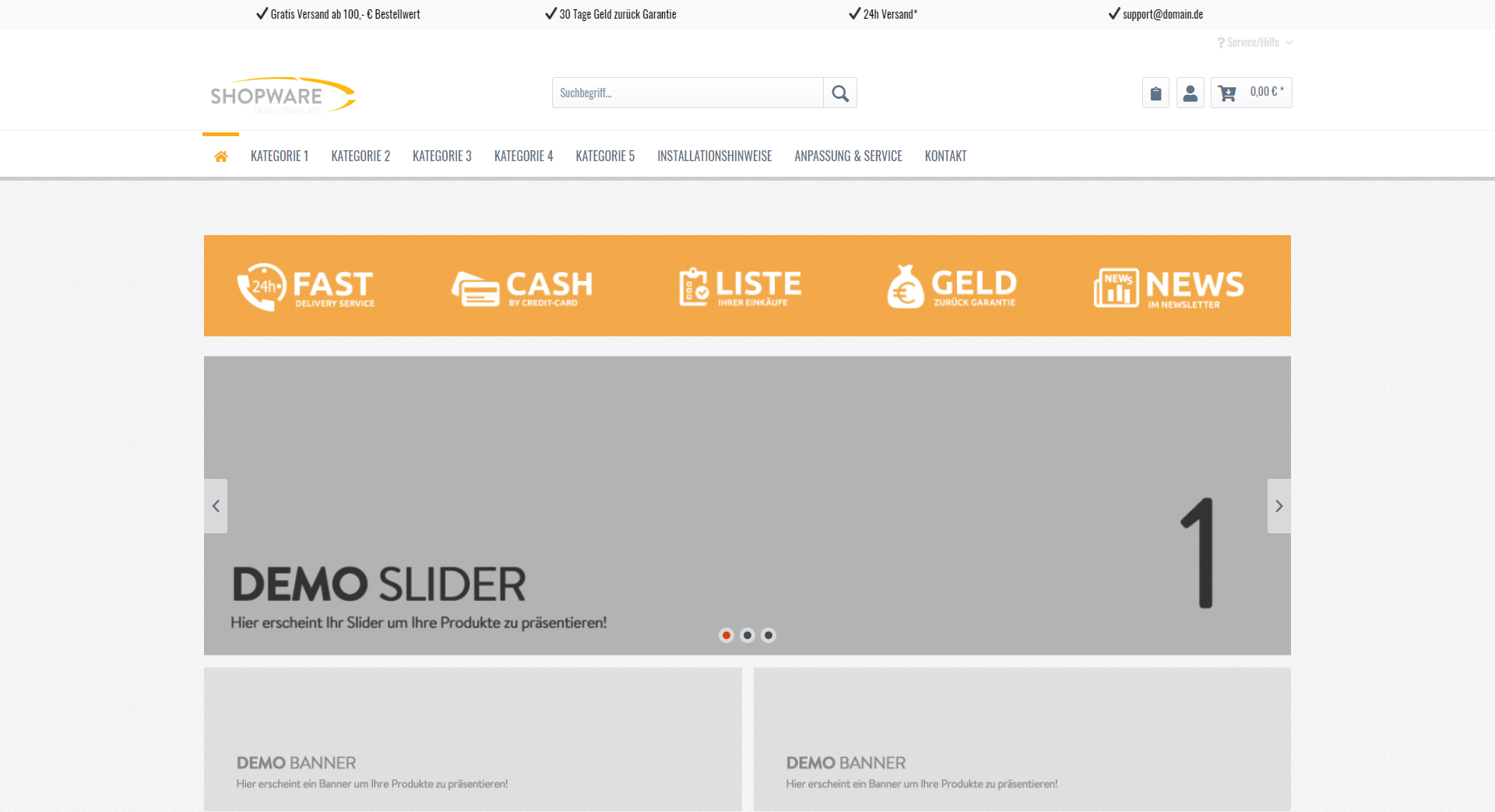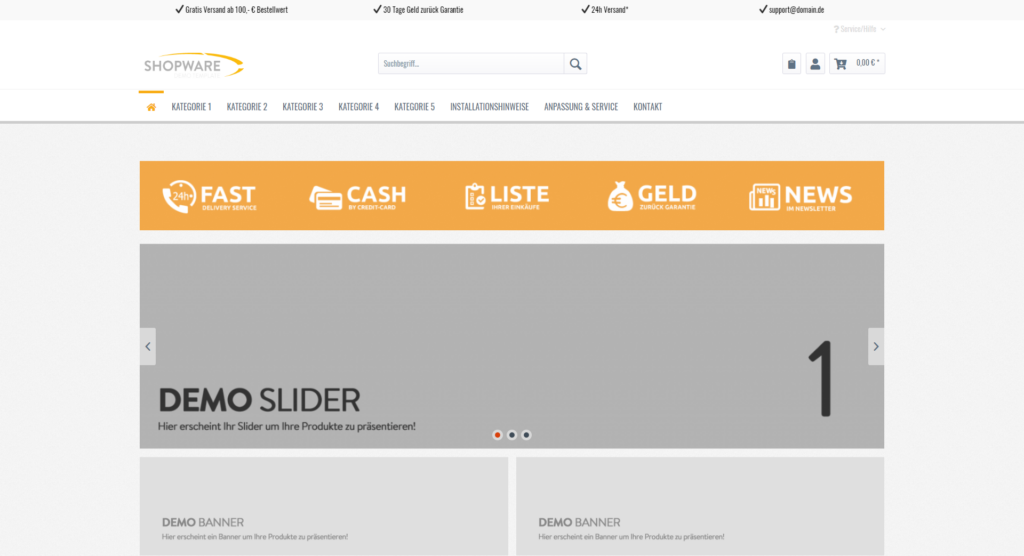 by templatescout

For e-commerce entrepreneurs who want their online shop to shine as bright as the sun, look no further than the Shopware theme named "Sunbeam." Immaculately crafted to uplift the look of your e-commerce site, "Sunbeam" is as high-quality as it is aesthetically pleasing. It leverages the robust architecture of the basic Shopware template, offering a straightforward installation process that will leave you with a distinctive, immediately recognizable online store.
What sets "Sunbeam" apart? Well, it's all in the details. It sports a sunny fresh shop look, characterized by invigorating Orange hues designed to attract and captivate. But this theme isn't just about looks, though. With its clear recognition effect, it sets a stage where value and classic design hold sway. It's particularly compelling for sectors that demand a high level of sophistication and aesthetic appeal—think Medical Supply, cosmetics, and holidays. By the way, you can read more about Shopware themes here.
While its design lends itself effortlessly to those industries, the versatility of "Sunbeam" can undoubtedly generate increased sales in a plethora of other sectors. Its layout and color scheme are subtly powerful, geared towards highlighting your products rather than overshadowing them.
Billing options:
Purchase
Final Thoughts
When it comes to setting up an online Medical Supply store, you gotta do more than just the basics in this ever-changing e-commerce world. Shopware is great because it gives you a solid framework, tons of customization options, and all the essential features you need to easily launch and manage your online shop.
So, you might be ready to dive in, but not sure how to handle all the technical stuff. That's where IT Delight comes in. Our services are all about getting your Shopware e-commerce site up and running, and making sure it kicks butt and keeps growing. With IT Delight, you're not just making an online shop, you're creating a cool e-commerce site that's all about the Medical Supply market and ready to grow.
If you wanna kickstart your e-commerce journey in the Medical Supply sector, hit up IT Delight today. We can unlock the full potential of your online shop with Shopware's amazing capabilities.