To date (October 2022) there are over 167,000 Magento 1 sites and over 100,000 Magento 2 sites actively selling goods online. As one of several Magento use statistics, this helps to demonstrate the platform's prominence in the e-commerce sector.
Magento claims that the platform's ease of use and adaptability are primary factors in its success. Plus, it has support from Magento's massive community of techies, which includes more than 300,000 qualified developers. These experts have created a vast library of tried-and-true extensions that improve your online shop in many ways and attract new customers. Before, you pick an extension you need, make sure you've chosen the best Magento development services.


Magento: Why You Should Use It
When deciding to launch a store, the most difficult decision for business owners is which e-commerce platform to choose. Choosing the best option is challenging since there are so many possible routes. In any case, you've already got off to a good start. Now is a good moment to explore Magento's most important advantages.
Open-source
The fact that it is free and open-source is likely to top the list of reasons why people recommend Magento. The Magento Community Edition is available at no cost to the user. The installation procedure is quick and doesn't call for strong technical knowledge. You can establish a very simple store even if you have no background in coding or other advanced technologies.


A large and supportive community
The presence of a large developer community contributes to the platform's appealing nature. When developers run into issues, the Magento community is always ready to lend a hand and offer advice. Web developers can get a solution to practically any problem by searching through the numerous topics that are available on specialized forums. If you're on the fence about whether or not to utilize Magento, the platform's large user base is likely the deciding factor.
Superior scalability
Magento shines, in part, because of how well it handles scaling. You can complete all of your work on time, even while your company continues to grow rapidly, thanks to this platform. You may begin as a very modest online merchant, and as your company expands, you'll be able to upgrade to the platform's Enterprise edition, which will provide the requisite level of online store performance.


To add more complex features to your Magento 2 eCommerce shop, you can either purchase pre-built add-ons or employ a team of experts that know how to maximize Magento 2's scalability and versatility.
Outstanding performance
When it comes to speed, Magento is the best option, regardless of whether your store has a few products or thousands. Having great website speed while using little server resources is one of Magento's key benefits.
What Can You Build with Magento 2?
Magento can be used for online stores in a number of industries. Of course, the prevailing one is eCommerce. You can see it on the chart below.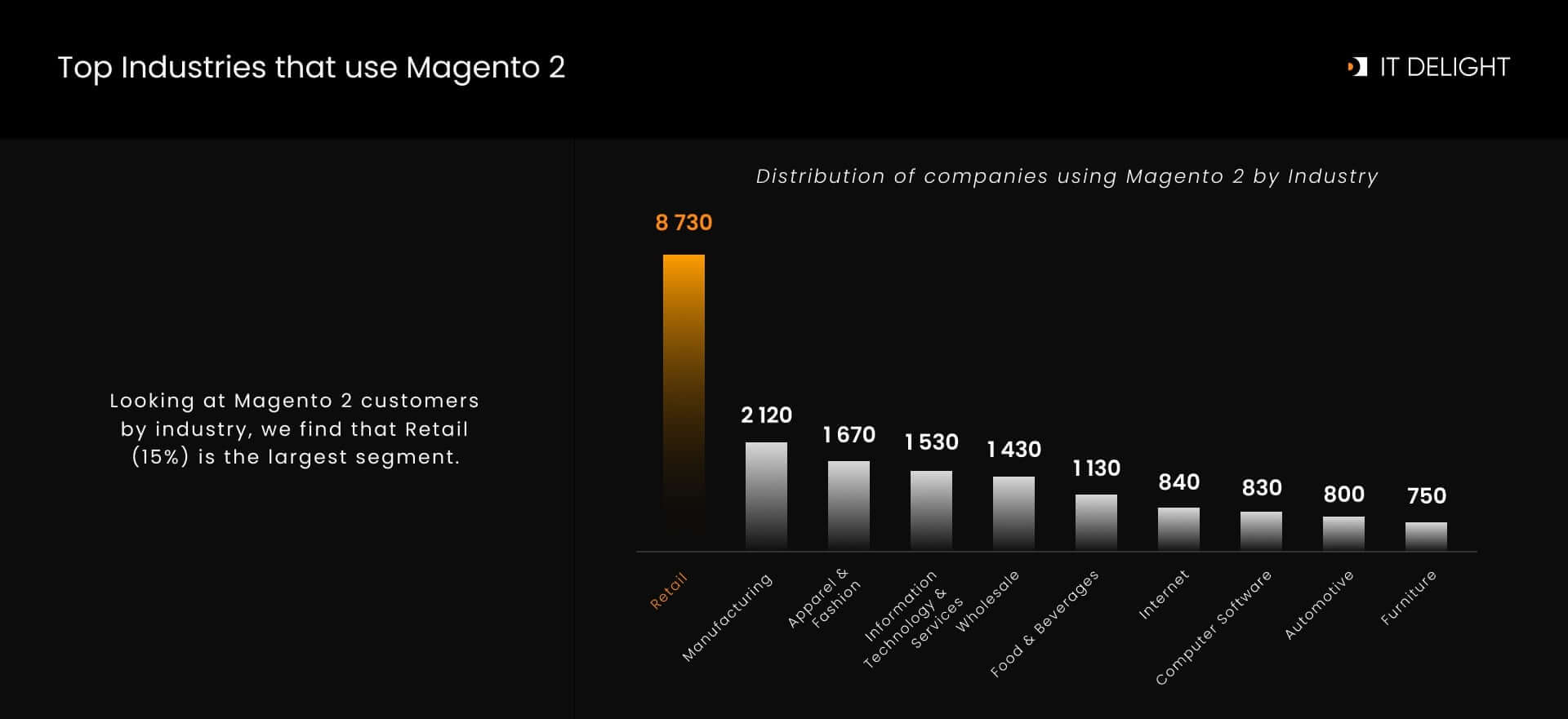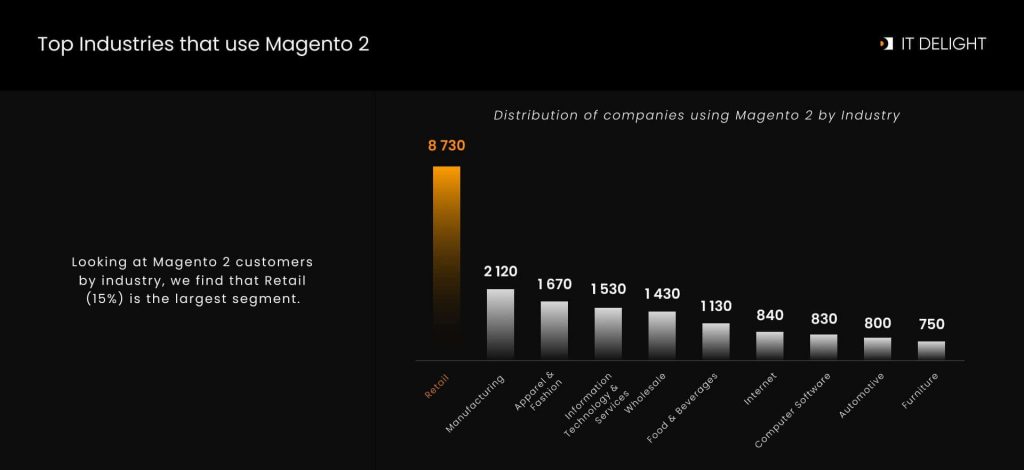 While it may be difficult, eCommerce platforms should showcase some measures of client success to prove that their efforts are paying off. On Magento's main website, you can discover a directory of active eCommerce clients powered by Magento. You will be blown away by how lightweight they are while yet maintaining their functionality. What's more, you can check our e-commerce marketplace development services if you already know what store you want to build.
By getting familiar with existing Magento projects, you can better understand what can be built with the help of this platform. So let's get started!
Tech store
If you are attentive, you can notice that the HP store is based on Magento. As a technology firm, HP was founded on the principle that its products should help make the world a better place. They've been around for nearly 80 years, so we know they mean business when it comes to establishing an environment where creativity fuels remarkable humanitarian efforts.
In their Magento-powered online store, they demonstrated an extensive variety of technological solutions. HP has a comprehensive product and service portfolio available on their user-friendly website, including personal computers, 3D printing solutions and printers, goods for businesses, and the full package for exceptional support. So you can create the same!


Manufacture platform
If you need a website as a construction equipment manufacturer, Magento is also an option for you, just like for Liebherr. Liebherr is an industrial conglomerate that produces everything from mining equipment to construction machinery and transportation vehicles. Liebherr's gantry robots, for instance, can handle workpieces weighing anywhere from 0.5 kg to 1500 kg, making them ideal for a wide range of automated loading and transport applications.
A website that matches the quality of such cutting-edge products and services must be polished and easy to use so that buyers can tell at a glance that the company is credible and competent. It's not coincidental that a high-quality website was built with Magento.
Sports brand
If you are having a sports brand, then Magento is a great option for you in this case too. Rossignol has already proven it. Over the past century, Rossignol has established itself as the gold standard in winter sports and a worldwide symbol of French excellence. Rossignol sells a variety of ski apparel, including designer winter suits, jackets, trousers, sweaters, shoes, and more.
Rossignol's mountain skis and snowboards continue to revolutionize the sport because of the company's athlete-driven focus on technical innovation. Magento has Rossignol among its clientele. Even the most picky perfectionist will be impressed by the sheer quantity and cleanliness of the things on display.
Want to lauch your own online store?
Share your contact information with us and we will reach out to you to discuss the details
Luxury shop
Any kind of online shop can be built on Magento, and luxury brands such as Louboutin are no exception. The name Christian Louboutin is synonymous with style and sophistication across the globe. Christian Louboutin, in its traditional form, is a representation of individuality and taste. High hill shoes with red soles are one of the few shoe styles that can truly be called iconic. To add to the growing list of reputable companies adopting Magento for their online stores, the Christian Louboutin brand announced that they would be switching to the platform.


Аutomotive services
The automotive industry can also benefit from Magento. Ford is, as many of you may know, a family business that places equal importance on serving its employees and the community as it does on serving its customers. They are therefore part of the worldwide community of Magento users. Except for Antarctica, where penguins aren't exactly the most reliable customers for new SUVs, Ford can be found everywhere around the world. Its total production over its entire existence places the company fourth in the world.
Jewelry store
One of the keys to success for a jewelry business online is staying on the cutting edge of both fashion and technology. And Boodles demonstrated how it works. Because of limitations in their current technology, the brand was unable to provide a seamless omnichannel shopping experience for their customers.
The new Boodles website had to bridge the gap between the brick-and-mortar store and the online shopping experience by allowing users to easily view individual products online and make in-person appointments with store staff. For this reason, the migration to Magento 2 Open Source by Boodles was critical.


The update allowed Boodles to enter new international markets, increase site performance, and modernize the brand for mobile use. Magento 2 encourages Boodles customers to schedule an in-store viewing after examining expensive jewelry online. Boodles had a 175 percent increase in sales after migrating to Magento Open Source 2.
Online Pharmacy
Medical businesses are among Magento clients too. One of them is Olympus, which is well-known for its high-quality optical and medical instruments. Sales-wise, it ranked as the world's no. 9 camera maker and no. 10 lens maker. The Olympus Magento site is among the best you'll find anywhere. They've got some of the most cutting-edge capabilities available for an online store wrapped inside a bespoke theme. The purpose of their website is to showcase their products and services, as well as to teach potential customers about the many product options available from Olympus.
Grocery store
To sell food and drinks online, consider Magento 2 too. Just look at the Ahmad Tea website if you want to make sure it's a suitable option. Using industry-standard worldwide shipping methods, Ahmad Tea provides customers all over the world with their excellent loose-leaf tea. This store sells a variety of teas to its customers.
In 1979, when Mr. Rahim Afshar chose to enter the tea business, a legend was born. Mr. Afshar and his brothers worked tirelessly for years to perfect a product that is both delicious and reasonably priced. There is no doubt that this brand has stood the test of time. Among consumers, Ahmad Tea is well regarded for its high-quality offerings.


The fact that this company has selected Magento as the platform for its projected online store may be seen as the pinnacle of appreciation and confidence. The site has been designed so that visitors can almost smell the tea as they browse. With Magento's help, they've been able to integrate an innovative mix of design solutions, technological qualifications for the convenience of site users, and straightforward control of all activities from the admin panel.
The Best Magento 2 Websites
To get some inspiration for your Magento store, check some of the best business examples available on the market.
Sigma Beauty
Magento 2 now powers Sigma Beauty's redesigned B2B and B2C websites. They state that they have successfully cut the load time by almost three seconds, resulting in a more responsive website and faster picture loading times. A threefold increase in customer satisfaction is attributable to the fact that Magento 2 has allowed them to offer different rates on different storefronts.
Land Rover
When talking about automobiles, Land Rover is almost always included among the other prominent names. They have a Magento online store as well as their main site where they offer apparel and other items.


Using Magento 2, they are now able to showcase sales and products with picture carousels. Their brand image is well complemented by their website's sleek aesthetic and intuitive navigation.
Cox & Cox
Cox & Cox is a popular UK-based online store selling furnishings, home decor, and more. They have upgraded to Magento 2 in order to take advantage of the streamlined eCommerce capabilities it provides for their website. A highly customizable, robust, and feature-rich platform was made available to them.
The website has a beautiful design, simple navigation, and a streamlined purchasing process. Page loads remain at 1.26 seconds even if they employ several high-quality images.
Timex
In the watch industry, Timex is a household name. They display high-quality photographs of their wares on a classy white backdrop. Products may be quickly located through the many categories they've set up on the homepage. As an alternative, they include a full-screen slider on the first page that displays all of their most recent offerings.


Custom Magento 2 site design helped them boost their page load times. All things considered, this aids in keeping consumers engaged and boosting conversions.
Paul Smith
British fashion designer Paul Smith also has a successful online shop. The site's design, color scheme, proportion, symmetry, and good outlook are the things that draw people. This site is well-organized and really helpful to visitors. You'll find everything you need to make an informed purchase on each product page, including links to related products, a shop locator, size charts, and care instructions.
MRP
Mr. Price Group is one of South Africa's most successful and rapidly expanding apparel shops. To accommodate its expanding business, MRP sought a more adaptable and economical enterprise platform. Magento 2 Commerce was the perfect solution.
Each of MRP's three categories—clothing, homes, and sports—has its own unique user experience, but they all share a common foundation. The website developers successfully implemented such features as a gift list, lookbooks, guidelines, packages and customizable goods, eVouchers, multi-currency compatibility, global delivery, and full integration with the MRP Money service.
Final thoughts
Magento is a smart and engaging platform that is always evolving. We think Magento is a fantastic choice for companies of all sizes, and we anticipate its further success. Of course, this article highlights not all of its possible applications. There are many more opportunities provided by Magento.
To stay informed of all the most recent developments in the Magento and eCommerce worlds, check our blog. Here, you'll find the latest statistics about Magento, along with helpful hints and references to relevant resources.