If you're thinking about diving into the world of e-commerce for a food delivery marketplace, you've come to the right place! Shopware is the perfect choice for creating your online shop. In this pros list, we'll explore why Shopware is your go-to platform for building a successful e-commerce site that specializes in food delivery.
Shopware 6 Pros List:


Online Shop Simplicity: Shopware keeps things simple. You don't need a Ph.D. in tech to set up your online store. Just a few clicks, and you're good to go!
Store Success: Your store's success is Shopware's mission. It provides all the features and support you need to make your food delivery business thrive.
E-Commerce Expertise: Shopware isn't just any e-commerce platform; it's an e-commerce guru! It knows the ins and outs of selling online better than anyone.
Shopware Support: Need a helping hand? Shopware's got your back. Its support is like having a trusty sidekick in the world of e-commerce.
Effortless Online Shop: Setting up an online shop with Shopware is as easy as pie – or should we say, as easy as ordering your favorite food online?
Food Delivery Delight: Shopware ensures that your food delivery business delights customers. Happy customers mean more orders and more profits.
Shopware Simplicity: No need to complicate things. Shopware's user-friendly interface makes managing your online store a breeze.
What Functional Set is Needed for Developing a Shopware 6 Food Marketplace


If you rely on expert Shopware developers, they'll make sure that your marketplace has all the necessary features. Some of them are described below.
Vendor Management


In the context of Shopware, vendor management for a food delivery marketplace involves creating dedicated vendor profiles within the e-commerce site. Vendors should have the ability to set up their online shop within the marketplace, complete with store information, such as store name, logo, contact details, and a brief description. Shopware offers a user-friendly interface for vendors to manage their product listings, prices, and availability in real-time.
Advanced Search and Filters

Shopware's advanced search and filtering capabilities are vital for a food delivery online shop. Customers can easily search for specific cuisines, dietary preferences (e.g., vegetarian, gluten-free), and pricing ranges. The platform's indexing and search engine optimization (SEO) features ensure that food items are prominently displayed in search results, enhancing the visibility of vendors and products.
Mobile Responsiveness

Shopware is renowned for its responsive design, making it an ideal choice for a food delivery e-commerce site. Mobile optimization is crucial as it allows customers to place orders conveniently from their smartphones. Shopware's responsive themes ensure that the site adapts seamlessly to various screen sizes, providing a user-friendly experience.
Secure Payment Gateway


Security is paramount for any e-commerce platform, especially in the food delivery sector where financial transactions occur regularly. Shopware integrates seamlessly with secure payment gateways, ensuring that customer payment information is encrypted and protected. This instills trust and confidence in customers, encouraging them to make online purchases.
Delivery Tracking


Shopware offers the capability to implement real-time delivery tracking within the food delivery store. This feature enables customers to track the status and location of their orders, enhancing the transparency and reliability of the service. Shopware's extensibility allows for integration with third-party tracking solutions to provide accurate delivery updates.
User Reviews and Ratings


Shopware's plugin ecosystem includes user review and rating extensions, which are essential for building trust and credibility within the food delivery e-commerce site. Customers can leave reviews and ratings for both vendors and food items, helping others make informed decisions. These reviews contribute to the overall reputation of vendors and the marketplace itself.
Menu Management


Shopware simplifies menu management for food vendors. Vendors can easily upload images, descriptions, and prices for their food items through the intuitive backend interface. Shopware's content management system (CMS) ensures that menus are well-organized and visually appealing, enhancing the overall shopping experience.
Inventory Management


Inventory management is critical in a food delivery online shop to prevent overbooking and disappointments. Shopware provides tools for vendors to monitor and update their product availability in real-time. The platform's inventory management features enable vendors to set stock levels, receive low-stock alerts, and mark items as temporarily unavailable when needed.
Discounts and Promotions


Shopware's e-commerce capabilities include discount and promotion features that empower marketplace administrators and vendors to create enticing offers. Whether it's offering discounts on certain cuisines or launching loyalty programs, Shopware allows for flexible and customizable promotional strategies to attract and retain customers.
Order Scheduling


Shopware supports order scheduling, which is beneficial for customers planning meals in advance. Users can select specific delivery or pickup times, making it convenient for special occasions or busy schedules. Shopware's scheduling options can be tailored to the unique requirements of the food delivery marketplace.
Multi-language Support

Multilingual support is crucial for reaching a diverse customer base. Shopware offers built-in support for multiple languages and currencies, ensuring that the food delivery e-commerce site can cater to customers from different regions. The platform's internationalization capabilities facilitate seamless expansion into new markets.
Customizable Delivery Zones


Shopware allows for the customization of delivery zones, accommodating vendors with varying delivery radius requirements. Vendors can define their service areas and associated delivery fees, providing clarity to customers about delivery options. Shopware's flexibility in defining delivery zones enhances the marketplace's scalability.
Reporting and Analytics


Shopware's reporting and analytics tools provide valuable insights into the performance of vendors and the food delivery marketplace as a whole. Administrators can access data on sales, customer behavior, and product popularity. These insights empower data-driven decision-making and help optimize the e-commerce site for better results.
Integration with Third-party Services


Shopware's extensibility allows for seamless integration with third-party services critical for food delivery, such as mapping and location services for accurate address validation and delivery route optimization. Additionally, SMS notification integrations keep customers informed about order updates, enhancing communication.
Customer Support


While not a built-in feature, Shopware can be extended to incorporate robust customer support tools. This includes live chat, ticketing systems, and knowledge bases to address customer inquiries, resolve issues, and provide assistance. Effective customer support enhances the overall customer experience, leading to higher satisfaction and retention rates.
What's Needed to Create a Shopware Food Marketplace?
Let's explore the detailed steps to create a Shopware-based food delivery marketplace with the help of experts.
Step 1: Define Your Project Scope
Begin by clearly defining the scope of your food delivery marketplace project. Determine the specific objectives, such as connecting local restaurants with customers or offering peer-to-peer food delivery services. Understand your target audience and niche to shape your platform accordingly.


Step 2: Build the Right Team
Assemble a skilled team consisting of project managers, developers, designers, and quality assurance specialists. Collaborate closely with IT Delight experts, who specialize in e-commerce development and Shopware website design, to ensure a seamless project execution.
Step 3: Conduct In-Depth Market Research
Comprehensive market research is crucial. Understand your target market, analyze competitors, and identify customer preferences. Study successful food delivery platforms to gather insights and best practices that will guide your project's direction.


Step 4: Opt for Shopware 6
Choose Shopware as your e-commerce platform of choice. Its flexibility and scalability make it well-suited for building a Food Delivery Marketplace. Consult with IT Delight experts to ensure Shopware aligns with your project requirements.
Step 5: Design and Development
Design a user-friendly and responsive interface for your online shop. Prioritize mobile responsiveness and intuitive navigation. IT Delight experts can help create custom must-have features like real-time order tracking, menu management, and user profiles tailored to food delivery.


Step 6: Efficient Menu Management
Implement a robust menu management system that allows restaurants to effectively showcase their dishes. Ensure that it's user-friendly and enables easy updates to menus and prices.
Step 7: User Authentication
Develop a secure user authentication system to safeguard user data. Consider offering convenient options like social logins and a streamlined registration process.


Step 8: Streamlined Order Placement
Enable customers to place orders conveniently, whether for immediate or scheduled delivery. Implement a shopping cart and optimize the checkout process for a seamless ordering experience.
Step 9: Real-time Delivery Tracking
Create a real-time order tracking system that allows customers to monitor the status of their orders, from preparation to delivery. Integrate third-party mapping services for accurate tracking and estimated delivery times.


Step 10: Effective Inventory Management
Implement an inventory management system to prevent overbooking and out-of-stock issues. Notify restaurant partners when specific dishes become unavailable due to inventory constraints.x
Step 11: Secure Payment Processing
Ensure secure and seamless payment processing by offering multiple payment options, including credit/debit cards, digital wallets, and cash on delivery. Implement robust security measures to protect financial transactions and user data.


Step 12: Mobile Optimization
Optimize the platform for mobile users with responsive design. Consider developing dedicated mobile apps for both iOS and Android platforms to enhance the mobile user experience.
Step 13: Thorough Testing and Quality Assurance
Conduct rigorous testing to identify and address any bugs or issues in the platform. Prioritize security testing to protect user data. IT Delight experts can assist in thorough quality assurance.


Step 14: Launch and Marketing
Launch your Shopware-based Food Delivery Marketplace, making it accessible to your target audience. Implement a strategic marketing plan to promote your platform through various channels and attract customers.
Step 15: Customer Support Integration
Integrate a robust customer support system that allows users to seek assistance with their orders or inquiries. Offer support through multiple channels such as chat, email, and phone.


Step 16: Data Analytics and Reporting
Implement data analytics tools to gather insights into customer behavior, sales trends, and platform performance. Utilize data-driven decisions to optimize the platform continually.
Step 17: Scalability and Performance Optimization
Plan for scalability to accommodate increased traffic and demand as your platform grows. Continuously optimize the platform's performance to ensure a seamless user experience, even during peak usage times.


Step 18: Security and Compliance
Ensure that your platform complies with data protection regulations to safeguard user privacy. Regularly update security measures to protect user data from potential threats.
Step 19: Ongoing Maintenance and Updates
Schedule regular maintenance to keep the platform running smoothly. This includes updating software components, monitoring for issues, and resolving them promptly. Stay informed about the latest Shopware features and updates.

Step 20: Embrace Continuous Improvement
Gather user feedback continuously and make improvements based on their suggestions and needs. Adapt to changing market trends and evolving customer preferences to remain competitive and relevant in the food delivery marketplace.
Best Shopware 6 Themes for Online Food Marketplace
Shopware 6, a leading platform in the e-commerce industry, offers a rich selection of themes tailor-made for online food delivery stores. Whether you're a startup or an established business, Shopware has the ideal theme to make your online shop stand out.
ThemeWare® Exquisite Pro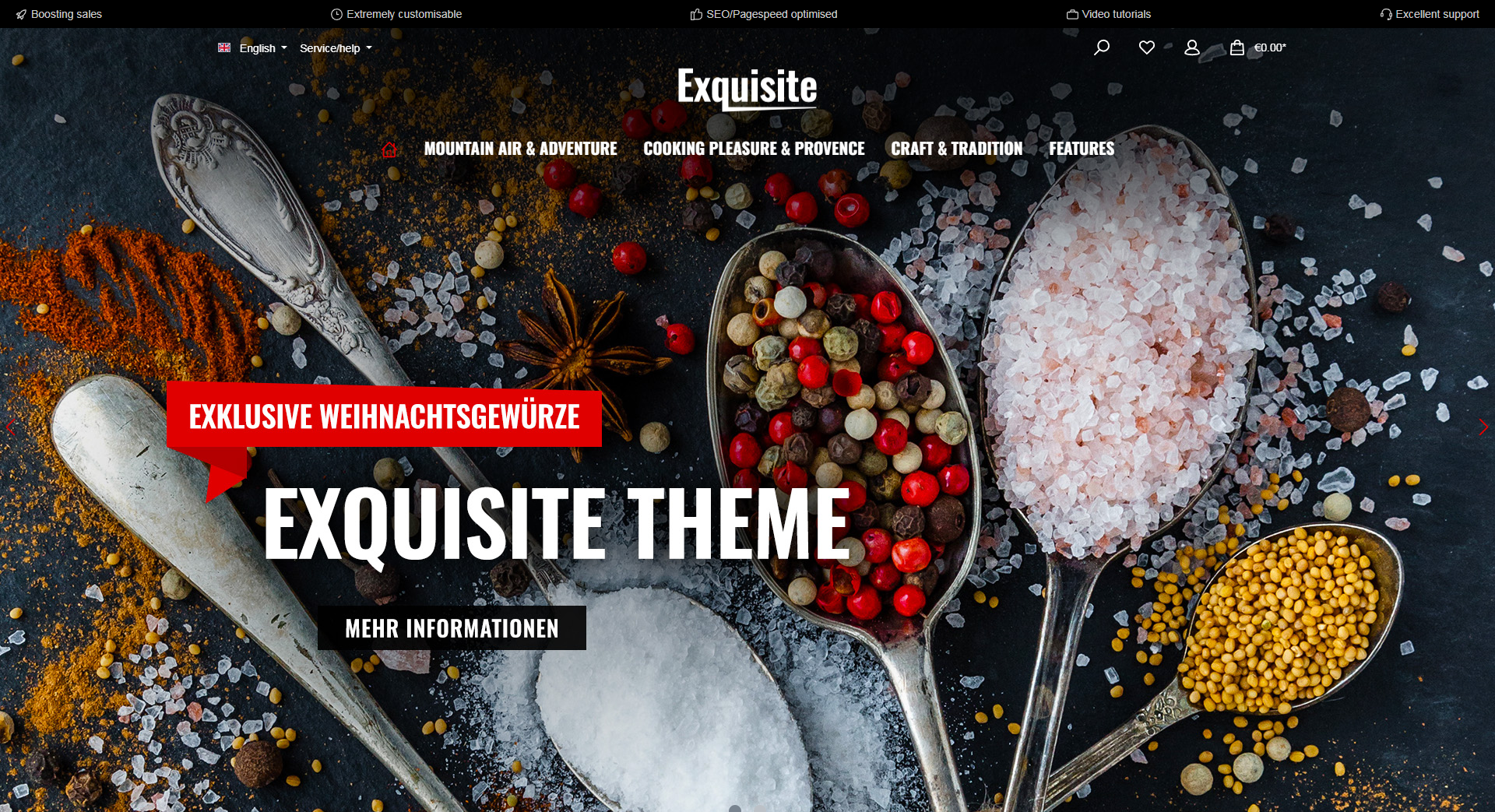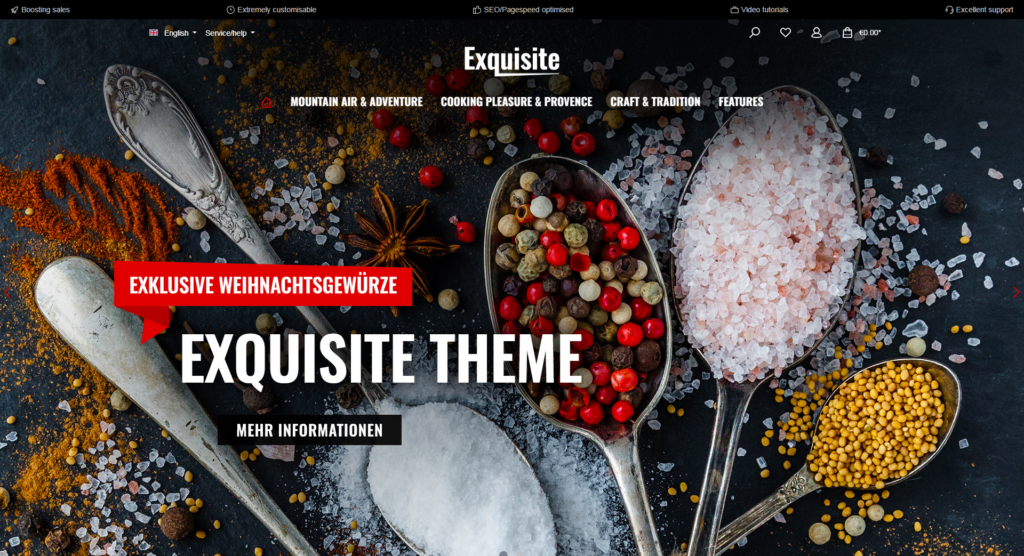 General Overview:
Sales Boosting Capabilities: ThemeWare® is not just about looks; it's engineered for sales promotion, offering intensive tools and online courses to drive more orders.
Professionalism at its Finest: Step into a professionally crafted experience with all graphics accessible as PSD files.
Limitless Customizations: Over 1100 settings paired with 41 popular plugins give you unparalleled freedom to tailor your online shop.
Credibility and Support: With a focus on customer satisfaction, you get excellent support, extensive video tutorials, and a 30-day trial for ThemeWare® along with its extras.
Premium Features:
ThemeWare® Pro Edition: Boasts expert features, prioritized updates, and a CMS Collection valued at €299.
Sales-Optimized: The theme is packed with elements focused on optimizing conversion rates.
SEO and Speed: ThemeWare® has in-built optimization for search engines, and there's an online course to guide you further.
Mobile Optimization: Experience unique shopping features tailor-made for mobile.
Checkout Excellence: Specifically designed headers and footers for the checkout process to minimize cart abandonment.
Education: Benefit from three online courses covering SEO, sales promotion, and graphic design.
Variety in Design: Multiple header, footer, and layout options, including Boxed, Wide, and Fullwidth configurations.
Tried and Trusted: Since 2017, ThemeWare® stands as the leading commercial Shopware theme with over 19,000 installations.
Billing options:
Rental
€ 19.00 /month for 3 months, then € 39.00 /month
Annually
€ 468.00 / billed annually
Purchase
Want to get a theme tailored for your Food & Beverage Delivery Marketplace ?
Leave us your contact details and we'll get back to you.
CEREAL | PRO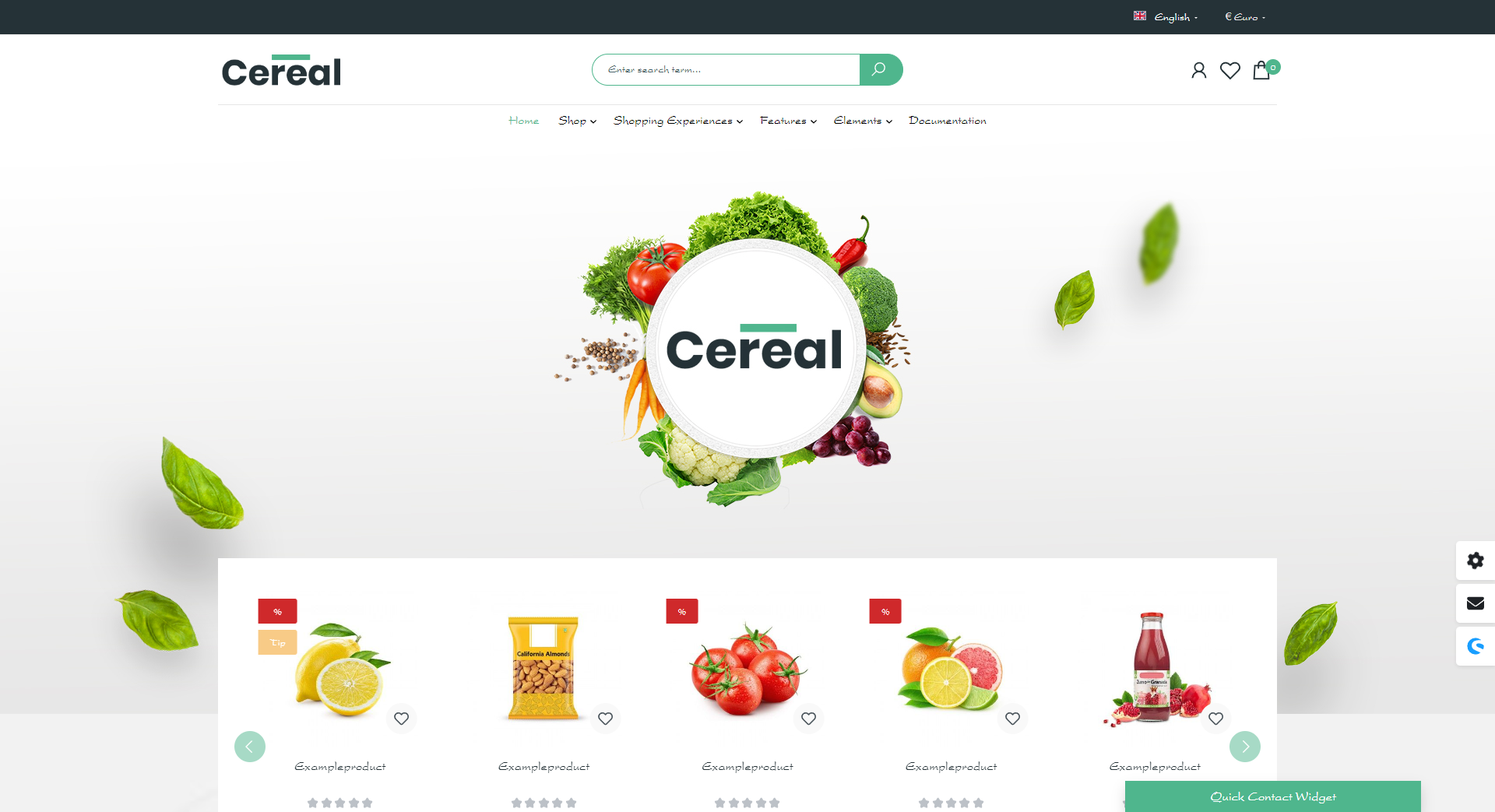 by RH-Webdesign
Key Features:
Hassle-free Start: The theme package eases your initiation into the Shopware world with a free theme and Shopware setup. This ensures you have a seamless beginning.
In-Depth Customization: With 1000+ settings options, this theme offers an unparalleled level of personalization. When combined as a bundle with add-ons, it's simply unmatched.
Swift Demo Deployment: A 1-click demo installation feature lets you populate your store with numerous experiential worlds, product categories, and more in mere seconds.
Risk-free Exploration: Experience the theme's full spectrum with a 30-day unlimited test, granting you unrestricted access throughout the trial period.
Child Theme Access: A downloadable child theme template is available for free, offering further design possibilities.
Further Highlights:
Complete Theme Package: Get the all-encompassing version of the theme, crafted for both store owners and developers.
Ready-to-use Graphics: Photoshop templates are bundled in, allowing you and your design team to harness all the theme's graphics and mockups.
Comprehensive Icon Suite: Enjoy a vast collection of uniform shipping and payment icons, available for free download.
Versatility at its Best: While the theme offers a distinct design direction, its flexibility ensures suitability across various applications.
User-Friendly: No prior programming knowledge? No problem. The theme's intuitive design ensures even the least tech-savvy users can effectively utilize it.
Optimization Excellence: SEO and Pagespeed optimizations are core to the theme, including its demo content, ensuring enhanced visibility and performance.
Lean Yet Powerful: Balancing functionality and performance, this theme remains lightweight without compromising on features.
Detail-Oriented Design: The meticulous attention to detail in the theme is a testament to RH-Webdesign's commitment to perfection.
Broad Compatibility: The theme is diligently crafted to avoid common compatibility issues with third-party extensions.
Social Media Savvy: Integrated social media features let customers share products and connect to your social channels seamlessly.
Tailored Coding Options: Enhance your theme with meta details, CSS, and Javascript adjustments, all manageable via the theme settings.
Ever-expanding Documentation: Comprehensive guides support your journey with the theme, ensuring smooth navigation and setup.
Billing options
Rental
€ 4.99 /month for 1 month, then € 29.00 /month
Purchase
Theme Mars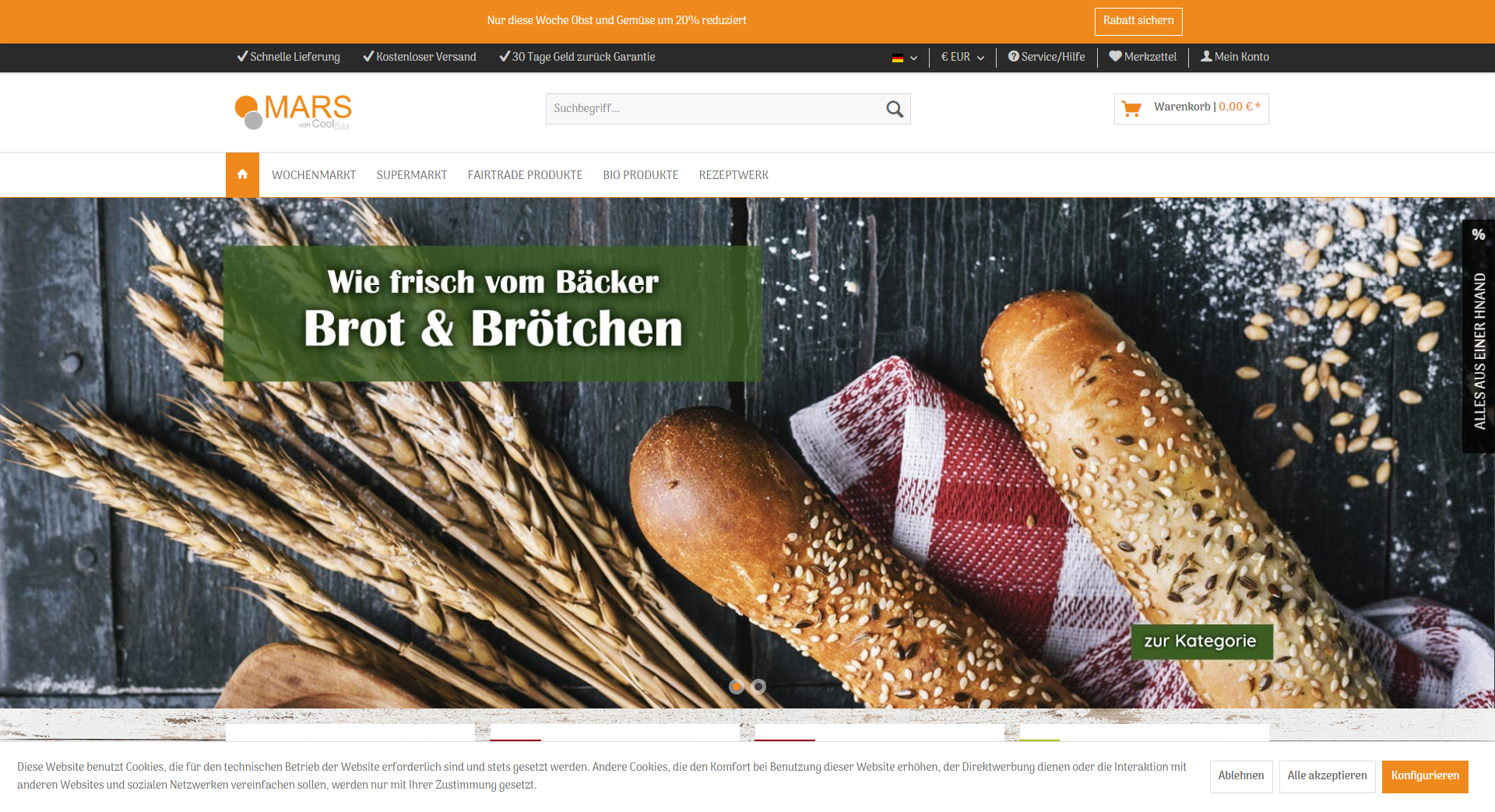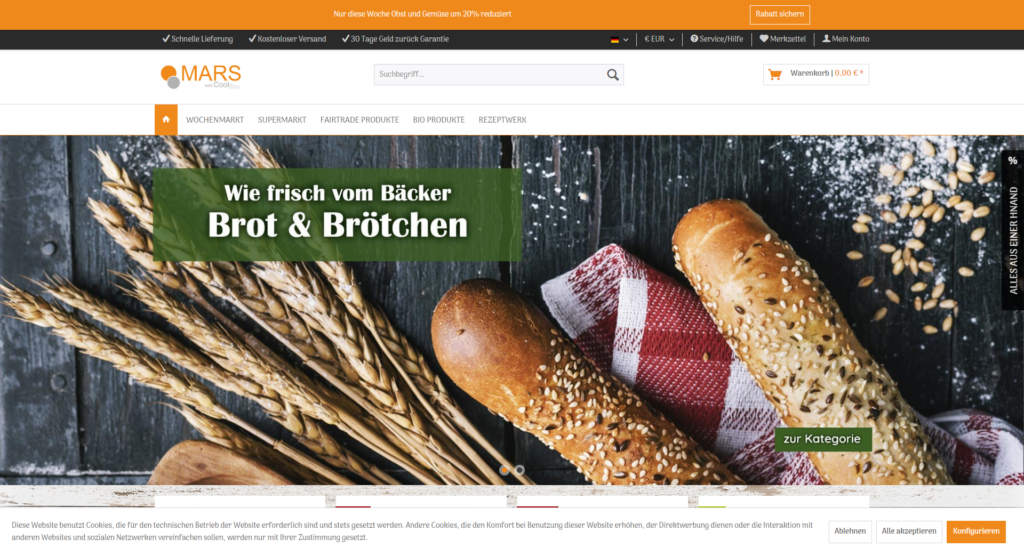 by coolbax
Noteworthy Features:
Versatility: Suitable for an array of shop types, including fashion, electronics, sports, and furniture.
User Customization: Over 100 color zones to personalize your shop's look, along with options to set background images and extend footer lines. Plus, choose from 16 unique fonts and adjust your logo's size for various devices.
Latest Additions (from v2.5.0):
Font selection from 16 varieties.
Global notifications, perfect for holiday alerts.
Screen-edge widgets (right, left, and bottom).
Seamless connectivity to platforms like Google, Bing, Alexa, and Pinterest.
Advanced color and background customization.
Numerous plugins integrated, such as Breadcrumb extension and Sticky Menu Professional.
Enhanced category display and animations for article images.
More footer layout possibilities, with up to four lines and nine design layouts.
Enhanced features:
Integrated Plugins: The theme comes power-packed with plugins that enhance navigation, user experience, and shop functionalities.
Full Responsiveness: 100% device optimized, ensuring your shop looks impeccable on desktops, tablets, and smartphones alike.
Sales-boosting Elements: Integrated features specifically designed to elevate sales and user engagement on your online store.
Design Flexibility: Beyond its modern and crisp design, "Theme Mars" allows for unprecedented customization. With myriad settings, you can create a distinct online shop, even without any coding knowledge.
Continual Support: Alongside regular updates, you're guaranteed dedicated support to navigate any challenges.
How Much Does it Cost to Develop a Food Marketplace on Shopware 6?
Developing a food delivery online shop on Shopware is a strategic move in the e-commerce realm. Let's delve into a hypothetical cost breakdown by IT Delight for establishing an e-commerce site for food delivery:
Preliminary Consultation for Your Shopware 6 E-commerce Site:
Begin with e-commerce market research tailored specifically for the food delivery segment to understand your target audience and market needs.
Engage in Shopware-specific requirement gathering to ensure your online shop aligns with business goals.
Draft an e-commerce UX/UI design blueprint focusing on the food delivery experience to enhance user interaction.
Shopware 6 Licensing for Your Food Delivery Store:
Opt for a Shopware Professional Edition, designed for the high-demand nature of e-commerce, which provides premium features suitable for a food delivery online shop.
E-commerce Design on Shopware 6:
Initiate with basic Shopware theme customization, ensuring that the e-commerce site's look and feel align with food delivery branding.
For those with a higher customization requirement, advanced Shopware theme development options are available to create a unique food delivery store presence.
Shopware 6 Plugin Integration for Your Online Shop:
Integrate essential e-commerce plugins on Shopware, such as SEO, Payments, and Checkout, vital for any food delivery store.
Explore advanced Shopware plugins tailored for e-commerce sites specializing in food delivery to enhance functionality.
Custom Development on Shopware 6 for Your Food Delivery E-commerce Site:
Invest in e-commerce features specific to food delivery on Shopware. These might include real-time order tracking, restaurant listings, reviews, and more.
Mobile Optimization of Your Shopware 6 Online Shop:
Ensure the e-commerce site has a responsive design, optimizing the food delivery experience for mobile users.
For a more immersive experience, consider developing a dedicated Shopware mobile app for your food delivery store.
SEO & Marketing for Your Shopware 6 Food Delivery Store:
Implement Shopware e-commerce SEO to increase the visibility of your food delivery platform in search engines.
Integrate e-commerce marketing tools on Shopware to aid in promoting your food delivery service effectively.
Testing & QA for Your Shopware 6 E-commerce Site:
Conduct comprehensive e-commerce testing on Shopware, ensuring the platform's stability and responsiveness, especially for food delivery operations.
Shopware 6 Training & Documentation for Your Online Shop:
Offer Shopware management training, enabling the e-commerce team to handle the intricacies of a food delivery online shop effectively.
Prepare documentation, providing a handy reference for all functionalities and processes of the Shopware food delivery platform.
Shopware 6 Maintenance & Support for Your E-commerce Site:
Commit to regular maintenance, ensuring the Shopware platform remains updated and secure, providing a seamless e-commerce experience for food delivery customers.
Wrapping Up
Building an online food & beverage delivery marketplace isn't merely about getting a platform live; it's about crafting an experience. Shopware, with its vast array of features and customization options, emerges as a robust choice for entrepreneurs keen on venturing into the e-commerce space of food delivery.
The path to a successful online food marketplace integrates market analysis, strategic design, efficient functionality, and continuous engagement. It's imperative to have a partner with adept technical expertise and an understanding of the e-commerce landscape to navigate this journey.
Don't venture into the vast sea of e-commerce alone. Let IT Delight be your guiding star in setting up your Food & Beverage delivery platform on Shopware. Reach out to us today and take the first step towards building your dream marketplace.